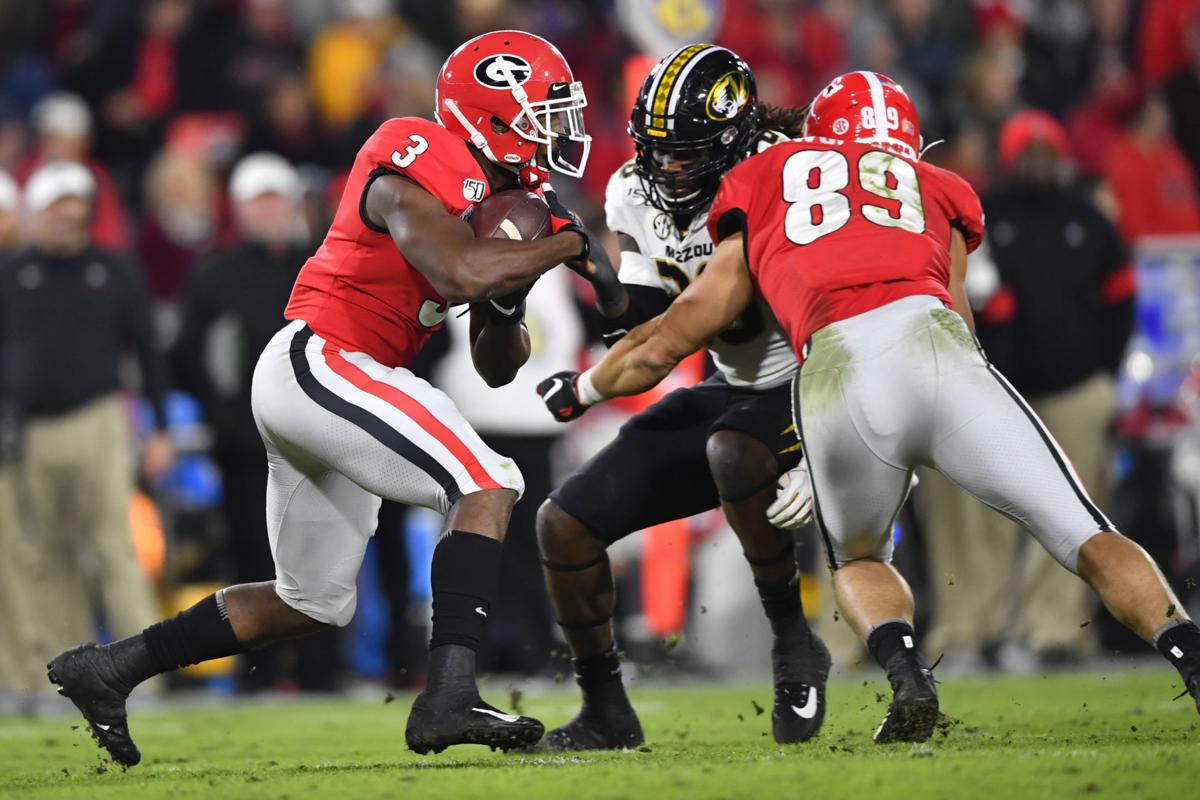 While the Big Ten Conference wrestles with punting on the 2020 football season, the Southeastern Conference appeared content Monday to wait before calling its next play.
Echoing SEC commissioner Greg Sankey's comments from earlier in the day, Missouri athletics director Jim Sterk insisted Monday the league is trying to salvage the upcoming season from becoming another casualty of the coronavirus pandemic. Last week's decision to delay the start of the regular season by three weeks, to Sept. 26, bought the SEC time to decide the season's fate.
For the SEC, there's still time on the clock.
"Since college athletics stopped back in March, the Southeastern Conference has not rushed its decision-making processes while working collaboratively to develop plans for all sports to return to play in the healthiest environment possible," Sterk said. "Working with Commissioner Sankey, his staff and our medical task force, I can tell you that we have not stopped trying to find ways to bring sports back in the COVID-19 environment we live in today. As of (Monday), volleyball and soccer practices for the 2020 season are underway and we have every reason to believe that at this time football practice will begin as scheduled a week from today.
"By being deliberate in our decision-making processes as a conference, I believe the SEC has given its teams the best opportunity at the chance to play this fall, and while we continue to explore all options available to compete, now more than ever, it is critical that we continue to educate, support and care for our 550 student-athletes who proudly wear Mizzou's Black & Gold."
Earlier in the day, as the Big Ten reports grew from grim to dire, Sankey tweeted: "Best advice I've received since COVID-19: 'Be patient. Take time when making decisions. This is all new & you'll gain better information each day.' . . . Can we play? I don't know. We haven't stopped trying. We support, educate and care for student-athletes every day, and will continue to do so . . . every day."
As of Monday, the SEC still planned to allow teams to begin preseason football practices Aug. 17, a league source confirmed.
Sterk and Sankey's comments came on the heels of a report that the Big Ten's campus leaders had decided to cancel its 2020 football season, with a chance to launch a season in the spring. A Big Ten spokesperson later pushed back on the Detroit Free Press report that the conference already had voted and planned to formally announce the decision Tuesday. Earlier in the day, nationally syndicated sports radio host Dan Patrick reported on his show that the Big Ten voted 12-2 in favor of canceling the season, with Iowa and Nebraska as the dissenting votes.
Also on Monday, the Mountain West became the second FBS conference to postpone all fall sports seasons, following Saturday's decision by the Mid-American Conference.
"We were hopeful we could carefully and responsibly conduct competition as originally scheduled with essential protocols in place," Mountain West commissioner Craig Thompson said. "However, numerous external factors and unknowns outside our control made this difficult decision necessary. I fully understand the impact of this outcome on our student-athletes, coaches, administrators and staff who work so hard daily to play the sports we all love, and I share in their disappointment. We will continue to navigate this pandemic together, overcome the obstacles and return to intercollegiate athletics at the earliest opportunity."
Meanwhile, in another example of the sport's complete void of central leadership and communication, football coaches across the Big Ten bristled at reports their campus leaders planned to cancel the 2020 season.
Michigan's Jim Harbaugh, Ohio State's Ryan Day, Penn State's James Franklin and Nebraska's Scott Frost were among the league's coaches who voiced support Monday for playing games this fall. During a Zoom video conference, Frost told reporters, "Our football players want to play. Our coaches want to coach. We want to play football this year at the University of Nebraska."
Asked if Nebraska will look outside the conference if the Big Ten cancels its season, the former Cornhuskers quarterback didn't flinch.
"We want to play no matter who it is or where it is," Frost said. "So, we'll see how those chips fall. We certainly hope it's in the Big Ten. If it isn't, I think we're prepared to look for other options."
"People need to understand," he added, "the carnage and aftermath of what college athletics looks like if we don't play. This isn't as simple as canceling a little league game and picking up and playing next Saturday."
Frost hammered home a point that's become a rallying cry for coaches around the country as conferences inch closer to decision time.
"I truly believe at the bottom of my heart in regards to testing and the things that we can do for our players that they're safer here (on campus) than they are if we cancel the season and send them somewhere else."
Late Sunday night, the game's most prominent player took a stand. Clemson quarterback Trevor Lawrence led the charge online, pushing the hashtag #WeWantToPlay, a movement that soon joined forces with the #WeAreUnited player-led crusade that's seeking dynamic changes within the NCAA power structure. Late Sunday night, the two hashtag movements partnered with all five major conferences in a graphic championed by Lawrence and some of the game's other top players.
"We all want to play football this season," the graphic said, followed by these proposals:
• "Establish universal mandated health & safety procedures to protect college athletes against COVID-19 among all conferences throughout the NCAA.
• "Give players the opportunity to opt out and respect their decision.
• "Guarantee eligibility whether a player chooses to play the season or not.
• "Use our voices to establish open communication & trust between players and officials; ultimately create a college football players association."
By Monday, Lawrence's tweet had captured the attention of the White House and scored a retweet from President Donald Trump. Vice President Mike Pence later tweeted his support of the #WeWantToPlay movement.
The #WeAreUnited hashtag started last week on social media with Pac-12 athletes pushing for a wide swath of changes, from standardized COVID testing and extended medical coverage to racial and financial equality measures. Later in the week, 1,000 Big Ten football players published a letter in The Players Tribune, co-opted by the organization College Athlete Unity, pushing for standardized COVID testing and health standards for college players.
The joint hashtag movement was the brainchild of Clemson running back Darrien Rencher and Stanford defensive lineman Dylan Boles, ESPN first reported, which led to a Zoom call Sunday that included Lawrence, Boles, Rencher, Alabama running back Najee Harris, Ohio State quarterback Josh Fields, Oklahoma State running back Chuba Hubbard, Washington State defensive lineman Dallas Hobbs, among others. Hobbs used his graphic design experience to create the image that soon went viral on social media, ESPN reported.
Support grew through the day. Arkansas athletics director Hunter Yurachek became the first college administrator to publicly use the hashtag on social media, tweeting his support on Monday, soon followed by his head football coach, Sam Pittman, and several more SEC coaches and ADs.
"I believe our student-athletes want to play," Louisiana State AD Scott Woodward said. "We owe it to them to make every effort to do so safely."
Dave Matter brings you the latest updates from the Mizzou sports scene.