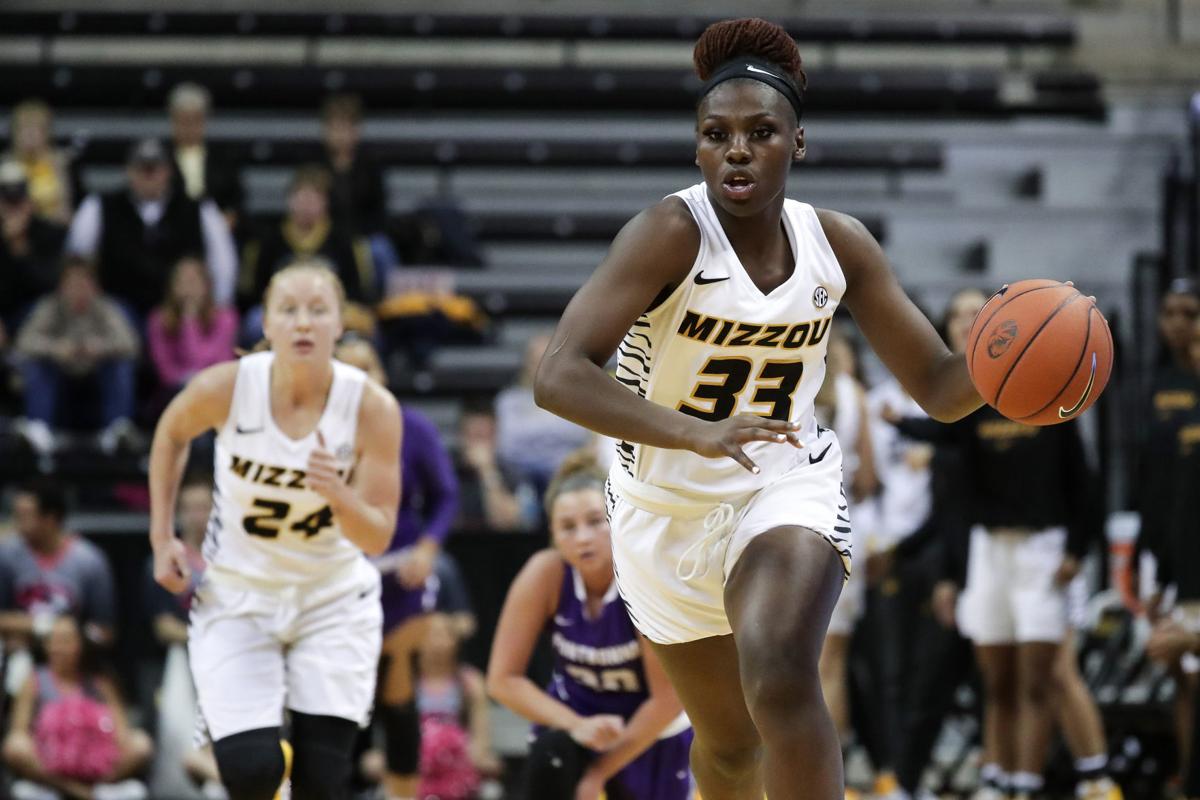 COLUMBIA, Mo. - Was Sophie Cunningham underrated?
Such a theory would have sounded outrageous during her wildly celebrated basketball career at Missouri, a four-year run that produced four NCAA Tournament appearances and ended last March when Cunningham finished her career with more points than any player in team history.
But while Cunningham has moved on to a professional career in the WNBA and Australia, her former team's struggles underscore what she brought to Mizzou the past four seasons. It took Sunday's home victory over Louisiana State for Robin Pingeton's Tigers to snap a five-game losing streak and deliver much-needed relief for a program that endured a miserable start to the season. The Tigers lost 11 of their first 14 games — seven were decided by single-digit deficits but two came by 25 and 35 points — as a blend of veterans and rookies struggled to settle into new roles.
"It's been such a tough year of so many challenges and adversities," Pingeton said Wednesday, "that you've got to learn how to win again."
Back in the fall Pingeton insisted her 10th season at Mizzou wouldn't be a rebuilding year for the program, but after losing streaks of four and five games, her tone has shifted. Asked Wednesday if any of the season's challenges were unanticipated, she paused, took a deep breath and came clean.
"Yeah, a little bit of everything," she said, "and I think that's the hardest part is that you can't put your finger on one thing with this team."
As the Tigers (4-11, 1-1 Southeastern Conference) prepare to host No. 13 Mississippi State (14-2, 2-0) on Thursday, Pingeton plays with a shorter lineup and an even shorter bench. Only six players are averaging 20 minutes per game, and only two of them are taller than 6 feet. The rotation includes four seniors, but in Cunningham's absence, those seniors have gone from complimentary sidekicks to the team's core contributors. It hasn't been a smooth transition.
"I think our seniors have been phenomenal for this program, but they're in a completely different role than they've ever been," Pingeton said. "When you rely so heavily on a voice like Sophie's, the feel, the intensity, the competitive spirit that she brought to every single huddle, whether it's in practice or games, that's a hard thing to replace."
"You almost get comfortable letting her do her thing and now it's your turn and you don't have that that experience," she added. "And it matters."
At times senior guard Amber Smith, leading MU with 14.1 points and 6.3 rebounds per game, has played like an All-SEC candidate, but the supporting cast has been inconsistent. Senior guard Jordan Roundtree (Kirkwood) has been the team's best shooter at 49.3 percent overall and 46.4 percent from 3-point range but hasn't scored in double figures since the first three games. Senior point guard Jordan Chavis has played better lately but early in the season didn't show the same aggression that impressed Pingeton during the offseason.
"I've been begging for it," Pingeton said. "That's what I saw this summer. If you guys remember in the fall I said I think that kid's probably improved more than any other returning player on our roster. Saw a lot of great things from her this summer and then for whatever reason, she kind of lost her assertiveness. I've really been challenging her as of late. Why put in all that work in the summer if you're not going to let it translate onto the court?"
In more frequent bursts of late, MU's two highly touted freshmen have been its most productive players. Hayley Frank, a 6-1 forward from Strafford, Mo., averages 12 points and 4.1 rebounds and peaked with 29 points in a November loss to New Mexico. St. Louis' Aijha Blackwell, who led the area in scoring as a junior at Whitfield School, could push for SEC freshman of the year honors with her 12.1 points, 5.5 rebounds and 2.2 assists per game. She posted her first double-double against LSU with 15 points and 11 rebounds. Turnovers have been a problem in some games, and Pingeton believes Blackwell can be a better rebounder and more consistent defender, but all the signs of stardom have started to emerge.
"She's grown a lot. I think she's getting more comfortable with who's to the right and left of her, and I think she's getting more comfortable with the speed, the physicality, the attention to detail," Pingeton said. "She's trying to play off two feet a little bit more. We talk a lot about her gift of court vision and her passing. It truly is a gift. That's hard to teach, and she can really use it to help our team go to that next level. … I still think she's got to get a little bit better on the defensive end, rebounding and boxing out. I know she had 11 boards in that last game, but I think consistently she can be in double digits from a rebounding standpoint. That's something that we continue to talk with her about."
"We've talked a lot about her infectious personality and in the importance of that consistency every day in practice, every rep, every huddle," she added. "It's just again and again and again and I definitely am seeing growth."
Blackwell didn't play basketball her senior season of high school after leaving Whitfield and resurfacing at Cardinal Ritter, where she wasn't cleared to join the team on the court. She scored just one point in her MU debut but poured in 21 the next game against Nebraska. She's fouled out of three games and turned the ball over four times or more in seven games but has scored in double figures in seven of MU's last eight games.
Blackwell came back from MU's holiday break feeling refreshed.
"Personally over winter break, I focused on my mental aspect of my game and I just relaxed a lot," she said. "I took a step away from basketball for a few days even though I had to get back to it to stay in shape. But mentally I wrote a lot in my journal like I do always, and I just really focused on my mind."
There are future reinforcements further down the bench. Pingeton added three Division I transfers in the offseason, all of whom will be eligible in 2020-21, including former Lutheran North star guard Shug Dickson, who played at Tulsa and Texas Tech, and 6-2 Australian Shannon Dufficy, an All-Mountain West Conference forward at Utah State. The frontcourt gets an SEC import in Ladazhia Williams, a 6-4 transfer from South Carolina.
Their time will come next year. This season, the Tigers stumbled early and often against a sneaky difficult nonconference schedule — MU lost to three currently ranked teams from mid-major conferences: Missouri State, South Dakota and Princeton, plus high-major teams Nebraska, North Carolina and Illinois — and especially struggled to finish strong in close games. Pingeton indicated Wednesday the Tigers might have scheduled too ambitiously.
"Probably a little bit on the tougher side for where we're at," she said. "But I do think it becomes a mental issue. When you lose one or two close ones, you start to question, 'Can we do this? Can we pull it out? Can we get over the hump?' You start to tighten up a little bit. That's something that there's no magical potion for. You got to work yourself through it. And you got to have the right mindset down the stretch. When it's winning time, you got to make a winning play and you got to want the ball in your hands. You can't shy away from the big stage of the bright lights or the pressure situations."
In most of their losses the Tigers have been competitive but either squandered momentum or struggled to keep pace in the second half. Opponents have outscored MU by 29 points in both the third and fourth quarters. The Tigers are scoring more this year, 67.3 points per game, up from 65.9 last year, but giving up 76.3 points per game, up from 58.7 last year.
After a two-week holiday layoff, the Tigers played Tennessee tight for most of their Jan. 2 SEC opener before losing by 11. LSU trimmed a 23-point deficit to two on Sunday before Pingeton's team held on late.
A season seemingly lost in 2019 found some glimmers of hope in 2020.
"If we keep dwelling on the past and worrying about our record and worrying about those nonconference games, we won't get anywhere," Blackwell said.
"We see what we're capable of," Roundtree said. "We can beat anyone, but we can also lose to anyone. We're kind of one of those teams right now. Just trying to stay consistent. Respect all, fear none."