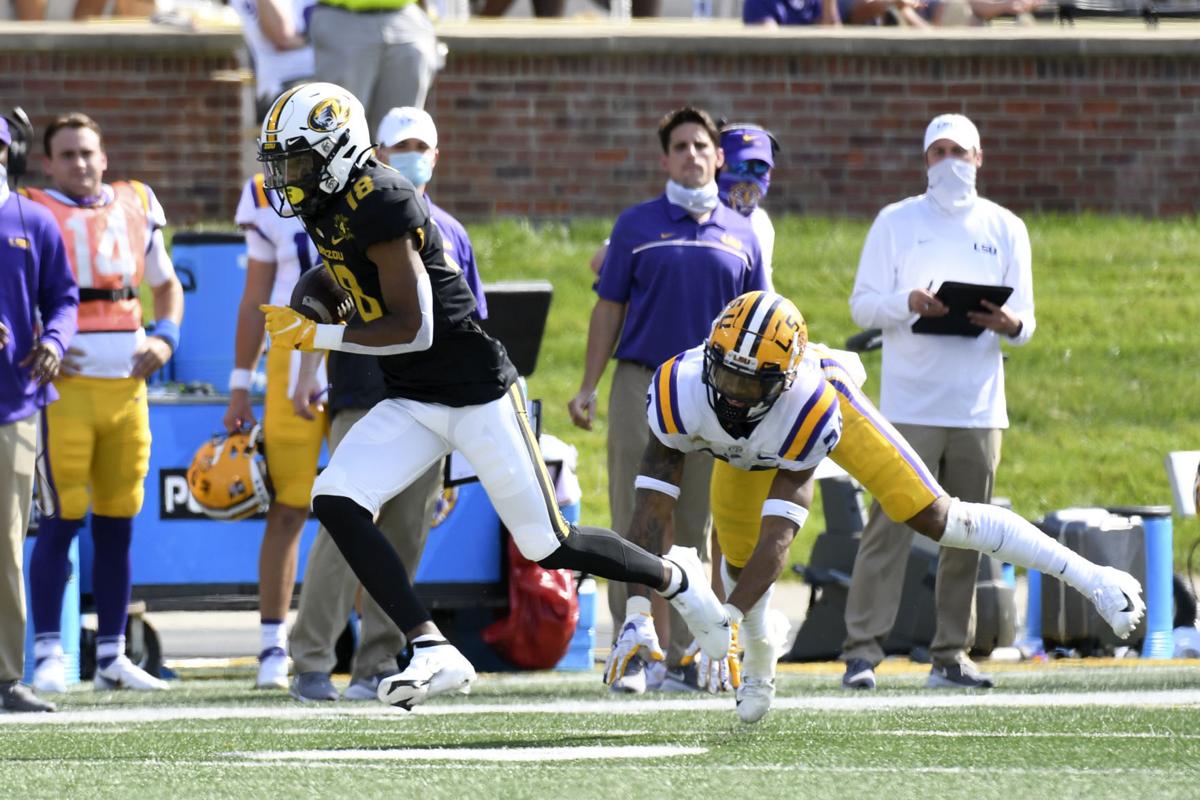 COLUMBIA, Mo. — For just an instant, Curtis Luper gave up on trying to occupy the thin space between father and football coach. He has experience managing that — he was on TCU's staff while his first son, Cameron, played there — but as Mizzou players danced down the sideline Saturday, in that brief moment before the "next play" coaching instinct reclaimed control, Luper allowed pride to overcome his senses.
"Son's first catch, and it was a huge play in the game as well," the Mizzou running backs coach said. "I'll never forget that one."
His son is Chancellor Luper — goes by Chance — and the huge play was a 69-yard catch-and-run with Missouri trailing 41-38 to defending national champion LSU in the fourth quarter. It was the only time Luper was targeted in his first college game, but it set up Mizzou at the 10-yard line to score the winning touchdown two plays later.
And it was a moment of affirmation for the freshman who decommitted from Boise State in January to join his father at Missouri under Eli Drinkwitz, who has known the family for years dating back to shared time on the Auburn coaching staff. When Chance was in fourth grade, Curtis often found him playing with head coach Gene Chizik's son at Auburn practices and didn't understand how the kid kept showing up unannounced. Turns out Chance had convinced his school bus driver to drop him off at team facilities every day so he could watch.
"I'm pretty sure they were violating some pretty strict school district codes," Curtis Luper said. "But hey, they did it."
That's how Chance grew up, surrounded by football. His first loves were baseball and basketball, but a youth hoops coach turned him sour to the game. Meanwhile, "football was in him through osmosis," his dad said. Chance felt special getting to hang out around Auburn's players. He's an introvert by all accounts, but he looked up to the athletes and tried to talk with them. One night, the Lupers had Heisman quarterback Cam Newton over for dinner. Curtis served homemade ribs.
"This big dude walks in with two racks of ribs," Chance said. "He ate all the ribs. It was Cam Newton. Ate all the ribs in my house. I didn't get one rib."
Rib Gate aside, it was a memorable night for 8-year-old Chance.
He asked Newton why he didn't play for the University of Georgia despite being from Atlanta. "Stupid question," Chance says now, laughing. "I guess I didn't understand it when I was younger." But Newton was candid, and it taught Chance about an athlete's decision-making process. That conversation was on his mind in January when Drinkwitz hired his dad at Missouri. Chance was committed to Boise State, but the Broncos were upset at him for not signing a letter of intent during the early period in December.
"We were already drifting apart," Chance said. "So when my dad got the job at Missouri, I was like, 'I know that I could play for him and play in the SEC.' Coach Drink gave me a call, and that all went down."
The Lupers are adjusting to Columbia, but they're not entirely removed from Fort Worth, Texas, where they were stationed for Curtis' TCU years. Chance's sister Charitie is a nationally eminent volleyball prospect. Before she heads to UCLA next year, she is finishing her senior year of high school in Texas. She and another sister, Cheyenne, watched Missouri's upset of LSU from the living room at home.
"Every time I talk about the catch, I get goosebumps," Charitie said. "I'm extremely proud. Chance and I used to do everything together. All the coaches' kids at Auburn would play capture the flag, and we were always on the same team."
When she saw her brother in the huddle during the fourth quarter against LSU, she stood and watched anxiously. In Columbia, Chance had just heard his name called from a voice on the sideline. The play was called "Luper," designed just for him. Curtis didn't say anything to his son, choosing to stand at the back of the play and examine LSU's secondary. The idea was for other receivers to drain the coverage and let Luper slide underneath it.
"I was watching to see if the coverage indeed drained," Curtis said, "and I mean ... you couldn't have drawn it up any better."
Chance crossed over the middle and caught the pass at the MU 40. In Texas, his sister screamed. On Faurot Field, his dad "was frozen initially. I was just frozen in place."
Chance still remembers everything that went through his mind as it unfolded: "It felt like a dream when I caught it and turned around with all that open space. I knew I had to make the first man miss, so I made him miss. Then I realized who it was," he said. (It was cornerback Derek Stingley, a consensus top NFL draft prospect.) "I was like, 'OK, I just made Derek Stingley eat dirt.' So then I just kept running."
Curtis thought from the sideline, "Oh my goodness, is he gonna score?" Tyler Badie punched him in the shoulder and brought the coach back down to earth, pride swelling as he followed Chance down the field with the rest of the team.
Chance was finally forced out of bounds at the 10-yard line. He'll never hear the end of it for not scoring. That was the first thing his dad said to him, joking as they shared a father-son handshake on the sideline.
"I was looking at the replay," Chance said. "I was like, 'Ugh, that should have been a touchdown.'"
They have something else planned for whenever Chance does score. A choreographed celebration. "I was starting to get ready," Curtis said. But it will have to wait. And until Chance does find the end zone, the celebration will remain a father-son secret.
"You'll have to tune in to find out," Chance said.
Dave Matter brings you the latest updates from the Mizzou sports scene.