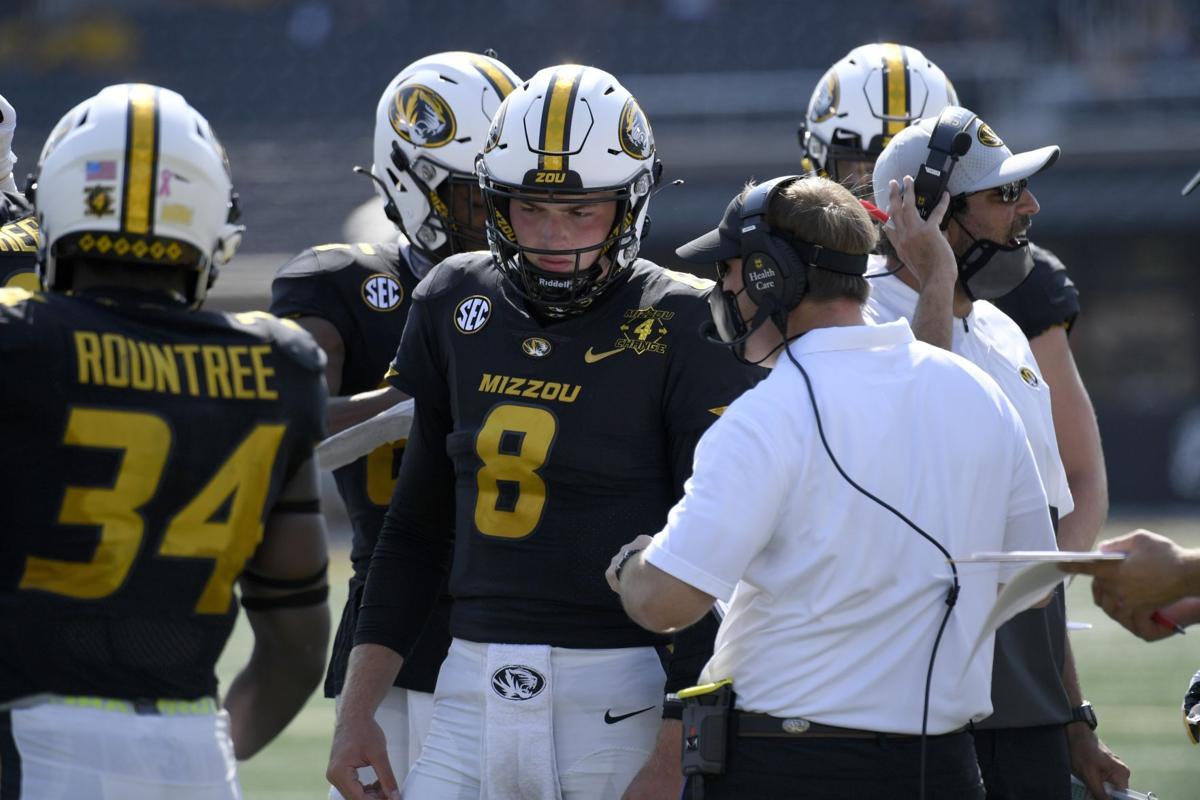 COLUMBIA, Mo. — Before kicking off what he hopes to be his first full session of spring practices at Missouri, second-year football coach Eli Drinkwitz met with reporters Tuesday on Zoom to preview the spring, officially welcome some staff additions and share some roster updates. MU's first spring practice is Friday with the spring game set for March 20.
• Drinkwitz has hired Tulsa cornerbacks coach Aaron Fletcher to replace David Gibbs, who last week left to join Gus Malzahn's staff at UCF. Fletcher spent the last six years at Tulsa and also has strong connections to the high school scene in the Dallas/Fort Worth area.
For now, Fletcher is listed as defensive backs coach, but his specific position group is still uncertain. Charlie Harbison also coaches the secondary. Newly hired coordinator Steve Wilks will coach the cornerbacks, Drinkwitz said. The rest will get sorted out soon enough.
"I think we have a pretty good sense of how that'll play out, but I want to get Aaron here first," Drinkwitz said. "Obviously Coach Wilks has spent a long time coaching corners and I know that he's anxious to get his hands on the corners and make sure he establishes his DNA and fingerprints on that position. I know Coach Harbison has got extensive time in the same position and we'll figure out whether or not Coach Fletcher is coaching the nickels or if he takes time with the corners or safeties and how that works. But we've got some position flexibility there with our coaching staff."
• MU has hired named two former Malzahn staffers from Auburn: chief recruiting officer Brett Whitesides and assistant AD/executive director of sports performance Ryan Russell.
Drinkwitz on Russell: "He will oversee the critical area of player development and cultural development within our program, really being in charge of coordinating all aspects of strength and develop strength development, nutrition equipment, athletic training. He's got a championship pedigree from his time at Auburn. I  have a personal relationship with Ryan back to our days at Auburn and Arkansas State. I'm excited for his knowledge of this conference and what it takes to win in this conference.
Drinkwitz on Whiteside: "He will coordinate the entrance and exit of four players into our program by being the lead person in organizing and day to day operations of recruiting those young men into our program, as well as coordinating with post-graduate career development. So really excited about the level of organization and insight that Brett has and brings to our program."
• Former Mizzou wide receiver L'Damian Washington has been promoted to director of player development.
"Obviously L'Damian's, a former player here and team captain who went on to have a great career in life after football or life with football and now we'll welcome him back to life after football," Drinkwitz said. "Just been impressed with the relationships that he's been able to form with our players. Just a great man of character that can really benefit our players on a day to day basis. He's doing a great job with character development, real world experiences and he's helping coordinate with Brett Whiteside our postgraduate careers. He's helped with our freshmen bridge program developing the curriculum for that."
• Four players will miss spring practices while recovering from surgery: defensive linemen Kobie Whiteside and Jatorian Hansford, linebacker Cam Wilkins and safety Jalani Williams.
• Mizzou has three core goals for spring practices: individual player development, lay the foundation of the offensive, defensive and special teams schemes, develop team chemistry and camaraderie.
• Plans are moving forward to build the new indoor practice facility just south of the south end zone facility at Memorial Stadium. The athletics department hopes to have the $31 million project fully funded by the May meeting of the UM System Board of Curators, when the Board is expected to vote on the project's full approval. MU has raised at least $20 million for the project.
"I don't speak for our president of the university or our Board of Curators. I certainly fall in line with their authority," Drinkwitz said. "But I'm excited about what they've approved so far. We're continuing to work diligently to secure fundraising and secure more donations to get this thing built. Like I've challenged, people, our team, our staff, our players, and as I continue to challenge our fans: Commitment is not a one-time act. You have to recommit yourself to pursuing a championship each and every offseason. We've got to continue as a fan base and as donors to continue to pursue that championship mentality. We're going to be knocking on doors and asking for continued donations and stepping up to the plate. Nothing would excite us more obviously. We got a taste of a championship with the Chiefs winning the Super Bowl, with the Royals several years ago winning the World Series, the Cardinals winning the World Series. It's time for the Missouri Tigers to step up to the plate and continue to push this program forward. But we need everybody involved in that push."
• The team will have a spring depth chart "for functionality," Drinkwitz said, but competition for jobs really starts in August preseason camp. MU has 11 newcomers who joined the team at the semester break who will take part in spring practices.
"It's all going to be about individual player development. Everybody's going to get reps and opportunities to perform and develop," he said. "It's not going to be necessarily as much about trying to create the chemistry with a group of ones, twos or threes. It's about, how is this person performing? How's he getting better? Everybody is going to have an opportunity to do that.
"We're really excited about the 11 early enrollees that we have. They're absolutely going to get an opportunity to perform. There's really only depth charts for functionality. There's no real depth charts at the end of spring. Everything will be determined in fall camp. Fall camp is when we really compete for positions. This is about an opportunity for these guys to be aggressive in their development, go out make mistakes, learn from those mistakes, come out and get better, continue to find their edge and how they're going to be best developed into the player that can help us win."
• Drinkwitz has three primary goals for returning quarterback Connor Bazelak: improve ball security in the pocket, throw more red-zone touchdown passes, be more aggressive with decision-making.
"I don't want to see him be reckless," he said. "But I want to see him be aggressive this spring and figure out, OK, I can throw the ball in this window. I can put this ball here. I can back-shoulder this one. I can fit it in that tight window and make mistakes and learn from those mistakes. I don't want him to be reckless. I don't want to be careless or comfortable. What I want him to be is to challenge himself and continue to improve as a quarterback."
• Wilks is installing a new 4-2-5 defensive scheme, Drinkwitz said. That sounds like a modified version of MU's previous scheme, though last year MU played with a base three-man line and used a stand-up edge rusher as a third linebacker.
• With Williams out for the spring, converted quarterback Shawn Robinson will have more chances to earn a primary role in the secondary. Robinson was arguably MU's best defensive player in the season finale at Mississippi State, when he got his first action at safety and intercepted a pass, nearly two.
"I don't to compare him to anybody, and I don't want to put any undue pressure on what we expect out of Shawn," Drinkwitz said. "What I want for him is to be the best version of himself every single day, to walk out there and compete to be better today than he was yesterday. If he does that consistently over the month of March, there's gonna be good days and bad days and times when he learned something new that he hasn't done before. But the thing I know about Shawn is he's going to work his butt off to master the technique. He's going to be extremely coachable. And I personally think the sky's the limit for him. I know what I saw in that in that last game that he played in. Obviously he's got a lot of potential."