COLUMBIA, MO. • Missouri and Wyoming's football programs meet for the first time Saturday, but Cowboys coach Craig Bohl hardly is a stranger around Faurot Field.
As a University of Nebraska player, graduate assistant, position coach and coordinator, Bohl faced the Tigers 14 times over four decades with seven visits to Columbia.
Bohl wore his Nebraska scarlet and cream for some of the most memorable matchups in a series that now lives only in memories and photographs thanks to conference realignment.
Episode 39 •  The Cowboys are coming to COMO, and it could get nasty. The weather, that is.
He was a backup defensive back in the 1978 game when Tigers running back James Wilder trampled coach Tom Osborne's Cornhuskers in Lincoln, Neb., a 35-31 Mizzou victory.
Bohl was Nebraska's linebackers coach in 1997, when the 'Huskers outlasted Mizzou with the infamous Flea Kicker, Matt Davison's diving touchdown catch of a pass that deflected off the foot of teammate Shevin Wiggins.
Four years later, Bohl was the 'Huskers' defensive coordinator and watched quarterback Eric Crouch bolster his Heisman Trophy campaign with a 95-yard run against Gary Pinkel's Tigers.
As a player and coach, Bohl is 13-1 against Missouri — 7-0 in Columbia.
Skip ahead two jobs and nearly two decades and Bohl finds himself in unfamiliar territory: an underdog against Mizzou.
Bohl has led Wyoming (1-1) to two straight eight-win bowl seasons, built with traits that reflect his 'Huskers heritage: a power running game and a ravenous defense that thrives off turnovers. Last season, quarterback Josh Allen was the headliner in Laramie, Wyo., but the Cowboys got by with an offense that ranked No. 126 in yards per game while the defense led college football with 38 takeaways.
"They're an aggressive team, assignment sound, aggressive in their coverages but also understand where they need to be every snap," Missouri coach Barry Odom said. "You don't see guys running uncovered. You don't see missed assignments. They're coached very well and have good players."
One thing the Wyoming program has lacked in Bohl's four-plus seasons is a signature victory over a team from a Power 5 conference. The Cowboys have lost 13 straight games against Power 5 teams, going 0-7 on Bohl's watch. Wyoming has been outscored by an average of 29.7 points in those games.
The only single-digit defeat during the streak came in 2013, Dave Christensen's final season as coach, a 37-34 loss to Nebraska.
Could the streak end Saturday, when 18-point favorite Missouri tries for its first 2-0 start under Odom? Wyoming's last win over a Power 5 team was its last game against a member of the Southeastern Conference, in 2008, when the Cowboys upset Tennessee in Knoxville.
Odom and Bohl, two linebacker coaches at heart who started their college coaching careers at their alma mater, crossed paths at a camp this summer.
"He's played in this stadium a number of times when Mizzou and another school were in the same conference," Odom said. "He's excited to make a return trip. I've got a lot of respect for the job he does."
It's a job that's proven to be one of the most challenging in college football. As the lone Division I program in the country's least populous state, Wyoming relies on out-of-state recruits to fill a roster that competes with established Mountain West stalwarts Boise State and San Diego State.
Former Missouri offensive coordinator Christensen was an instant hit as Wyoming's coach with bowl seasons in 2008 and 2010, but couldn't sustain his success. Bohl, fired from Nebraska after the 2002 season, resurfaced as the coach at North Dakota State and won 104 games in 10 years and three straight FCS national championships.
Hired at Wyoming to replace Christensen after the 2013 season, Bohl sought to build a program in the likeness of those fierce Nebraska programs under Osborne, knowing he'd have to win with less heralded recruits. Bohl's five Wyoming recruiting classes have ranked No. 128, 113, 116, 99 and 127 by 247Sports.com.
In Wyoming, he's looking for grit over glitz, such as former Belleville West High running back Brian Hill, a two-star recruit in 2014 who rushed for 4,200 yards and 35 touchdowns in three seasons under Bohl.
"The guy that's running out there on the West Coast that's a five-star guy that's been shopping around and thinks it's all warm and fuzzy, when the rubber meets the road they're going to spit the bit out," Bohl told USA Today last year. "We're going to have our hand in the dirt and knock the (stuff) out of you."
Bohl repeated his "spit the bit" line this week talking about his team's fourth-quarter meltdown Saturday in a 41-19 loss to Washington State. The Cowboys led coach Mike Leach's team late in the third quarter then came undone by penalties and defensive breakdowns.
Bohl didn't lose his folksy charm in defeat.
When a Laramie reporter asked a question during Bohl's Monday news conference, the coach feigned caution at the reporter's journalism degree from Mizzou.
"Here's my concern," Bohl said. "You're a Missouri graduate. Things I say will go right down to Columbia to Coach Odom. You've probably got black and gold underwear on right now. You're supposed to be objective. If this is an objective question, I'll answer it."
It was, and Bohl kindly answered. The bigger test for Bohl and his program comes Saturday.
"Missouri's had one game and didn't get tested very much," he said. "I think the makings of a great college football game are there."
MATTER'S SEC POWER POLL
---
BETS ON! INTRIGUING OPENERS FOR 2018 SEASON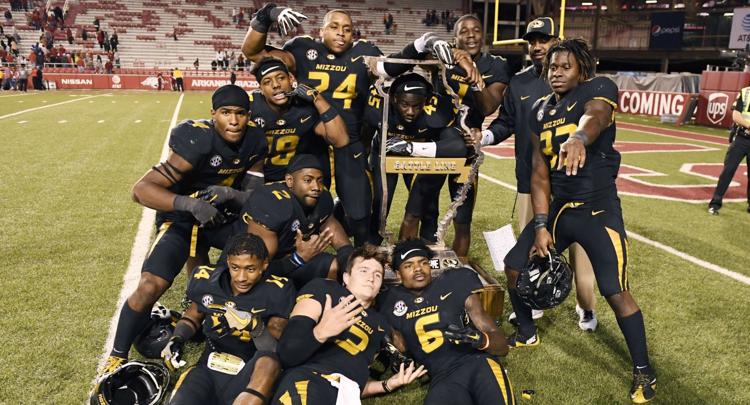 Since the conclusion of the last college football season, the Supreme Court ruled that states can make their own rules when it comes to sports gambling, which means sports fans can FINALLY start betting on college football!
Not that anyone would follow our advice, but here's a glance at some intriguing games for the first week of the season, including Missouri's opener against its annual blood donor from the FCS ranks.
UT-MARTIN AT MISSOURI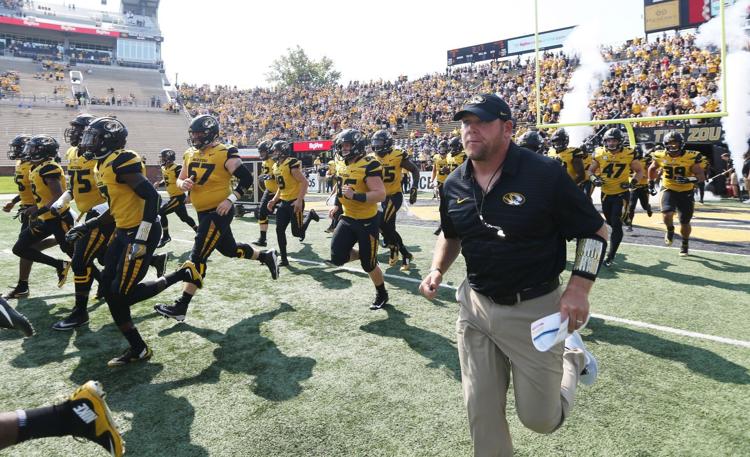 Kickoff: 3 p.m., Saturday, SEC Network Alternate
Line: No line
Quick Hit: Mizzou has historically dominated FCS opponents but had a scare last year against Missouri State, a 72-43 shootout few expected to unfold on Faurot Field. Struggles on either side of the ball for Barry Odom's team will raise some red flags, but expect a motivated defense to make up for last year's no-show against the Bears from Springfield.
Matter's Pick: Missouri 48, UT-Martin 13
MIDDLE TENNESSEE AT VANDERBILT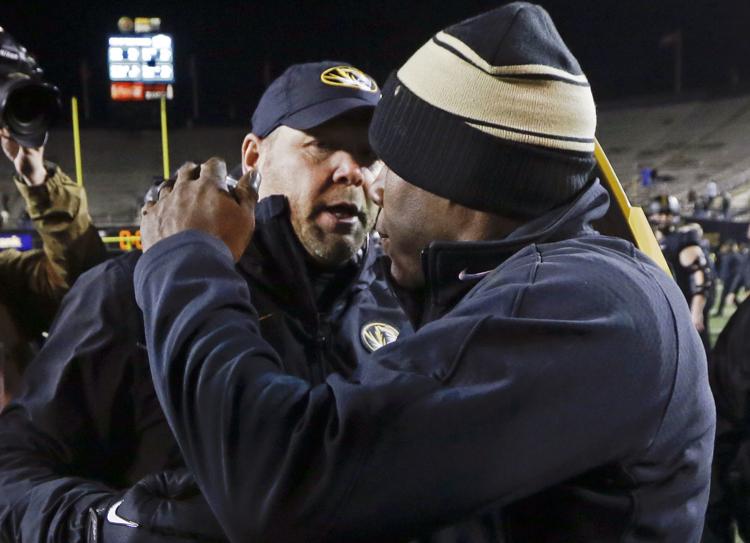 Kickoff: 6:30 p.m., Saturday, SEC Network
Line: Vanderbilt by 3
Quick Hit: Vandy has knocked off this in-state foe each of the last three years, but Derek Mason's team seems more vulnerable this fall, even at home, where the Commodores are just 2-6 in their last eight openers. Vandy has never won more than one game a season as a home favorite under Mason, now in his fifth year.
Matter's Pick: Vanderbilt 27, Middle Tennessee 20
NO. 6 WASHINGTON VS. NO. 9 AUBURN
Kickoff: 2:30 p.m., Saturday, ABC (Atlanta)
Line: Auburn by 2
Quick Hit: The way things have gone lately for the Pac-12, the entire league's playoff hopes could hinge on this showdown at Mercedes Benz Stadium. The Huskies are the class of the Pac-12 and brimming with NFL talent, but short of a victory over the defending SEC West champion, Washington might not have the goods to crack the four-team playoff. Auburn, meanwhile, with its loaded defense and star quarterback, Gus Malzahn's team might have fewer question marks than any SEC team.
Matter's Pick: Auburn 27, Washington 23
OLE MISS VS. TEXAS TECH
Kickoff: 11 a.m., Saturday, ESPN (Houston)
Line: Texas Tech by 2.5
Quick Hit: Still recovering from NCAA sanctions, Ole Miss is under a bowl ban this year but fully cleared to throw touchdowns at will against Big 12 defenses. Don't sleep on the Rebels this year. A.J. Brown is among the nation's best receivers and quarterback Jordan Ta'amu might have fans forgetting about Ole Miss-to-Michigan transfer Shea Patterson.
Matter's Pick: Ole Miss 48, Texas Tech 42
NO. 17 WEST VIRGINIA VS. TENNESSEE
Kickoff: 2:30 p.m., Saturday, CBS (Charlotte)
Line: West Virginia by 10
Quick Hit: Tennessee had the fewest players named to the SEC coaches' preseason all-conference team — just one. The Volunteers might someday collect enough talent to become relevant in the SEC under new coach Jeremy Pruitt, but not in his debut, not against WVU quarterback Will Grier, who roasted the Vols three years ago when he played at Florida.
Matter's Pick: West Virginia 34, Tennessee 17 
NO. 1 ALABAMA VS. LOUISVILLE
Kickoff: 7 p.m., Saturday, ABC (Orlando, Fla.)
Line: Alabama by 24.5
Quick Hit: This one could have been fun had Lamar Jackson stayed another season at Louisville, but now he's a Baltimore Raven and the Crimson Tide get to tee off on successor Jawon Pass, a player Nick Saban nearly lured to Tuscaloosa. The intriguing quarterback story is on the other sideline where Saban has to juggle the offseason's biggest mystery. Does he go with former two-year starter Jalen Hurts or national championship game hero Tua Tagovailoa? Does it matter?
Matter's Pick: Alabama 41, Louisville 20
NO. 23 TEXAS AT MARYLAND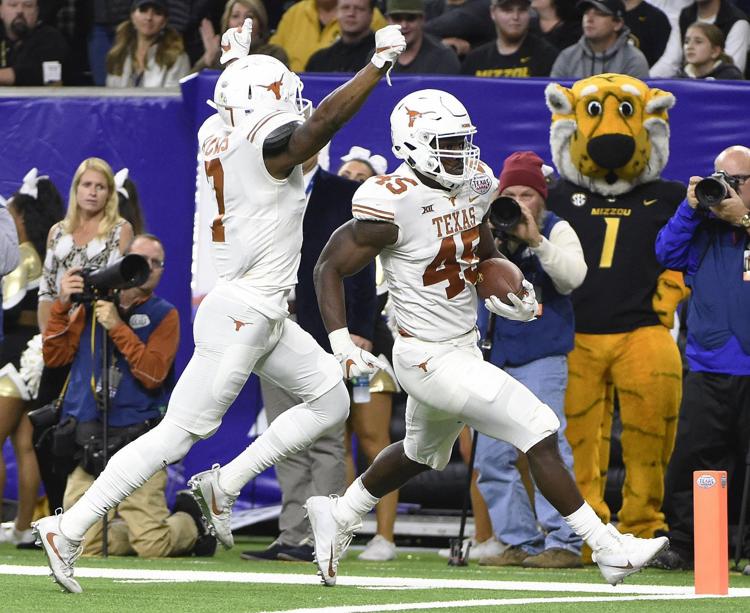 Kickoff: 11 a.m., Saturday, FS1
Line: Texas by 13.5
Quick Hit: The Terps stunned Texas by 10 last year in Austin, but Maryland's been a mess this offseason with coach D.J. Durkin on administrative leave in the wake of a player's death and ESPN's subsequent report about the program's "toxic culture." We're still not sure why the Longhorns are nationally ranked after an uninspiring 7-6 debut season by Tom Herman, but they should comfortably beat the Big Ten's Team Turmoil.
Matter's Pick: Texas 38, Maryland 21
NO. 14 MICHIGAN AT NO. 12 NOTRE DAME
Kickoff: 6:30 p.m., Saturday, NBC
Line: Notre Dame by 1
Quick Hit: Michigan's Jim Harbaugh is 28-11 at his alma mater but just 1-5 against chief rivals Michigan State and Ohio State. Now another rivalry resurfaces as the Notre Dame series resumes for the first time since 2014. Who's got the edge? The home team has won the last four meetings, but the Wolverines are stacked on defense and finally have a passable quarterback in Ole Miss transfer Shea Patterson.
Matter's Pick: Michigan 21, Notre Dame 17
NO. 8 MIAMI VS. NO. 25 LSU
Kickoff: 6:30 p.m., Sunday, ABC (Arlington, Texas)
Line: Miami by 3.5
Quick Hit: Fresh off a nine-win season, LSU's Ed Orgeron still has his doubters around college football. A win over Miami, a 10-win team last year, will put those concerns on hold, at least until the Tigers play at Auburn in two weeks. 
Matter's Pick: Miami 27, LSU 20
NO. 20 VIRGINIA TECH AT NO. 19 FLORIDA STATE
Kickoff: 7 p.m., Monday, ESPN
Line: Florida State by 7.5
Quick Hit: After losing Jimbo Fisher to Texas A&M, Florida State turned to Willie Taggart, who hasn't exactly set the world on fire in coaching stops at Western Kentucky, South Florida and Oregon. He's 47-50 overall, 2-14 vs. ranked teams and 4-15 vs. the Power 5. The Seminoles will expect more, starting with a win over the Hokies.
Matter's Pick: Florida State 21, Virginia Tech 20