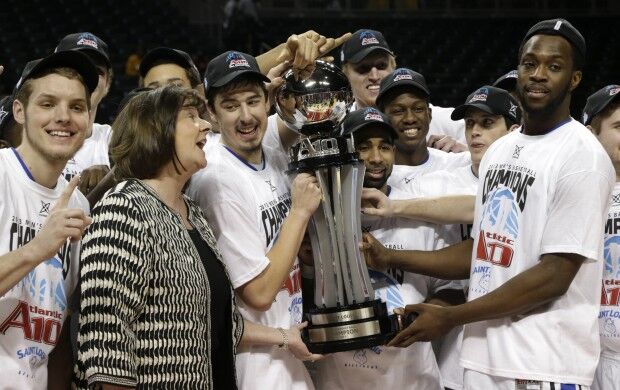 Two weeks have passed since St. Louis University's men's basketball team went into quarantine, and three weeks since the Billikens played a game.
The timing for the end of their COVID layoff remains uncertain, which means the Atlantic 10 Conference's best candidate for an NCAA Tournament berth probably will not be seen by members of the selection committee for a stretch of one month.
Yet, A-10 commissioner Bernadette McGlade, who is a member of the committee, is not concerned about the layoff's impact on 24th-ranked SLU because of the team's fast start and opportunity to play more than 20 regular-season games.
"The committee talked a lot in the fall about the importance of watching teams and seeing them play to really have a great depth of knowledge, given that we're not going to have comparisons of everyone playing 28 games," she said. "SLU has not played a conference game, yet I know many committee members watched them in November and December. The poll voters have as well because people know the strength of their team."
Of course, the hopeful tone comes with the caveat that the Billikens will not encounter further shutdowns. Some players began to return Wednesday and had individual workouts. But coach Travis Ford said the team will not return to a full practice until at least the middle of next week, if not late in the week.
The Billikens have had five A-10 games postponed and appear on their way to at least a sixth. Additionally, they have a road game against St. Bonaventure that has to be given a date.
McGlade said there is not enough time for the Billikens to re-schedule all missed game to get to the maximum of 18. However, she believes that if they play around 14 they will be in good shape.
"When we did our preseason projections and asked how many (games) we felt (teams) could lose, we felt we could be in the range to drop to 15 or 16, maybe 14," she said. "If you're at 14 and have eight nonconference, you'll finish with 22 games and that's strong."
SLU athletics director Chris May explained that it wasn't as simple as having everyone serve a 14-day quarantine because of the many different scenarios.
Some positive results came back Dec. 30 and at least one came after that. Some people had symptoms and others didn't. Those who tested positive must go through at least a 10-day quarantine and a seven-day slow return progression.
"We have multiple positives who are coming out of quarantine isolation at different times," May said. "The issue in coming out of isolation is that it depends on symptoms and when they started and when they ended."
The A-10 has someone working on rescheduling on a full-time basis. The conference already has moved a couple of games scheduled in February to January, opening potential dates for makeups.
Every team has a bye week that ideally would make room for one or two games that have been postponed. And McGlade said the final weekend of the regular season, which was left open, could be used for mini pods for teams that need to play makeups against each other.
"A team could get three games in a row like at the championships — maybe Thursday, Friday Sunday," she said. "Hopefully we won't have to do that, but at this point everyone is being realistic and we have to keep options open."
She also said it would be smart for the A-10 to prioritize which games are rescheduled to enhance schedules for teams that have the most realistic chances of reaching the NCAA Tournament.
SLU's postponed games include ones against La Salle, Duquesne and St. Joseph's, all of which are below No. 150 in the NET. The best-rated teams the Billikens would have played are No. 90 Davidson and No. 111 Massachusetts, but those matchups were postponed.
On top of postponements and reschedules because of COVID, the A-10 postponed a game at George Washington that fell on the same day as the siege on the U.S. Capitol. Now the league is monitoring situations in Washington and Richmond, Va., for the next week amid concerns of violence.
Ultimately, getting every team to 13 games against Division I opponents to qualify for postseason consideration is the lowest possible bar.