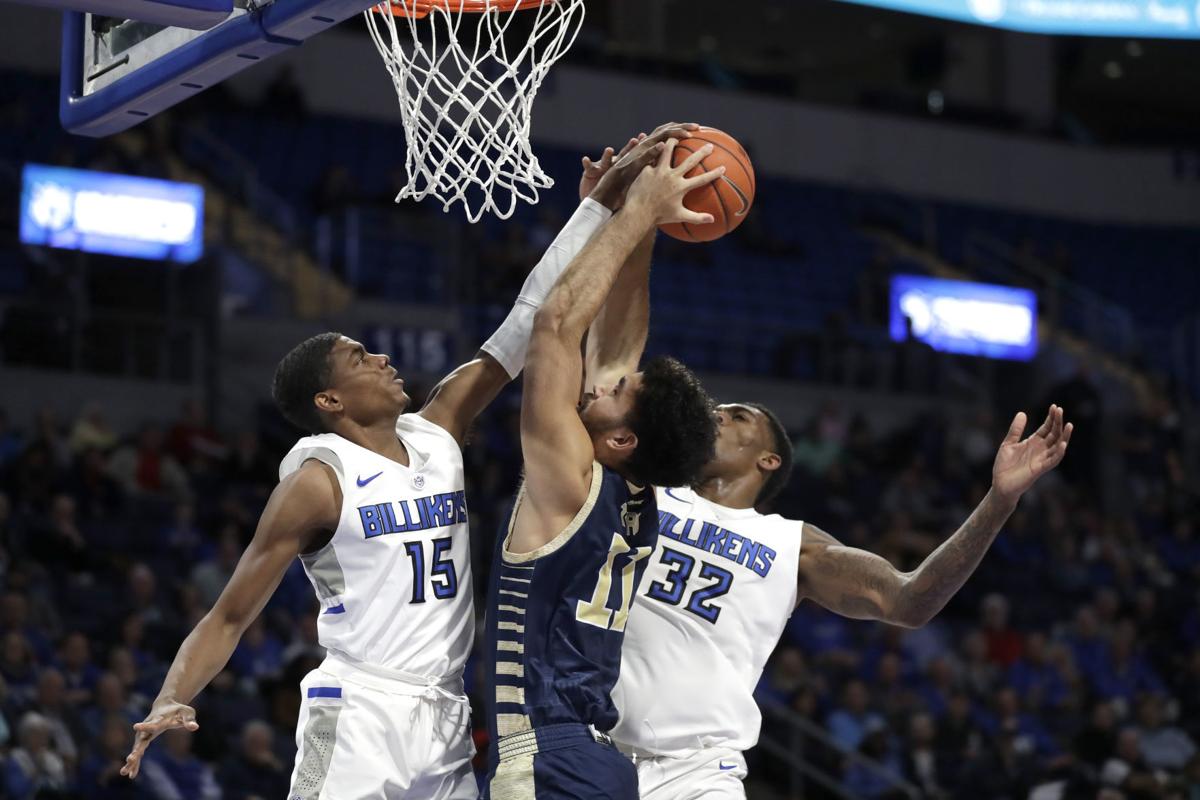 The initial workouts at St. Louis University took a toll on Jimmy Bell Jr. as he was finishing his well-documented period of significant weight loss that transformed him from an offensive lineman into the Billikens' starting center.
As he adapted to a new pace, the former high school football star huffed and puffed and occasionally lost his lunch.
"I had to fight through, especially at the beginning of the summer," he said. "The first few workouts I was throwing up. I can see the difference since I got here. I used to get exhausted, couldn't run and my legs would be tired. I'm used to it now."
Bell has started the entire season but after averaging 14 minutes through 16 games, he played a season-high 27 and was a major factor in SLU's win at Richmond on Saturday.
The 6-foot-10, 285-pounder scored 10 points and played strong defense against Richmond's Grant Golden in only the second game in which he has topped 20 minutes.
Bell peaked around 370 pounds in high school and generated interest from football powers such as Michigan, Michigan State and Notre Dame.
He turned his sights to basketball for the sake of his body and health and has been making slow, steady progress this season. Coach Travis Ford said he expects that progress to accelerate in the offseason.
"Jimmy works out about twice a day, on his own," Ford said. "He's committed to getting better. This time next year I think he can be one of the better players in the (Atlantic 10). I think he can make that big of a jump."
Bell's numbers might seem minuscule for a starter — he averages 4.2 points and 3.1 rebounds. However, he wasn't expected to be a huge statistical contributor.
Initially, part of his role as the starting center was to keep Hasahn French from defending the opposing center early in games in hope of him avoiding foul trouble. As a result, Bell played as few as four minutes against Southern Illinois-Carbondale and seven against Valparaiso.
The breakthrough at Richmond was significant and another step in growing confidence.
"I was proud of myself, not only because of the scoring but playing against a more veteran guy like Golden," he said. "He's one of the best in the league so I was proud, and coach Ford let me know after the game."
Bell is playing this season with a tattoo of his father on his left arm. His dad died in 2018 after they had re-established a relationship a few years earlier following a divorce. Bell's mother has been able to make most home games, and he has two brothers and two sisters.
Bell left Michigan for two years of prep school in Arizona to play basketball, the sport his father played.
"He played so it was his dream come true," Bell said. "It took a toll on me at first after he died and I'm motivated every day to play for him. I've got this tattoo and I always look at that too to motivate me."
Bell got his size from his grandfather on his father's side. He was 7-2 and Bell was always told by his doctor that he could end up 7 feet tall. Whether he's still growing remains to be seen, but he definitely expects to continue to reduce his weight.
It's part of an overhaul that has allowed him to dunk, something he really couldn't accomplish at 370 pounds. It has provided greater mobility. And with added conditioning it has allowed Bell to have a bigger impact in games.
"I love being on the court," he said. "I feel like I'm more confident in myself. The first few games I was unsure of the speed of the game, and when you're a freshman you don't want to mess up. But I just kept getting more confidence and playing better each game."