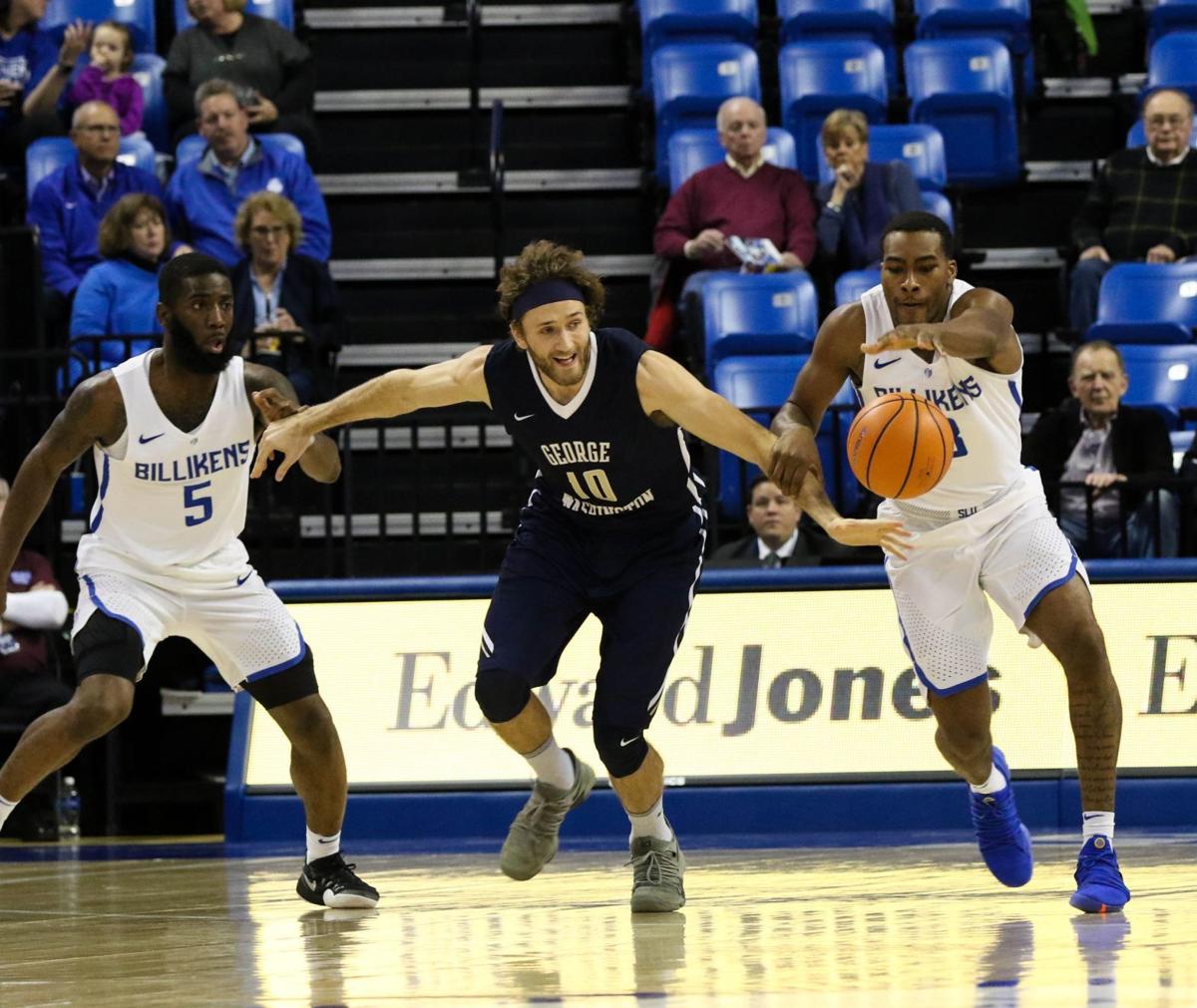 Travis Ford ordered his best player to the sideline at practice this week and returned his focus to the next task in preparing St. Louis University for its final two regular-season games.
He wanted Javon Bess to take a break, to rest his injured ankle and to just flat out get a few minutes of rest.
Then, out of the corner of his eye, Ford spotted Bess insisting to teammates that he wanted to continue practicing.
Javon Bess does not take shortcuts.
"People have no clue — none, zero — how much he's been through the last month and a half dealing with an injury," Ford said. "He's tried to hide it from me, from everybody, to try to play.
"If he hadn't been hurt, he probably would have been the player of the year in the league. He was headed down that road. He's never made an excuse. We have to literally hold him out. He's sneaking into practices."
Bess will play his final home game during a three-year stay at SLU on Wednesday night when the Billikens play Duquesne. After the game, a ceremony will be held to recognize Bess and fellow seniors D.J. Foreman, Tramaine Isabell Jr. and Dion Wiley as well as Elliott Welmer.
Bess still shows up some mornings at 6 to shoot in the practice gym. He's been told to stay away by the training staff, which wants him to take it easy.
The 6-foot-5 guard leads the Billikens in scoring with 15.6 points a game and averages 6.7 rebounds. And he routinely guards the top perimeter scorer on the opposing team, having frustrated many of the best scorers SLU has faced.
The transformation since his two seasons at Michigan State has been enough to generate interest from NBA scouts.
"I just feel confident in my game," Bess said. "I think that's probably the main thing coach Ford has helped me with as far as not second-guessing myself. He helped me with my shot and a lot of things, but the biggest is confidence. It's what has made me the player I am."
Bess arrived at SLU from Michigan State after having surgery for a foot injury. He was looking to expand his game and was told by Ford that he would get the chance to shoot, shoot and shoot some more with the Billikens.
The Ohio native took advantage and has turned himself into a dangerous 3-point shooter after making only two 3s for the Spartans. He did so by practicing excessively, including attempting to make 100,000 3s over six months before his senior season. He ended up close to 90,000.
His shot has been the most noticeable improvement in his game. Instead of shifting the ball from left to right, he takes the ball straight up from the right side and shoots with a near-perfect rotation.
Sometimes less noticed is the defensive job he has done. Ford believes Bess should be the A-10 defensive player of the year and is among the best in the country. It's a skill Bess said is all about desire.
"It's really just something inside you," he said. "I'm not the most athletic or fastest or quickest guy, but I watch a lot of film. It's just the will to not let somebody score on me."
Bess has handled his many responsibilities while averaging 36.5 minutes. There have been games when he was considered a game-time decision because of his ankle and then played close to 40 minutes.
He refused to say that his ankle is an issue, although he concedes he probably needs to take care of his body better to finish the season strong.
It's that work ethic and more that have earned raves from Ford.
"Of the 22 years I've been a college coach, he'd rank at the top of the guys that represent doing what you're supposed to do every day to maximize your abilities and take advantage of a college education," Ford said.
NBA scouts have been attending SLU games much of the season. When SLU played St. Joseph's at Chaifetz Arena in January, 11 scouts were in attendance. They saw Bess hold Charlie Brown, the league's leading scorer, to nine points on one-for-11 shooting and score 20 points with five 3-pointers.
"They love Javon," Ford said. "What they love is how far he's come and how much he's improved. They know he can be a (defensive) stopper because he's got length and can guard multiple people. Then they get to hear the character I talk about and that makes them start writing faster. He'll have a chance to make a team."
Bess was playing like an A-10 player of the year candidate early in the conference season. Ford said he can see the difference in what he is able to accomplish since aggravating the ankle injury.
Yet, you'd still be hard-pressed to find a player in the league who does more for his team or is more important to its success. And Bess wouldn't have it any other way.
"It's just a testament of the work I've put in," he said. "I feel I've put in the work to deserve that."
Be the first to know
Get local news delivered to your inbox!