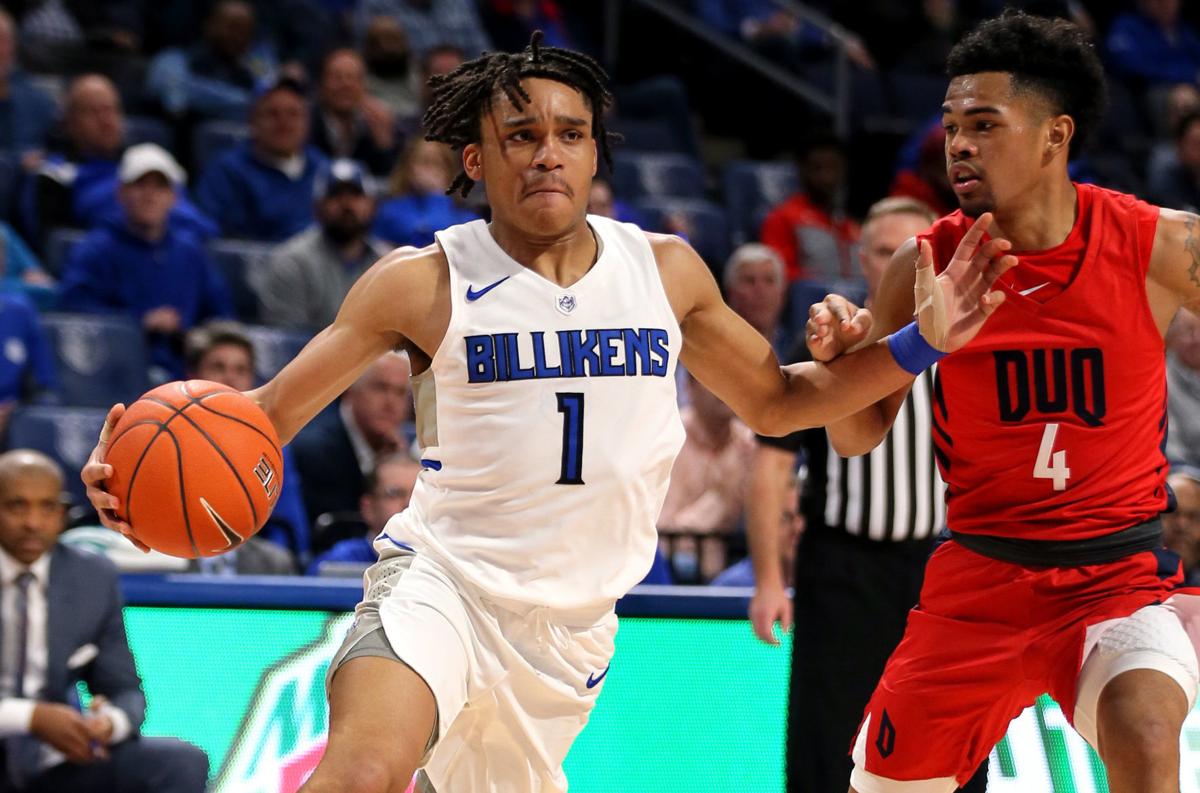 Bottling the momentum from the end of one season to unleash when the next one starts is an unproven science.
Travis Ford likes the concept, but he's not so sure it's the proper mindset for his St. Louis University basketball team.
To be sure, there was momentum. SLU finished with a five-game win streak that pushed the Billikens to fourth place in the Atlantic 10. Their improvement was apparent in visual evidence and the numbers.
"We had a chance to do something special, but a lot of people can say that," Ford said. "I hope we pick up where we left off, but I don't know if that's the right approach. A lot of it has to do with finding your own identity. There's probably going to be a lot of the same identity but it's a new season. You have to get that hunger back. You can't rely on what you did last season."
What SLU did in 2019-20 was somewhat unexpected after the loss of four seniors and the influx of seven newcomers. The Billikens went 23-8, matching their win total from the previous season and improving their win percentage overall and in the A-10 for the fourth consecutive season.
They did so despite the loss of starter Fred Thatch Jr. for the entire season and key reserve Gibson Jimerson for the conference slate.
The Billikens relied on juniors Jordan Goodwin and Hasahn French to do the heavy lifting until Javonte Perkins blossomed into an elite scorer, Yuri Collins became a more consistent point guard and Terrence Hargrove Jr. adapted and displayed his vast athleticism.
The only known departure for next season is senior Tay Weaver. And the expected return of Thatch and Jimerson and arrival of two freshmen will make SLU one of the favorites in the A-10.
"We thought at the end of the season we were playing as well as any team that I've had at SLU, and I thought as well as anybody in the country," Ford said. "That was based on what I saw on tape, what I saw in practice and on analytics. It was based on a lot of things that said we were playing really well on both ends of the court."
SLU averaged 71.7 points, which was more than any team at the school in 25 seasons. The Billikens held opponents to 65.2. They finished 44th in the country in adjusted defense and 111th in adjusted offense, according to kenpom.com.
They outrebounded teams by an average of 6.6 per game to lead the A-10. They shot 45.4%, which was third in the conference, and held teams to 40.1%, which was second.
And although the key to SLU's late success was getting contributions from everyone, it was Goodwin and French who led the way. They finished as the only teammates in the country to average a double-double and moved their way up several career SLU stat lists.
Ford said their heavy load was a blessing and one that he wouldn't mind seeing continue, even as others produce more.
"I like them having that responsibility," he said. "First and foremost, I think they can handle it, and as seniors that will go with it. A lot of the success this year was because of their leadership. That doesn't need to change.
"As the season went on Yuri felt more comfortable and took on more responsibility. Obviously Javonte did as well. Everybody became a little more comfortable."
Ford and his staff had to make considerable adjustments when Thatch was lost to an illness and Jimerson a month later to a broken foot. They could re-invent the team or move forward with the hope that others would progress. The latter worked out well.
Even without their best 3-point shooter, the Billikens improved their shooting beyond the arc. Without one of their best one-on-one defenders they became a stingy defensive unit.
Ford has been told they should be ready to go next fall. Thatch still is waiting on some test results but Ford said "things are looking really good." Jimerson could be cleared to run in the next week or two after an X-ray taken last week showed that his foot has healed.
"Those two are very important to our team," Ford said. "We knew what we were missing through the year. I don't get too caught up in it when they can't play."
SLU never quite played itself into the NCAA Tournament talk, mainly because of losses in marquee games against Dayton, Seton Hall and Auburn, where a win would have boosted the Billikens' ranking and caught people's attention. But the Billikens didn't suffer any particularly bad losses either.
Ford's hope for next season is that an experienced group combined with a strong schedule and a big win or two will make a difference in the end.
"Whenever we start back, it's got to be like a fresh start," Ford said. "What is that team going to achieve, and how are we going to get there?"
Be the first to know
Get local news delivered to your inbox!