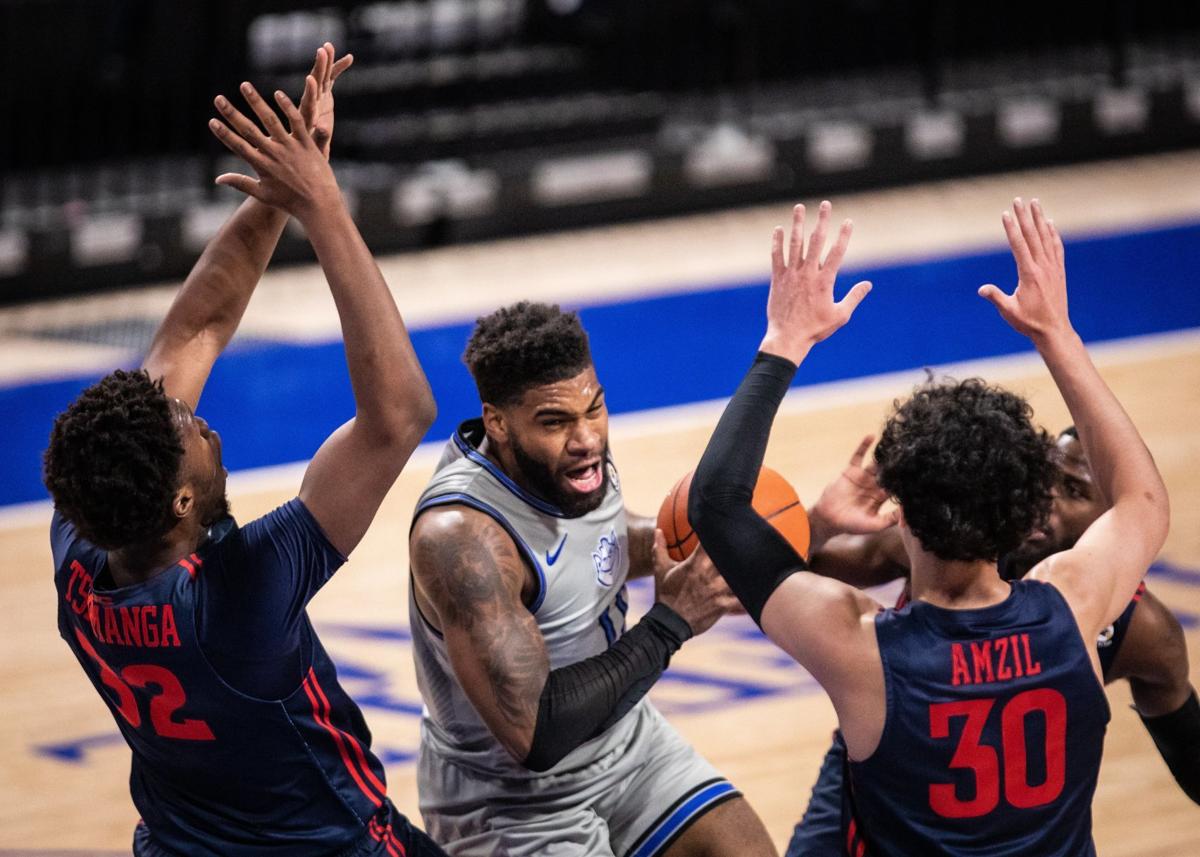 St. Louis University's initial concern about COVID-19 protocols in the Richmond basketball program came to light Thursday night after the team arrived at its hotel.
What transpired in the next 15 hours led the postponement of SLU's game scheduled for Friday night in Richmond, Virginia, in a decision made by the basketball program's medical team in St. Louis.
Athletics director Chris May said both programs agreed not to reveal details of the issue that SLU found troubling.
"When we arrived we received information related to COVID-19 protocols that raised concerns," May said. "We had further conversations (Friday) morning and met with our medical team, who advised us it was in our best interest for the team to not play. We're confident the right decision was made."
A meeting was held involving both ADs and Atlantic 10 Conference commissioner Bernadette McGlade before the postponement was announced about five hours before the game was to tip off.
SLU flew home on a charter flight Friday afternoon. May said the Billikens did not have any players test positive and plan to practice Saturday.
In a statement released as SLU was en route home on a charter flight, Richmond athletics director John Hardt seemed to question the need for the postponement.
"We are extremely disappointed tonight's game . . . was postponed," he said. "Our team was prepared to play and had successfully cleared all appropriate university, A-10, NCAA and Virginia Department of Health COVID-19 protocols."
Additionally, Spiders coach Chris Mooney told the Richmond Times-Dispatch that his program had not had any recent "irregularities or interruptions" in COVID testing.
May said there was no indication of the issue before SLU traveled.
"We're disappointed our team couldn't play," he said. "We were there, prepared and ready to go. All of our personnel are healthy and remain fully cleared."
It is expected that the A-10 this weekend will announce a makeup game for the middle of next week. There was not enough time to find another opponent for SLU to play Saturday or Sunday.
With about five weeks remaining in the regular season, the Billikens have played one A-10 game, have eight remaining on the schedule and have nine that can be rescheduled.
SLU currently is next scheduled to play on Feb. 6, at George Washington. However, the Colonials are on pause as of this weekend. The Billikens have a bye week in between and will have a makeup game added.
Rescheduling is further complicated because Davidson, which also has a bye week coming up, is on pause along with Massachusetts.
Friday's game was supposed to be the A-10's weekly featured contest that would have been televised nationally on ESPN2. SLU also had a game postponed two weeks ago, against Davidson, that was to air on ESPN2.
SLU is 7-2 must reach 13 games against Division I opponents to be eligible for the A-10 tournament and the NCAA Tournament. There is nothing to indicate that the team faces a layoff at this point, but SLU must wait for the conference to make a move on who it will play next.