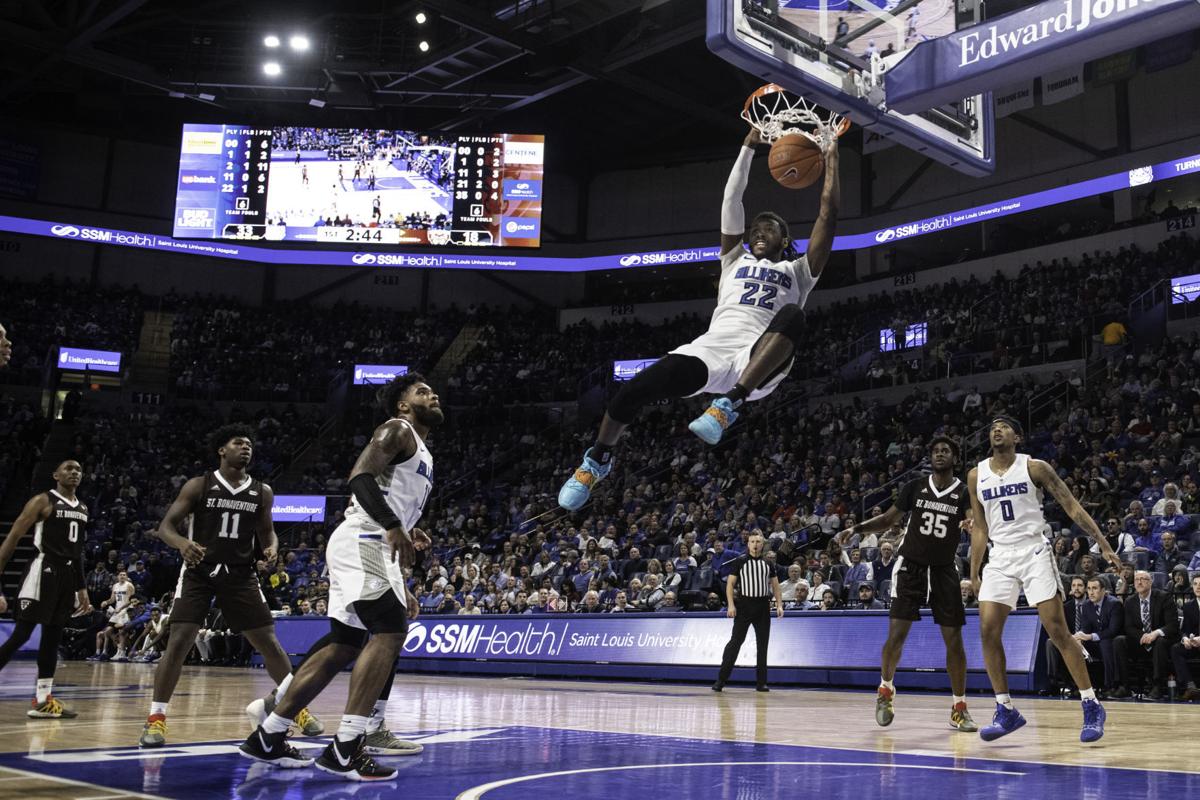 St. Louis University basketball player Terrence Hargrove Jr. talked to the Post-Dispatch about what he has been doing since the college basketball season ended and will do so periodically until students are allowed to return to campus.
The transition happened fast, just like the events in the world of sports two weeks ago in this time of COVID-19.
One moment, Hargrove was practicing with his teammates in Brooklyn in preparation for the Atlantic 10 tournament in Brooklyn. The practice was stopped abruptly, players were told the season was over and by that night the Billikens had dispersed with Hargrove flying back to St. Louis with those who live in the area.
The freshman has since moved all of his belongings out of his dorm and back to his home in East St. Louis. There was a TV, a gaming system, containers packed with items. But mostly he had clothes and shoes – 15 to 20 pair – all of which are now stuffed into the bedroom where he has lived his entire life.
Not only has Hargrove's daytime routine been altered but his sleeping patterns have changed. He said he now usually is awake until 3 or 4 in the morning, sleeps until about 1 in the afternoon and then finds ways to fill the time.
"I'm not tired at night," he said. "I just can't sleep, and me and my dad will be up until 4. He'll lay down and get up at 3. I'll come down and see him sitting at the table and we stay up together. Finally I fall asleep, get up and do it all over again. If I was on campus right now, I would go to sleep at 11 or 12 and wake up early for classes."
When he moved to campus in the fall, Hargrove expected to stay there year round, for the most part. So, figuring out how to avoid boredom has been a challenge.
He spends time making TikToks, some of which find their way onto his social media accounts on Instagram and Twitter. He plays basketball with brother Kyle, 9, on a mini hoop in his room. He chats with his parents. And he feeds his Tyler Perry obsession.
"I've been watching a lot of Tyler Perry movies and plays," he said. "I love Tyler Perry, so I watch a lot of his things. I might try to find a series on Netflix to watch until this stuff ends."
Hargrove and other students returned to classwork this week via online instruction. He spent time on Monday and Tuesday doing math, English, anthropology and geography. He spent about an hour online for each and will follow-up with assigned homework.
The opportunity to work out has been limited because gyms are closed. Hargrove said he has gone outside a few times to do some running.
"Pretty much all you can do now is try to stay in shape," he said. "I'll run down the street and back a few times – a nice little jog. I'm not a distance runner."
The players are staying connected through a group chat, which, Hargrove said, is filled mostly with comments about being bored, funny things they find on social media and his TikToks.
On most days, the desire to get out of the house is too much and Hargrove finds a way to get some fresh air.
"I just go outside and sit around but don't go anywhere," he said. "A couple of weeks ago I was going to a friend's house and hanging out. I understand now we have to stay in because of quarantining, but I want to get out and drive around just to get out and look at something other than these four walls. So, sometimes I ask my dad for the car and go out and drive around."
---
Concerned about COVID-19?
Sign up now to get the most recent coronavirus headlines and other important local and national news sent to your email inbox daily.