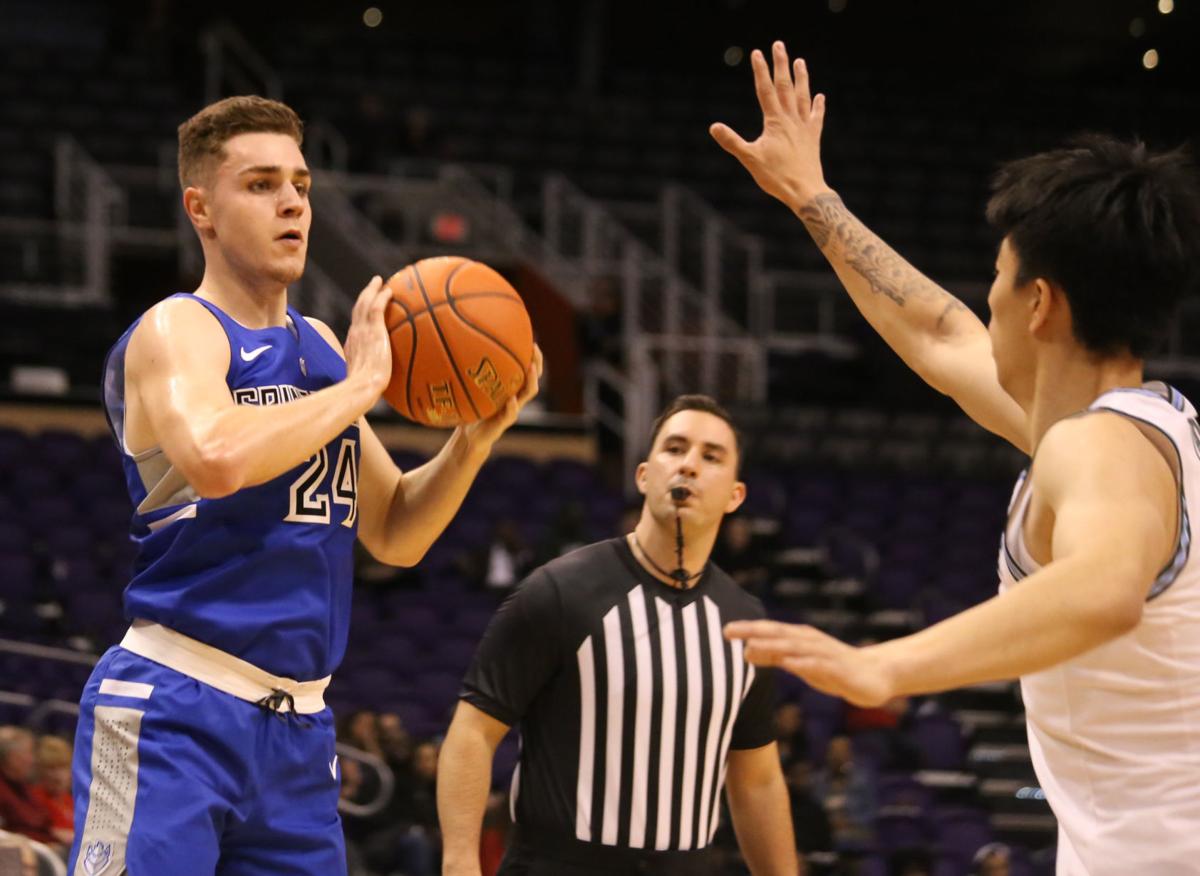 PHOENIX — St. Louis University guard Jordan Goodwin sank the team's first 3-pointer Sunday.
And then another followed. And another. And another until the Billikens notched 10 3-pointers in the first half, kissing their string of slow starts goodbye.
They finished with a school-record 17 3-pointers in an 86-62 victory over Tulane in the Jerry Colangelo Classic.
"This was the most complete game we've played all year," coach Travis Ford said. "We've been really inconsistent this year, playing one really good half and one bad half. Or really good at offense, bad on defense, or flip flopped."
The Billikens (8-1) built a double-digit lead midway through the first half, knocking down four of their first six 3-pointers. SLU embarked on a 9-0 run late in the first half to take an 18-point lead over the Green Wave (7-2) just before halftime.
Ford emphasized that his team needed to move past its sluggish starts.
"Today, I think on the defensive end, we picked it up. We were aggressive and we had good stops," Gibson Jimerson said. "On the offensive end, we got inside early. I was able to hit a spot and find holes in their matchup zones."
Jimerson's 22 points were three shy of his career high. His six 3-pointers were tied for the team high with Demarius Jacobs.
"I got it going a little bit, I could tell I was in a rhythm. My teammates kept finding me, and I was enjoying it." Jimerson said.
The team nearly fell back into its old patterns at the start of the second half when the Green Wave made a 9-0 run to trim the deficit to 10.
But when Hasahn French drew a foul, it sparked a Billikens' spree to extend the lead back to 17.
"We knew they'd make a run. We didn't know when it would come, but they're too good not to," Ford said.
Consecutive 3-pointers from Yuri Collins and Jimerson "wiped out what they had just done."
"That's what the 3-point line can do," Ford said. "It's an equalizer."
SLU entered the game making an average of six 3-pointers a game, just 273rd in Division I, and making them at just a 32.4 percent clip, ranked 210th. On Sunday, they made 60.7 percent (17 for 28).
Once the offense started clicking again, the defense settled in for one of its better performances of the season. SLU limited Tulane to 36 percent shooting in the second half after the Green Wave shot eight percentage points before the break.
Ford planned to switch matchups on Tulane's top four scorers, all transfers, to keep them in check.
The plan worked as SLU held Georgia transfer Teshaun Hightower to 12 points total, including one-for-eight shooting in the second half.
"What helped the defense the most was our communication in the second half," Jimerson said.
While the defense imposed its will, Goodwin notched his fourth straight double-double, finishing with 12 points and 16 rebounds.
Goodwin, who prides himself on rebounding, credits Collins for running the offense.
"For our team to be successful, I let Yuri run it," he said. "I'm in his ear a lot to tell him what plays to make and just tell him to be himself."
He also mentioned he's never seen a bad shot from Collins.
The Billikens also received good news before the game: French was returning after feeling sick the past few days.
French finished with 18 points and 11 rebounds. He's averaging a double double.
"It's just a warrior's effort. Absolute warrior," Ford said.