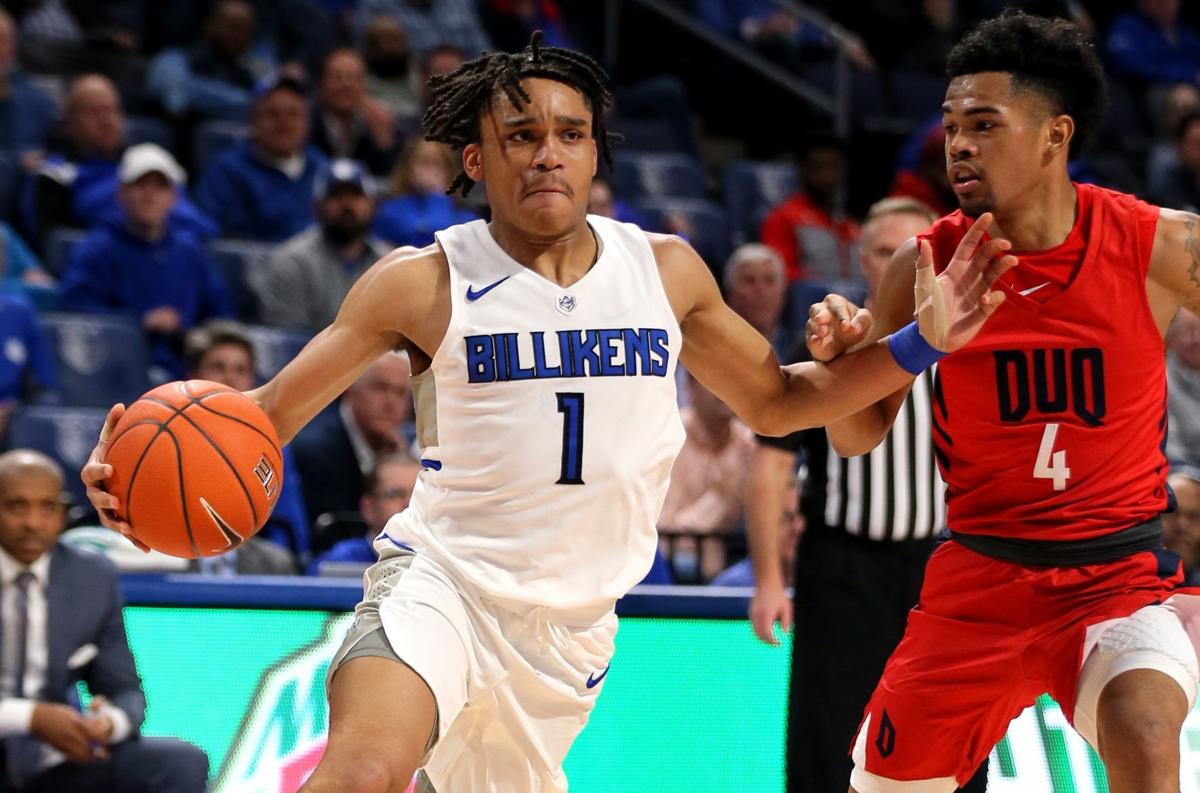 Keeping busy after sports shut down was a little different for Yuri Collins than most, if not all, of his teammates at St. Louis University.
First of all, the SLU point guard doesn't play video games for hours on end unless it's on those occasions when he's entertaining his younger brothers. But Collins did have access to a gym unlike almost everyone.
"I was lucky enough to know a couple of people, so I could get in early in the morning or late at night," he said. "So, I was able to stay in some type of shape and keep my craft up to par."
Collins is now back on campus with most of the Billikens, trying to resume as normal a routine as possible. Teams were able to begin workouts as of July 20 with players working with coaches on skills for a maximum of four hours per week.
He is one example, coach Travis Ford said, of a player who returned after a four-month layoff, in seemingly excellent condition. A month of weight training and running under the supervision of director of sports performance Robb Hornett from mid-June to mid-July helped.
"Everybody, for the most part, came back in great shape." Ford said. "They're in much better shape than I anticipated. There are a few guys that probably came back better than ever — at a really high level. Gibson (Jimerson) looks like a different person, and Jimmy Bell and Yuri."
More than anything, Collins is pleased that his hands have healed after he played all of last season with them taped, mainly to protect his injured thumbs. Jimerson has recovered from a broken foot that ended his season in December. Bell spent time at home in Michigan working hard to improve his conditioning and drop weight.
Before official workouts were allowed, the players lifted weights in the reconfigured weight room three days a week. They also spent time on the soccer field running for endurance and doing sprints twice a week.
The latest workouts on the court have been limited. They are done in groups of four or five players in the practice facility. Ford said he hasn't used the full allotment of time yet.
"It still kind of feels a little weird with the groups and only being able to have a certain amount of time," Collins said. "We're having to spray down everything after we use it, wear masks everywhere. It's still an awkward feeling."
While some college teams are able to hold full workouts, Ford said the Billikens will be limited to groups until city guidelines change. But he has no complaints.
To the contrary, he is excited to have Fred Thatch Jr. cleared and practicing after sitting most of last season with an illness. Jimerson has lost weight and added muscle. He said Bell "has continued to transform his body."
All of last season's returning players are back on campus. Transfer Marten Linssen arrived from Germany on July 26 and began a 14-day quarantine. Incoming freshman Andre Lorentsson is still working on obtaining a visa at his home in Sweden.
As players do workouts, Ford and all support staff in the gym wear masks. The locker rooms remain closed, and the coaches aren't allowed to work from their offices. Ford looks forward to having in-person staff meetings and expanding workouts beyond individual drills.
"There are teams that are able to have full practices and compete right now," he said. "From that standpoint, you get a little nervous. Maybe it's not warranted but it's a coach's standpoint that you feel you're getting behind. We'll take this slow. We're in contact with our doctors getting advice on what should and shouldn't be done."
Ford is in the final stages of completing a schedule. At this point the nonconference schedule includes a trip to the Orlando Invitational, home games against San Diego State and Boston College and a trip to Memphis.
As of this week, he said a D-II opponent was still being sought as well as an exhibition game. And another game against a power conference opponent has been awaiting a final contract for some time.
When a schedule might be released remains to be seen. At this point there isn't a rush because of the uncertainty that surrounds college athletics.
"We approach it like everything is going to be normal," he said. "I've heard we may not play until January. We may be limited in November. But until it comes out you have to prepare for it to be normal."
Be the first to know
Get local news delivered to your inbox!