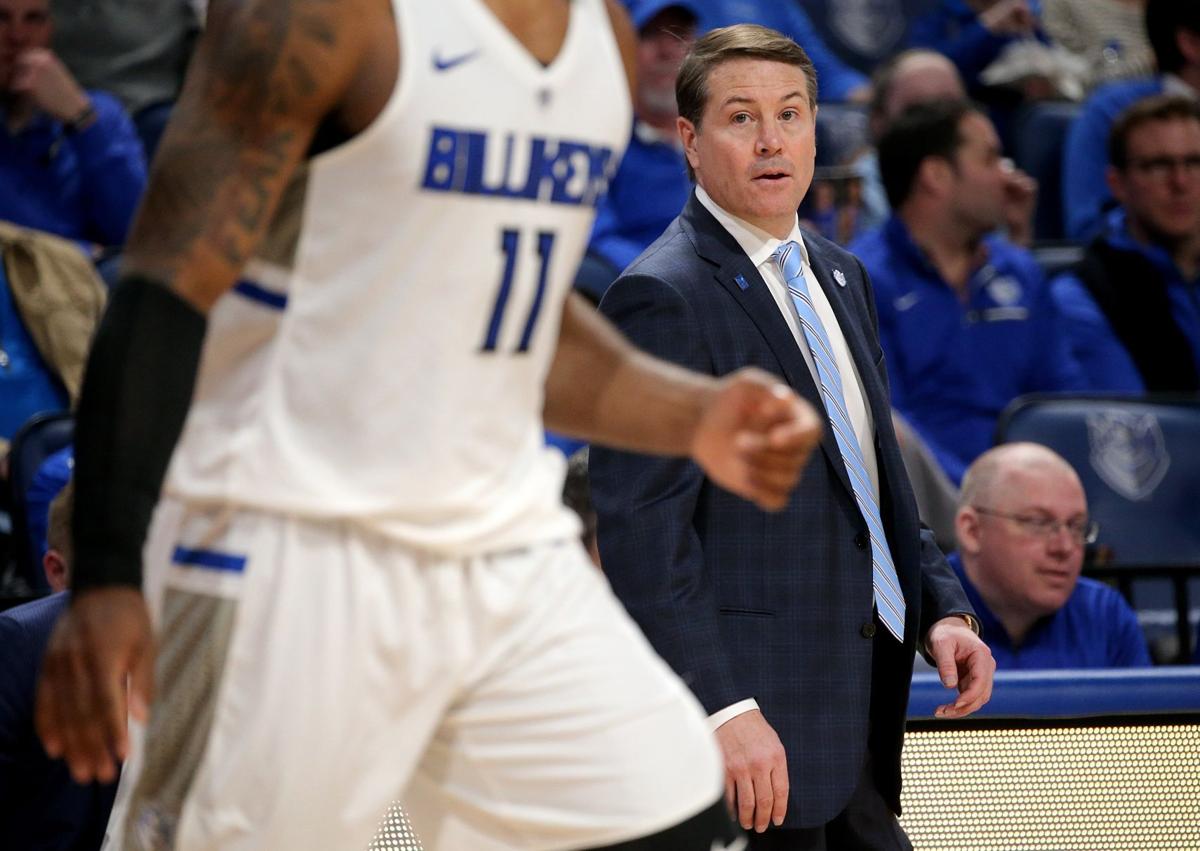 Coach Travis Ford constructed the St. Louis University basketball schedule to give the Billikens four early games before they headed to the Orlando Invitational where meetings with Gonzaga, Michigan State or Auburn are possible.
When the NCAA announced Wednesday the start of the college season will be delayed two weeks to Nov. 25, the schedules for SLU and every other Division I team were thrown into chaos.
It now appears the Billikens will open in Orlando, possibly against a nationally ranked opponent. But hours after the new opening day was announced, Ford had no idea what will become of the rest of the schedule, which figures to require changes due to the coronavirus.
SLU will be able to play nine nonconference games if they can be arranged, including the three games in Orlando.
"I would like to play nine if we can figure it out," Ford said. "There are 300 something teams scrambling. We're all scrambling trying to figure out what the schedule will look like, and we have to get a lot of answers to a lot of questions. We have to find out who still wants to play and go from there."
Mizzou is scheduled to play in the Myrtle Beach Invitational from Nov. 19 to 22. There have been reports the tournament could be moved along with several others to Orlando in a bubble-type setting. An official with those events did not have new information as of Wednesday.
The Division I council approved the new start date along with deciding some other basketball-related issues. Practice will begin Oct. 14, when teams will be allowed to spend 20 hours on the court each week. Starting next week, teams will be allowed to increase from four hours to eight hours per week. No exhibition games will be played.
Among the games SLU has scheduled after going to Orlando are home games against San Diego State on Dec. 5, Tennessee State on Dec. 8 and Boston College on Dec. 12 The Billikens are scheduled to go to Memphis on Dec. 2 and Minnesota on Dec. 20.
However, Ford knows it is quite likely the schedule will not be played as it is designed.
"Hopefully we can just pick up our schedule (after Orlando)," he said. "If it doesn't seem to be working, we have to go to plan B. The coming days are going to be crazy because everyone will be trying to beat each other to the punch to get the right schedule."
Seemingly lost from the SLU schedule will be early November games against Southeast Missouri State, Northern Illinois, Siena and Southern Illinois-Carbondale. The Atlantic 10 has not released its schedule, which includes 18 games in a normal season.
It is possible that some teams might choose not to travel an extended distance for a game. There also could be travel restrictions for teams from some states going to other states due to the coronavirus.
There also has been considerable discussion about groups of teams being invited to various sites to play nonconference games in a bubble setting.
Ford is looking forward to a chance to spend extended time on the floor with the Billikens starting next week. He mostly has spent the limited hours permissible in recent weeks on individual workouts.
"At least we've got a little direction," he said. "I've been doing a lot of individual work, so we'll start implementing a little more (team workouts) at this point. Just the increase in hours is a positive in getting a little more done."
Among the other decisions made by the D-I council Wednesday was a move to prohibit practices and games Nov. 3 to allow athletes the opportunity to vote. Also, the recruiting dead period was extended through Jan. 1.