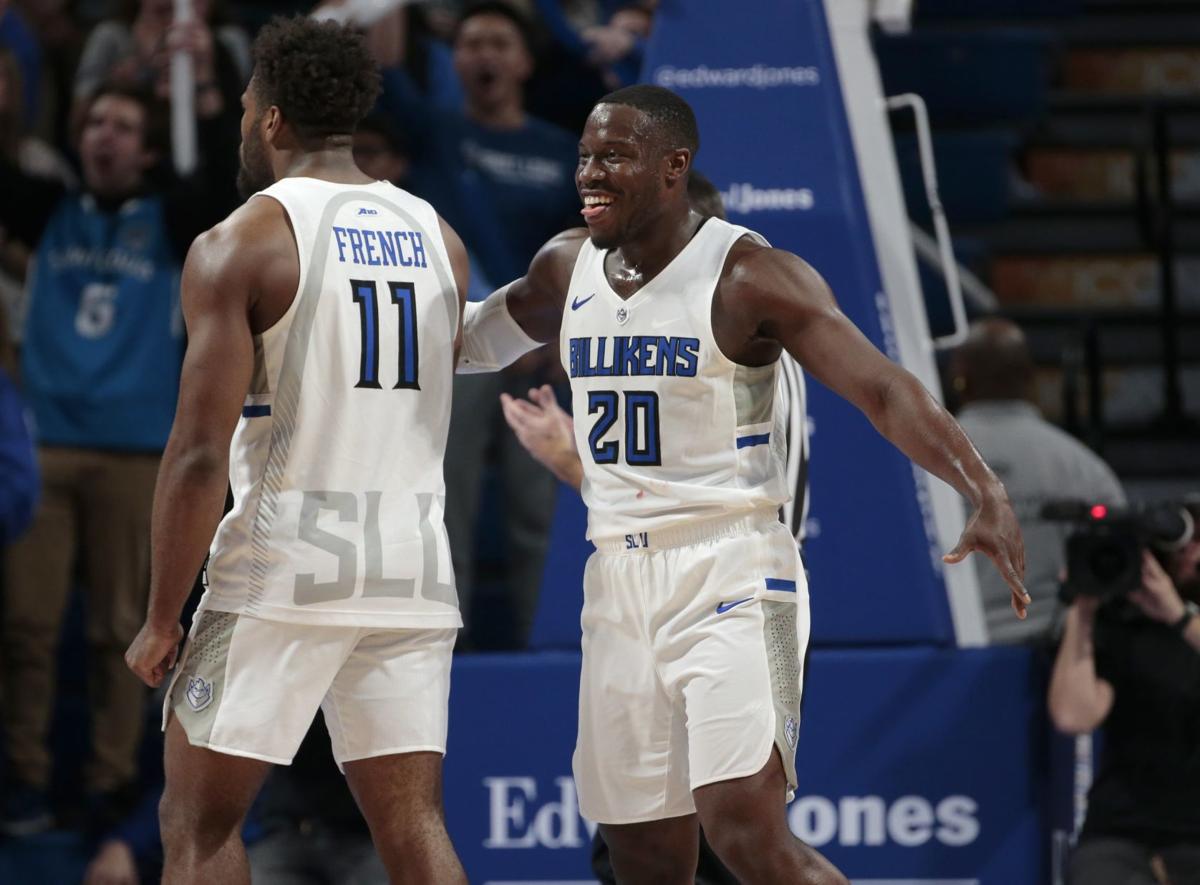 Weeks of pain and discomfort gave way to a frightening moment for Fred Thatch Jr. on Thanksgiving, when his lower legs swelled and hurt to even touch.
The St. Louis University sophomore had been suffering leg cramps and fatigue, and rest and hydration were doing nothing to alleviate the problem.
Worried, he phoned SLU athletic trainer Jonathan Burch.
"I called JB and said 'We have to do something,'" Thatch said. "I thought I was losing my mind because I didn't know what was wrong with me, but I knew something was wrong."
Weeks of blood tests, a muscle biopsy and endless visits to doctors finally started to produce some answers this week. Thatch learned this week he is suffering from a form of myalgia or an isolated myopathy, both of which affect muscles.
Although tests continue and treatment possibilities are being discussed, Thatch gradually has started to feel better and could see action as soon as Thursday night, when the Billikens open Atlantic 10 play at Duquesne.
"My body feels good right now, I can honestly say," Thatch said Tuesday. "This all started around the first game. I had muscle cramps all the time. I couldn't finish a game. I haven't played more than 20 minutes all year. I had never cramped that much."
Thatch had not addressed the issue until this week because he didn't have an answer. All the while, he was constantly being asked what was wrong or if he had specific illnesses.
Burch said the issue could be related to Thatch carrying the sickle cell trait and that much more needs to be determined. But medical personnel have seen Thatch's blood tests — at least half a dozen in the last month — return with better results than since his symptoms first appeared.
He was held out of practice until last week. He drinks two gallons of water each day along with other hydrating liquids. His diet has been altered.
"This has been hard for Fred," Burch said. "He would play in a game or practice and say, 'My legs just stopped.' One thing people should know is that this isn't like muscle soreness. This is pain. This hurts."
Burch said Thatch has had changes in mitochondria deep in his muscle; mitochondria, the powerhouses of the cell, seem to have broken down. Burch links this to Thatch's leg fatigue.
The 6-foot-3 guard from Sikeston, Missouri, was a starter when the season opened but found himself struggling to play long stretches. After logging nine minutes against Belmont and six at Boston College, he was shut down and hasn't played in a game since Nov. 27.
In six games, he averaged 15.7 minutes, 4.8 points and 3.5 rebounds and shot 35 percent. He has not been in uniform the last month and stayed home twice when the team traveled by plane.
"I want to play really bad but have to get to a point of trusting my body," Thatch said. "I've always been hard-headed, but this is a situation I can't really play through."
Imagine not being able to control the legs that, when healthy, are capable of a 46½-inch vertical leap, higher than anything ever recorded at the NBA combine.
"Some athletes have this, but this is not a common thing," Burch said. "It's very rare."
During the early stages, Thatch thought rest was helping. But he got to a moment in November when "my legs went dead. I couldn't run. I was trying to sprint and my body wouldn't let me run. I was playing through that."
Eventually Thatch couldn't. He has attended all home games in street clothes to watch his teammates play. He attended practices for weeks unable to participate in any drills.
He sometimes had blood tests every other day and underwent an invasive biopsy procedure on his leg muscle.
"Even my own teammates didn't know what was going on," he said. "I leaned on my parents and friends, and they helped me get through. It's not like an injury. It's inside your body, and there's not much you can do but pray and hope things go well."
Thatch said he considered the possibility of not playing again this season to focus on his health. But once he returned to practice, he felt re-energized with hope that his progress would continue.
"It's sad because this was supposed to be my breakout season," he said. "I put so much time in, but hopefully I'll get through it and show what I can do."