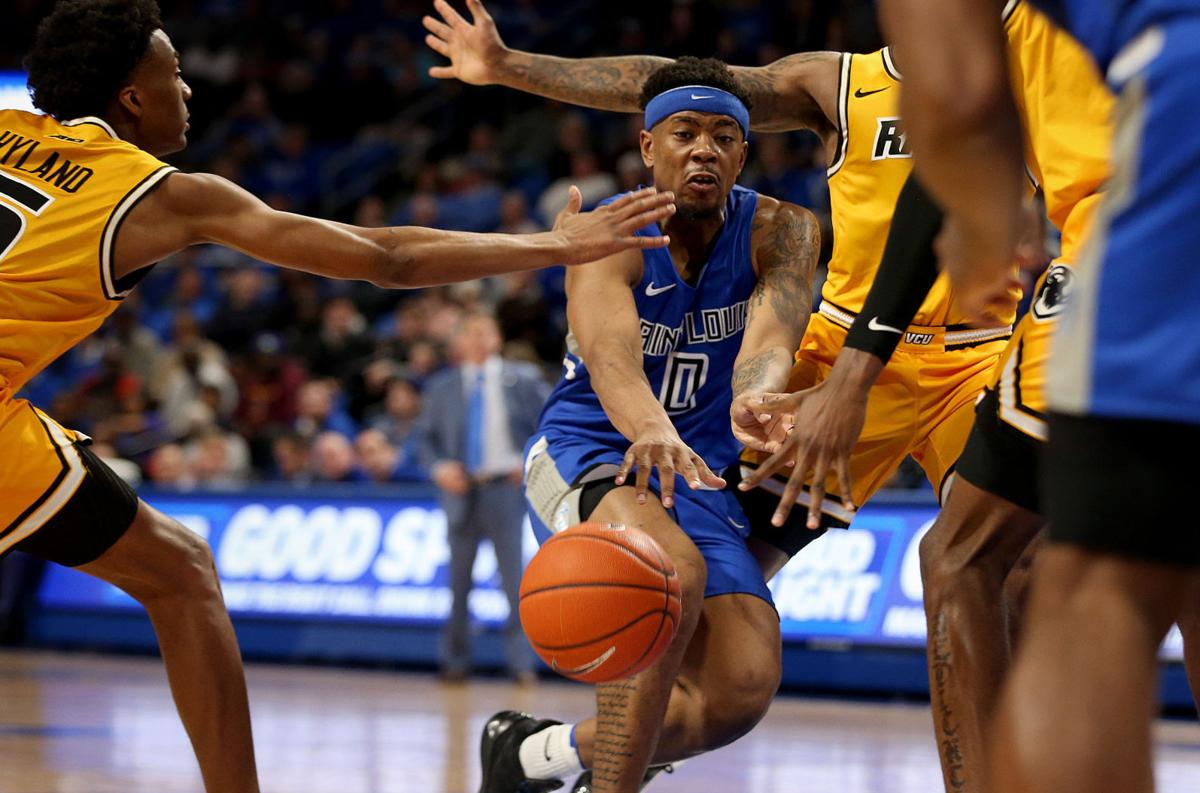 A junkyard hoop and a backboard attached to a telephone pole on Baker Avenue became the site of heated game nights when Jordan Goodwin was in the second grade.
On the blacktop in Centreville, Ill., 6-foot-6 Tim Goodwin and soon-to-be 6-6 Tim Jr. joined the youngest family member for one-on-one tournaments that strengthened bonds and toughened character.
There was no thought of letting Jordan win to make him feel good. It wasn't until the eighth grade that he found success after many tear-filled trips into the house to complain to his mother, who would send him back outside.
"We made sure he never won. We didn't take it easy on him," Goodwin's father said. "I was posting him up. If there was a loose ball, he had to go get it. He was diving on the concrete. We didn't give him nothing."
That was the story of Goodwin's youth — basketball against older, taller, stronger opponents. Those are the roots that help explain how a 6-foot-3 college guard can rebound as well as the country's tallest players and score the bulk of his points around the basket.
Goodwin enters his senior season at St. Louis University as a product of his youth. The Althoff Catholic product is soaring up SLU's career charts and will finish among the top 10 all time in steals, rebounds and assists. A big offensive year could push him to the top 10 in scoring.
Years of family battles go into every one of those numbers.
"It got real personal between me, my brother and dad," he said. "I would run in the house crying to my momma because they were always cheating me. I guess they planned to not let me win. It worked. I got my toughness because of those two."
Unfinished business
Goodwin has become a stat sheet stuffer for the Billikens. He's a first-team all-Atlantic 10 Conference performer and made the all-defensive team last season. After declaring for the NBA draft a year early, he returned for some unfinished business.
SLU has three seniors, but in many ways this is Goodwin's team. That is not a dig at fellow seniors Hasahn French and Javonte Perkins, but a tribute to what Goodwin has become as a hometown player.
"Jordan may be the best leader I've coached because he does it on a daily basis," Billikens coach Travis Ford said. "Our practices are dictated by how he's doing, and that's a good thing because it doesn't waver. It is so contagious to everybody else. I've had great leaders, but it's really important for Jordan because he's pulling guys with him."
You don't go winless for six years and not learn a little about persevering. Goodwin learned the leadership part by watching others and then incorporating his own personality.
He talks a lot, but not in an overbearing way, Ford said. He has personalized handshakes with every teammate. He doesn't look for breaks as witnessed by the 34½ minutes he has averaged over three seasons, second highest in program history.
Goodwin and roommate French, who push each other every day, were the only teammates in the country last season who averaged double-doubles. SLU has more talent this season than any time since its run of three NCAA Tournament appearances.
But there is no doubt that a lot rides on Goodwin.
"I feel I can't go in the gym and have a moody day or a day when I'm not saying something because I'm hurting myself and my teammates," he said. "So, I come with positive energy every day whatever happens outside the court. It's definitely challenging."
Goodwin always has liked a challenge, even if it broke him down at times.
When he was in the first grade, he played on a fifth-grade team coached by his father. After that, he always played with teams made up of players who were two or three years older than him.
However, one year his father formed a team in Goodwin's age group. The team went to Florida for a tournament and opened against an opponent from Puerto Rico. He scored 52 points in a loss.
"After the game all the kids from other team were asking for his autograph," his father said.
The competitive nature that Goodwin displayed on game nights with the family also made itself apparent at other times. His parents recalled once being called to the elementary school principal's office after Jordan became angry about the ending of a kickball game. He claimed to have tagged out the principal, who scored the winning run.
"He's so competitive and his mind is set to win," said his mother, Antoinette. "We went to the principal's office, and he explained how the game went. Jordan knew he tagged the principal out, and every time he sees that principal it's still the story they remember."
Once Goodwin's size started to catch up to his brother and father and his skills developed, he was hard to stop. He was a starter at Althoff as a freshman and signed with SLU before his senior year.
He has had three good seasons, averaging 12.4 points and 8.5 rebounds. Last season he jumped to averages of 15.5 and 10.4. His consistency in recording double-digit rebounds as a guard astounded many.
A 14-rebound effort in the A-10 championship game two seasons ago made him realize what was possible.
"It wasn't a surprise to me because that's always been a strength," he said. "I can do something different someone else isn't doing. I started head hunting for the ball and coach Ford lets me do it. I have no restrictions going to the offensive glass. I feel I want it more than some guys."
With his usual production, Goodwin will end up in the top five among all-time SLU rebounders along with French. He remains the only SLU player to record a triple-double in a game and could end up top 10 in points and assists as well.
His offseason entry in the NBA draft provided more motivation. He was told he needed to work the most on his shot and did that in the offseason, adjusting his point of release.
Much will be expected of Goodwin when SLU opens the season Wednesday, but it's been that way since he first stepped on campus.
"I don't feel any extra pressure," he said. "I put in the time to work for the opportunities that hopefully I'll have. I've got to keep locked in and understand it's a team game, and I have great teammates who make my job easier."
Be the first to know
Get local news delivered to your inbox!