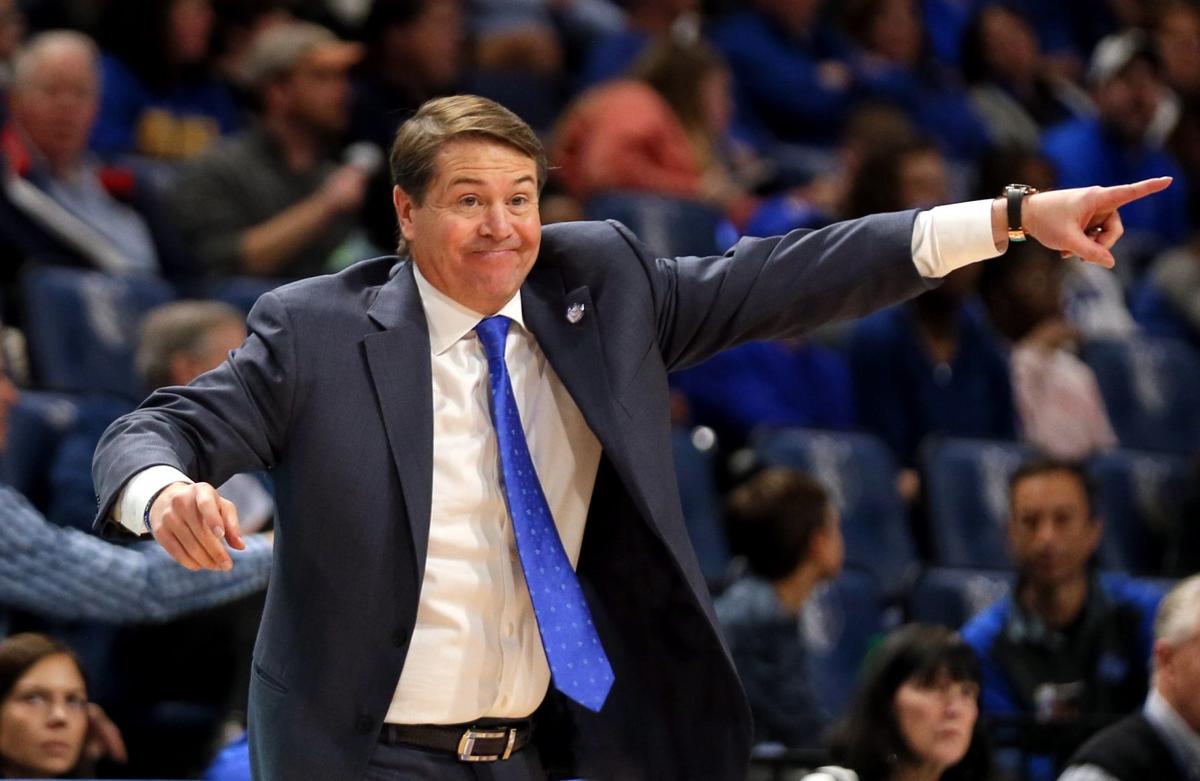 As he looks for answers to St. Louis University's inconsistent play so far in the Atlantic 10, coach Travis Ford has grown mildly worried about second-half performances.
A bad stretch at Duquesne led to a loss. That was followed by late lapses in two home wins.
Looking for ways to have more energy late in games, Ford said he has considered giving some players – specifically guards Yuri Collins and forward Hasahn French – more rest early.
"We're looking at what happens, and maybe we get Yuri a break here and there a little more so he's fresher at the end of games," Ford said. "The same with Hasahn. We've seen at times where he got in foul trouble and gets rest, but that's not the way we want to do it. It's a thought because we're not finishing games very well."
At Duquesne, SLU saw a one-point deficit in the opening minutes of the second half grow to 13 rather quickly. Massachusetts wiped out the Billikens' nine-point lead with under eight minutes remaining to force overtime in a game won by SLU. And George Washington wouldn't let the Billikens pull away, cutting a 14-point lead to three in the final minute.
Ford knows there will be no room for such lapses Saturday when SLU plays at Richmond.
Ford thought some of his players might have been fatigued down the stretch in Wednesday's win over GW in a game that saw four Billkens play between 34 and 38 minutes.
"We have guys who can play," Ford said. "I'd like to use nine or 10, but the other night we subbed some and they weren't very good, so you get hesitant to go back to them. … You have to make a positive contribution. It's not necessarily scoring but don't make mistakes and maybe it's just hold down the fort.
"(If not), that forces you to start playing five or six guys if you don't have confidence. I've got confidence going into games, and maybe I need to get better confidence in them playing through mistakes. But there's so little room for error."
This roster has given Ford more depth with which to work than any team he's had at SLU. In previous years, he was forced to go with as few as six or seven players during conference play due to various factors.
He said that most coaches prefer a more compact rotation as they get deeper into the season. But Ford seems torn at this point.
Jordan Goodwin averages the most minutes at 34.8, but he is said by Ford and strength coach Robb Hornett to be able to withstand extensive minutes better than anyone on the team.
French (30.8 mpg) and Colllins (29.3) are the others most apt to play big minutes as league play advances.
"We ask Yuri to do so much," Ford said. "We're seeing him getting beat a little late in games off the dribble. Is it fatigue or what might it be? The same with Hasahn. We ask a lot and he gets a lot of touches. Jordan is capable of sustaining it. He's a different guy. It's not a knock on the others but he can do it."
SLU will likely need its best performance since the start of conference play to beat Richmond, which is an experienced and high-scoring team.
It's the start of a tough stretch for the Billikens, who will return home to play No. 15 Dayton on Friday and then travel to Davidson. The next two weeks will say a lot about the team's hopes of contending for an NCAA Tournament berth.
"We need to be better and can't get comfortable with being 13-3," Ford said. "We can't say 'We've won and we're OK.' We have no room for complacency because we're not playing as well as we need to be. It would be different if we won by 20 or 25. We need to be at a higher level overall."