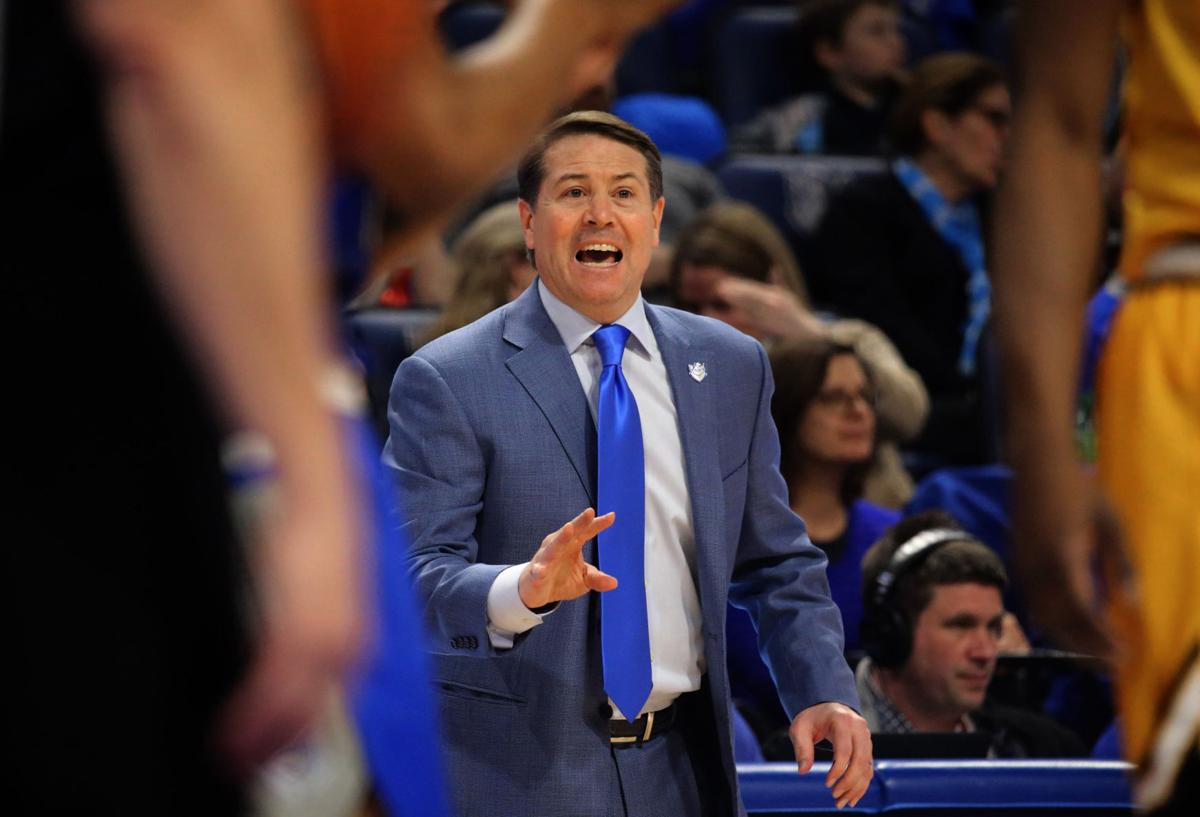 On Day 7 of his quarantine, Travis Ford spent a chunk of time reviewing the status of every St. Louis University player in regard to the timing of their return to the court.
He found out that answers weren't as clear as hoped.
Because quarantine periods differ based on each individual's scenario, the SLU basketball coach remained uncertain Wednesday when the Billikens would be able to return to practice or play another game.
SLU announced positive COVID-19 results Dec. 30. Ford said the prospect of a full team practice after 14 days — roughly the middle of next week — is unlikely and at least one more game is likely to be postponed. The Billikens already have had their first four Atlantic 10 games postponed.
Ford said it's not going to be as simple as setting a date to return and having everyone ready.
"It's crazy to say, but as much as I want (a set date) and as much as it's bothering me, it's hard to tell when we'll have everyone together," Ford said. "I'm not concerned yet. I want to make sure everyone's safe and healthy, and we come out in a good mindset, whenever that is.
"We spent probably an hour trying to figure everybody out (Tuesday). I don't know because I don't know my numbers yet. I think it's going to be a while."
The program's Tier 1 personnel, which include players, coaches, staff and managers, have to remain in quarantine for differing periods depending on factors such as date of a positive test, symptoms and exposure.
SLU's two scheduled road games this week were postponed along with two home games last week. Ford said he doesn't think a game against Davidson on Jan. 15 will be played.
He also said he is unsure how many, if any, of the postponed games will be rescheduled. The largest gap on the schedule after Jan. 15 is seven days between games at Richmond and George Washington. The final weekend of the regular season was left open for possible makeups. SLU also has a game at St. Bonaventure that never was given a date.
"I don't know how you make up any of them," Ford said. "We have other games scheduled and those teams have other games. We have a bye week, but they have to coordinate with the teams."
Ford said he is against the idea of playing back-to-back games against opponents as has been done in other conferences and once so far in the Atlantic 10. That could be a possibility to make up games against Massachusetts and La Salle.
"I don't support that at all," he said. "You never know. If you're made to do it, you do it, but it's not something I'm big on."
Ford said if only a portion of the team was cleared, he would start doing individual workouts while waiting on a full-fledged practice.
There was little contact between coaches and players for several days after the quarantine began. In the last couple of days, players have gone through conditioning via video conference before meeting as a group in the afternoon.
Each player had an exercise bike, elastic workout bands and dumbbells delivered to their rooms so they can do the group workouts and individual work.
"They seem to be doing OK," Ford said. "It's a change and it can take a toll on you. I don't think we'll know the effect until we get everybody back."
Ford said he is spending his time at home in the basement, where he has workout equipment. He spends a lot of time watching game video and college games around the country.
Ford has talked to other coaches in the last week for ideas about how to deal with the layoff. He has a more intense understanding of what the SLU women's team is facing as it goes through a third quarantine.
SLU last played Dec. 23. Since being shut down, the Billikens entered the Associated Press rankings at No. 23 and have moved to No. 10 in the NCAA NET rankings.