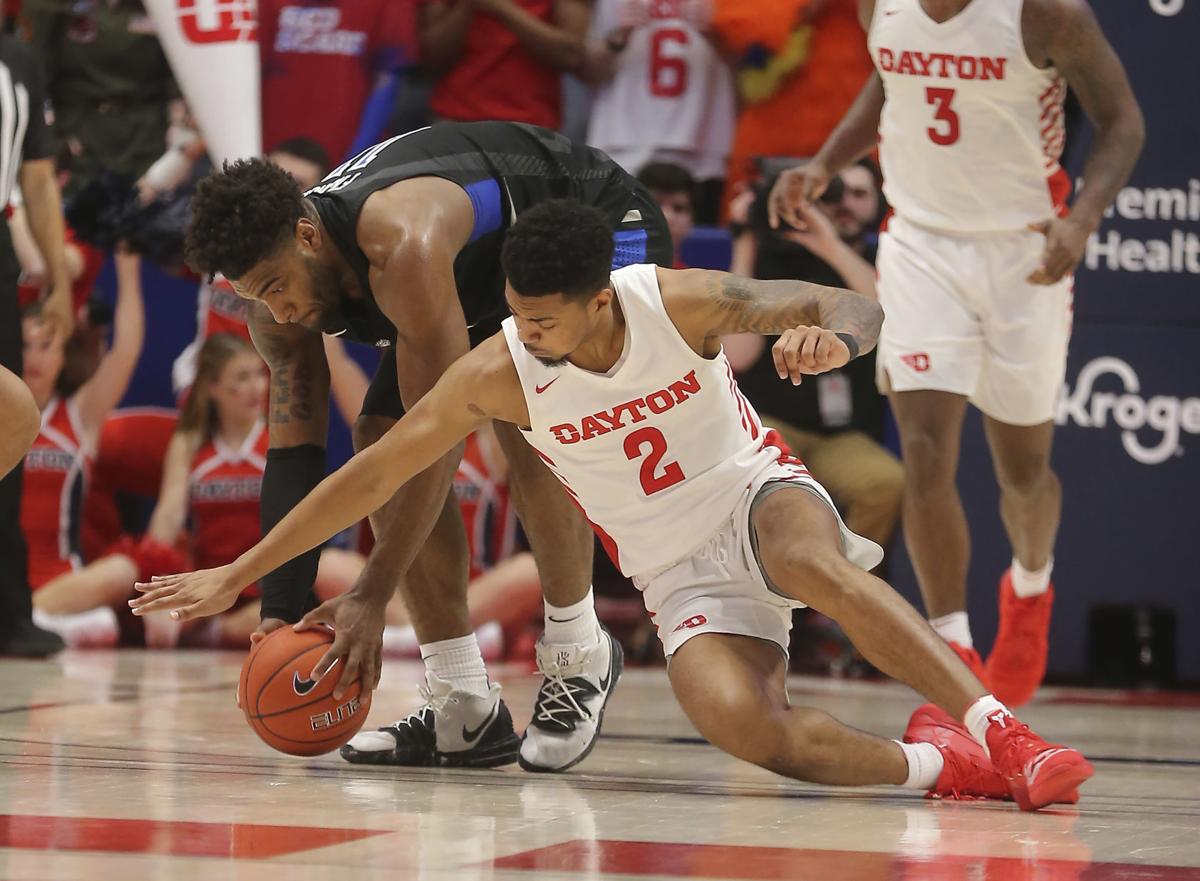 DAYTON, Ohio — Coach Travis Ford saw his St. Louis University team play with the effort and toughness that had gone missing since the last time the Billikens played Dayton. That was the good takeaway from Saturday's rematch with the No. 6 Flyers.
The lack of rhythm to Saturday's game? That was something Ford and Hasahn French felt was taken away.
French fouled out with five minutes to play, Javonte Perkins played only eight minutes in the first half because of foul woes and the Billikens played from behind most of the game in a 71-65 loss.
This one wasn't as heartbreaking as the overtime loss to Dayton three weeks ago on Jalen Crutcher's 3-pointer at Chaifetz Arena. But this one was frustrating.
"Our back was always against the wall because of fouls," Ford said. "It's hard to get any rhythm whatsoever, and they were calling a lot of fouls both ways."
The Billikens (17-7, 6-5 Atlantic 10 Conference) were called for 23 fouls and the Flyers (21-2, 10-0) were called for 16. Dayton backup center Jordy Tshimanga fouled out in 10 minutes of play.
"Any time our two teams get together, it's going to be a physical, hard-fought game," Dayton coach Anthony Grant said. "It was tough to get into a rhythm."
French was efficient, on seven-of-11 shooting for 15 points, and had eight rebounds but played four fewer minutes than his average. He fouled out with 5:11 left and Dayton ahead 57-54.
"It was a lot of ticky-tack fouls that they were calling," French said. "I felt like I couldn't get in a good flow because you really couldn't tell how the officials were playing it. We really showed a great effort and it (stinks) that we had it taken away from us like that."
Still, the Billikens were in the game late because of Jordan Goodwin's 22 points, including the Billikens' final 11. He did it with a painful big toe. He heard something pop in the first half and struggled for a while in the second half.
"When 'Has' went down I just told myself, 'I've got to find a way to score even though my toe's hurting right now,'" Goodwin said while standing with an ice bag wrapped around his foot. "Just having coach Ford give me the ball toward the end of the game and have confidence in me just makes it better."
While the officiating felt like a painful big toe, Ford liked how his team played in a loud and sold-out environment of 13,407 fans. Since the home loss to Dayton, the Billikens lost by 12 at Davidson, beat the three worst teams in the league — Fordham, La Salle in overtime and St. Joseph's — and lost at home to Duquesne by 14 points.
"I haven't seen that competitiveness and focus and sense of urgency in a long time even though we've won games," Ford said. "I saw a competitive nature that we need to live by to give us even a chance."
Another positive was the play of freshman center Jimmy Bell Jr. At 6 feet 10 and 270 pounds, he spent most of his time guarding Dayton star Obi Toppin — who scored 17 points but had only four rebounds. Toppin's quickness around the basket was negated somewhat by Bell and French (6-7, 245) occupying space and each grabbing eight rebounds.
"He really battled and accepted the challenge going against a (possible) top-five pick in the NBA and gave us a heck of an effort," Ford said.
Crutcher hurt the Billikens again with 17 points. Four of his 13 second-half points came in the final 1:45 and helped halt a SLU comeback.
The bigger comeback needed by the Billikens, though, will be to finish strong and make an A-10 tournament run. Last year it took a tourney title to get to the NCAA Tournament. This year they are in the conversation for an at-large bid, and winning at Dayton would have helped.
"This team can win no matter how many games in a row it is," Goodwin said. "In Brooklyn (site of the league tourney) I see no reason why we can't go back-to-back with the team we've got."