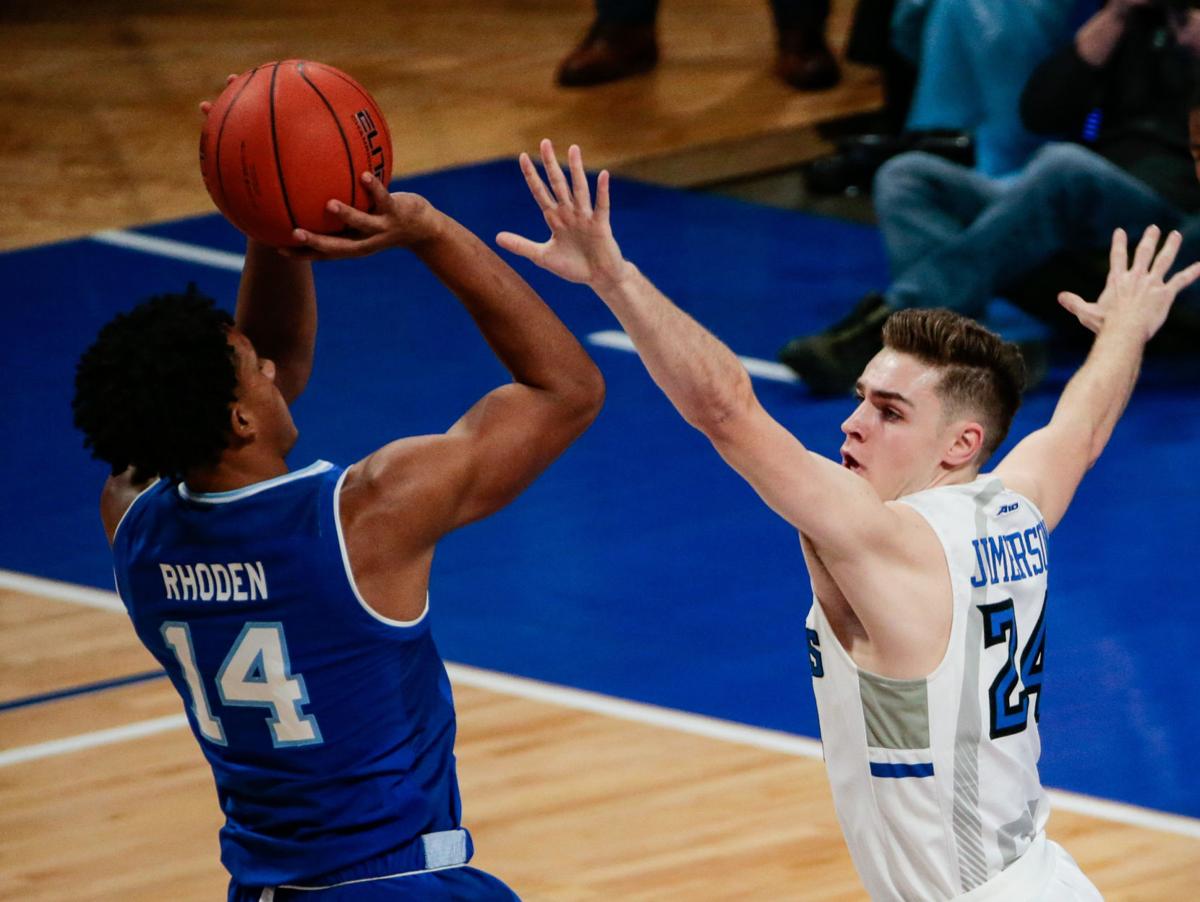 With two players missing, there were minutes available for someone on the St. Louis University bench.
Freshman Gibson Jimerson not only claimed them Wednesday night at Chaifetz Arena, but he was on the floor longer than any Billiken with his eye on much more playing time moving forward.
The 6-foot-5 shooting guard scored 25 points as he made 10 of 16 shots and was the standout of a 67-55 win that turned out to be more challenging than expected.
Recruited for his pure shooting, Jimerson made five 3-pointers after hitting three against Seton Hall and also created numerous mid-range jumpers as he helped distract from a poor second half against a winless opponent.
"Gibson shot the ball well and made some good, tough shots, too," coach Travis Ford said. "But I like Gibson because his defense keeps improving and he's taken pride in that and wants to get better. He's probably never been coached as hard as I have, but he's really accepted it."
Jordan Goodwin added 19 points and eight rebounds, and Hasahn French became SLU's all-time blocked shots leader with 136. The record was held by Ian Vouyoukas.
Fred Thatch Jr. missed the game because of illness and KC Hankton was out with an injury. Yuri Collins made his first start but it was Jimerson who had the greatest impact on the game along with Goodwin, who Ford praised for his leadership.
Jimerson played 34 minutes and gave the Billikens (4-1) a boost several times. He made two 3-pointers in the waning moments of the first half as SLU finally gained some breathing room and hit a 3 to end a 17-0 run by High Point in the second half that saw the Panthers pull within seven.
"We're happy to get the win but it was done in a very careless manner," Ford said. "We celebrated about a minute and 30 seconds and then I said I was going to dive into things I'm not happy about. I'm not happy with the toughness of our team. I've been doing this a long time and my teams are known to have toughness and grit. We have not found that yet."
High Point (0-5) entered the game averaging a 29-point margin of defeat. It appeared the Billikens would finally put the game away in the second half when they opened a 24-point lead.
But the Panthers responded by scoring 17 consecutive points. An angry Ford called two timeouts within 24 seconds during the run to settle his team and re-insert most of the starters with Jimerson remaining on the floor.
With High Point within seven points, Jimerson hit a 3 to slow the Panthers and allow the Billikens to regain some control in the final minutes. But High Point shot 48 percent in the second half and was only outscored by the Billikens by a point.
"I made my first shot or two and you kind of feel it when you get in a rhythm," Jimerson said. "They did a great job finding me. I couldn't make them without my teammates giving me the ball. It was a good performance."
French became the blocks leader in his 73rd game at SLU after Vouyoukas played in 110 games to reach 135. He swatted five against Seton Hall to tie Vouyoukas and blocked two against the Panthers.
"Coming in (to SLU), I knew I wanted to break a couple of records and that was definitely one," French said. "In high school I focused on blocks and protecting the rim, and I'm happy I got to break the record."
With Thatch and Hankton unavailable, Ford was left to reconfigure his rotation a bit.
SLU struggled to get the offense flowing against a foe that has allowed opponents to average 77 points and shoot 44 percent. The Billikens had 12 points 10 minutes into the game and were trailing.
They were still behind 16-14 until Goodwin started an 11-0 run by scoring six consecutive points. French scored on an offensive rebound and Jimerson then hit consecutive 3-pointers.
High Point didn't have a field goal in the final 7 minutes 50 seconds of the half after starting the game seven for 16.