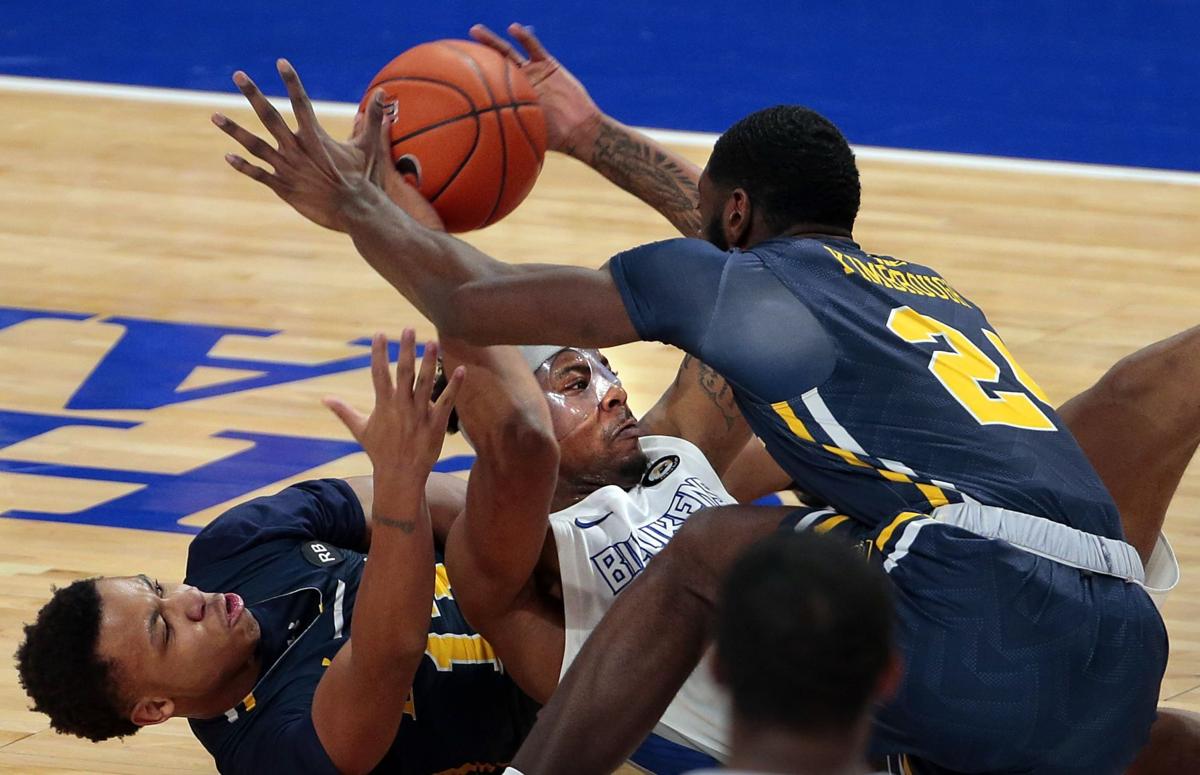 The first meeting between St. Louis University and La Salle, the day after a snowstorm in Philadelphia, left the Billikens reeling and then stranded.
The loss was the first major hit to SLU's NCAA Tournament resume, and to add insult to injury, the team's return home was delayed a day by a faulty plane engine.
The Billikens have been trying to dig out of that hole since.
For the rematch, a snowstorm in St. Louis delayed La Salle's arrival by a day. Then the Explorers encountered another force of nature in SLU's Jordan Goodwin, who continued to build on his candidacy for the Atlantic 10 player of the year award in a 78-57 Atlantic 10 win at Chaifetz Arena.
The senior guard toyed with a triple-double with 16 points, 15 rebounds and eight assists to lead the Billikens to their fourth consecutive win. He did post his 11th double-double as SLU led from start to finish to at least erase the memory of the previous loss at La Salle.
"I think everyone knows what type of team we are," Goodwin said. "You watch that first game and that wasn't Billiken basketball. We know that. Give them credit for beating us. You can't say they're not a good team. But this was a good way to respond."
The Billikens (4-2 in the A-10, 11-3 overall) did a lot they didn't in the previous meeting. They shot 53% and held La Salle to 40%. They outrebounded the Explorers 38-31. They forced them into missing their first 12 3-pointers after being burned from the perimeter.
SLU played without point guard Yuri Collins, who sat again with a sprained ankle. Goodwin continued to show he is more than up to the task as understudy.
He could have had the assists he needed for his second career triple-double but was not rewarded on numerous plays after his passes found open teammates.
"He made some great passes and some shots didn't go down that normally would go down," coach Travis Ford said. "But that was a complete game. I'm really happy with how he's playing right now with unselfishness and other parts of the game like rebounding and defense and everything he does to change a game."
Javonte Perkins found his shooting touch by making eight of 10 shots and scoring 19 points. Fred Thatch Jr., who started in place of Collins, had another strong game against La Salle, contributing 12 points and five rebounds.
It was Thatch and Marten Linssen who provided much of the early energy that allowed SLU to open a big lead and build to 16-point halftime advantage.
Thatch set the tone on the boards with his offensive rebounding and putbacks. Linssen provided an early inside scoring spark with a pair of traditional three-point plays. It was Thatch's second productive game against La Salle.
"I knew I had to bring energy and defense because how we start the game translates to the entire team," he said. "I had to come with juice, and that's what I had locked into my head."
A loss to Dayton coming out of the long COVID-19 layoff was a blow. But losing at La Salle dropped the Billikens into the 50s in the NCAA's NET rankings, which are a factor in a team reaching the NCAA Tournament.
By winning three consecutive games, SLU had pushed its NET back to the low 30s before facing La Salle a second time. In the rematch, the Billikens did their best to show that was just a slip up.
"That was a better performance with a lot of contributions from a lot of guys," Ford said. "That was more like the defense we've been looking for. Totally different than the first game."
SLU seized control of the game from the outset, scoring the first six points. In doing so, the Billikens also claimed dominance on the boards by scoring twice on offensive rebounds in the opening minutes.
After eight minutes, the only points for the Explorers had been scored on three layups by Jhamir Brickus, who had 13 points in the first half and 22 for the game. But the perimeter game that aided the Explorers in Philadelphia did not materialize.
La Salle made 8 of 19 3-pointers in the win over SLU. The Explorers missed their first 12 attempts in the first half before Brickus connected with nine seconds left to make the halftime score 39-23. The lead grew to as many as 25 points.
"Defensively, we're finally getting back to where we need to be," Thatch said. "But our chemistry off the court has always been the same, even when we weren't playing our best."