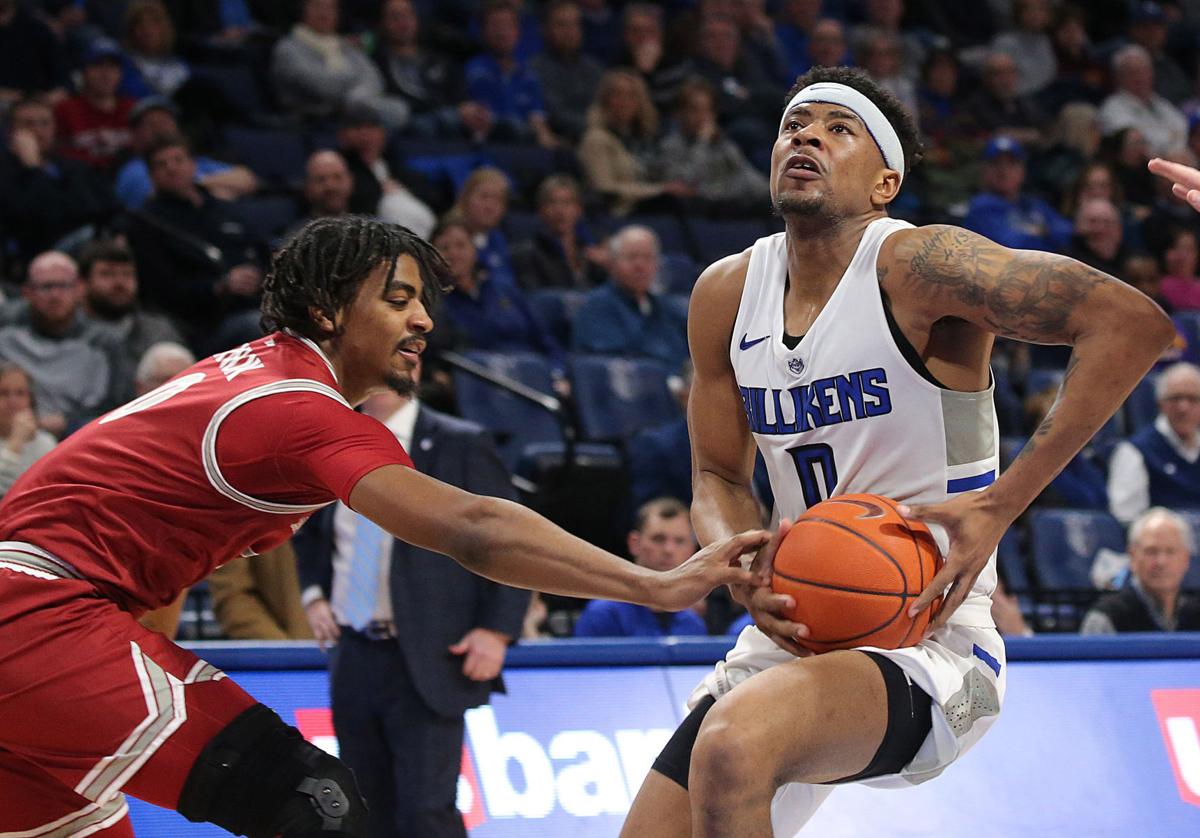 The offseason hype being directed at St. Louis University's basketball program all hinged on the decisions of Jordan Goodwin and Hasahn French after they entered their names early in the NBA draft.
The pieces began to fall into place Tuesday when Goodwin announced that he will return for his senior season. Meanwhile, a source said French is expected to follow soon by announcing the same decision.
Their returns would give the Billikens a nearly complete roster of returning talent for the 2020-21 season.
Both entered the draft March 31 while keeping open the option of returning. They were the only teammates in Division I to average a double-double last season.
"I'm happy I put my name out to see how it works and what feedback I would get," Goodwin said. "I talked with a few people to see where I need to improve my game. I was definitely happy with the feedback. But I knew if I came back to college, the feedback for my senior year would be better than I'm receiving now."
Goodwin was a first-team All-Atlantic 10 selection last season and French was a second-team pick. Both were named to the conference's all-defensive team.
Goodwin averaged 15.5 points and 10.4 rebounds, and French averaged 12.4 points and 10.4 rebounds. Goodwin was the only player as short as 6-foot-3 among the top 100 rebounders in the country.
SLU has been touted as a rising program for next season based on having Goodwin and French. The Billikens are ranked the No. 3 "mid-major" team for 2020-21 by midmajormadness.com behind Gonzaga and A-10 foe Richmond.
SLU also has been included in two early NCAA Tournament projections for next season as well as being ranked No. 36 nationally by one website.
Goodwin did not want to comment on his college roommate's possible decision but said he has tried to influence his decision.
"I'm pretty confident if my roommate decides to come back, we could do anything we want," Goodwin said. "We have the power to win the Atlantic 10. … I talk to 'Has' every day. That's his decision. I told him I love him and want to play together our senior year because it wouldn't look right on senior night without him."
Both players surpassed 1,000 career points last season. Goodwin is 24th all-time at SLU with 1,156 and French is 33rd with 1,004. French is fifth all-time in rebounds with 842 with Goodwin is eighth with 786. French is No. 1 in blocked shots (202) and Goodwin is second in steals (182).
Goodwin confirmed he had minor surgery on his right hand recently for a nerve-related issue that was causing his hand to go numb with tingling up to his elbow. He was able to do some shooting for the first time Monday.
"I didn't know how much my hand was bothering me," he said. "Toward the end of the season when I would be on a break, I don't know if anyone noticed but I started dropping the ball in with two hands (instead of dunking)."
SLU players remain at their homes while awaiting word on when they will be able to return to campus. Coach Travis Ford said he has not received information when that might happen but hopes to return to the court for small group or individual workouts by July 1.
He expects the roster to be at full strength whenever that happens. He has received promising reports on guards Fred Thatch Jr., who missed most of last season with an illness, and Gibson Jimerson (broken foot).
"I'm expecting (Thatch) to be released and ready to go whenever we get back," Ford said. "He and Gibson will be ready to go with no restrictions, hopefully."
Be the first to know
Get local news delivered to your inbox!