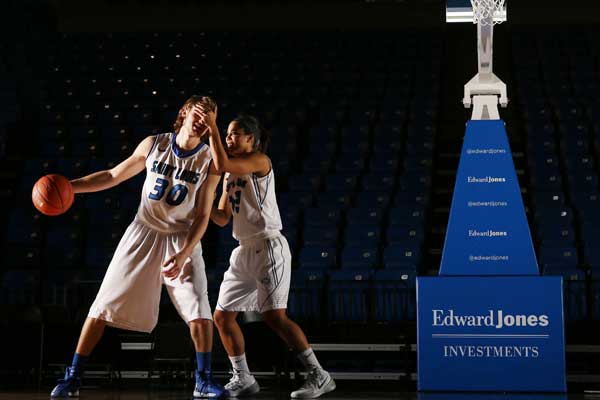 It's a cold Tuesday night and finals are fast approaching at St. Louis University. The crowd at Chaifetz Arena for the SLU women's basketball game against Southeast Missouri State, two teams with just three wins each a month into the season, is predictably small.
Early in the second half, SLU guard Desirae Ball gets the ball at the top of the key and knocks down a 3-point shot. In the stands sits Jake Barnett, a forward on the SLU men's team, and a smile comes over his face. He turns to acknowledge the shot to a couple of his teammates sitting nearby.
But this isn't just a case of Billiken Pride, of a player on the men's team coming out to support the women's team. This is a story of Billiken Love.
On Sept. 28, Barnett and Ball were engaged, making them the first set of betrothed men's and women's basketball players at SLU in at least 25 years. Both play a key role for their teams. Ball is a 5-9 redshirt junior guard who is averaging 13.1 points per game, second best on the team. Barnett is a 6-foot-5 senior who is averaging 4.9 points and has started the past five games as the Billikens have looked to add some outside shooting to the starting lineup.
The engagement did not come as much of a surprise to anyone. Over their four years on campus, the two have become fairly inseparable, as much as that's possible considering their schedules often force them to be in different places. "They have some weirdly perfect balance," said Janet Oberle, SLU's associate athletics director. "They're painfully healthy. You saw them start to spend time together, you'd notice they're always at each other's games, see them going to get meals, but they didn't stop being friends with their teammates."
While theirs is a love story built around basketball, it's not one that's based on basketball. Yes, the two wouldn't have met if not for the sport, and as much as they appreciate each other's skills — "I appreciate her toughness," Barnett says — there are other similarities that mean a lot more. Both are active in the Fellowship of Christian Athletes, they go to church together, do Bible study together. Each credits the other with getting them to do things they wouldn't otherwise do.
"We don't talk much about basketball except for after games or about the struggles of practice," said Barnett, who got his undergraduate degree in the spring and is working on an MBA. "We invest so much of our life in basketball that when we're together, we don't want to talk about basketball. But it's good to have someone to relate to, someone who understands when you're really busy why you aren't calling or texting."
"We're both very goofy," said Ball, by far the quieter of the two. "Weird attracts weird. We have that in common. And our faith; we have very strong faith. We balance each other out a lot, but we're both pretty different, as well."
Though teammates say you seldom see one without the other, it is not easy to be a young basketballer in love with another. Finding time to be together can be downright hard. In conference play, when one team is at home, the other is on the road. Even during regular times, getting together can be tough. Ball the undergrad — she's majoring in education and wants to be an elementary school teacher — has classes in the morning, then practice. When the women are done practicing, the men take the court, and then Barnett has his business classes at night.
"During the season it's difficult, but it works," Ball said. "It makes us treasure our time with each other that we have."
One thing they don't do a lot of together is play basketball. Owing to their competitive natures, the two have never played each other one-on-one. ("That would turn out poorly," she said.) They have played H-O-R-S-E, and Ball claims to have been victorious at times. "I'm a better shooter, that's the key," said Ball, who is a 91 percent free throw shooter, compared to Barnett, who's at 73 percent this season.
"There are definitely conflicting reports out there about who's a better shooter," Barnett said. "But, maybe one game, when I just woke up or something and came over, (she won). Other than that, I win pretty consistently. She can't shoot as deep, I have the trick shots, too. But she holds her own. She can shoot it. … I tell her, if we played one on one, I wouldn't take it easy on her. I would go right to the post and use my height to my advantage."
All this wouldn't have happened if Gene Cross hadn't been fired as the coach at Toledo after going 4-28 in 2009-10. Barnett, from the suburbs of Milwaukee, was a freshman on that team (and a co-captain, the first freshman at Toledo ever to have that honor), but after Cross was fired, Barnett looked to transfer.
"More than a commitment to a school, I think you make a commitment to a coach and the other guys there," Barnett said. "It was a tough decision to make. Even though I had a great year, we didn't do so well as a team, but I knew in my heart I wanted to go somewhere else. I look back at it now, it worked out. I have a great team, I met my future wife, I have a chance to get my masters, three things that are all blessings. It definitely worked out for the best."
Meanwhile, Ball was finishing her high school career in Cincinnati, where her father, Eric Ball, was a running back with the NFL's Bengals and is currently the team's director of player relations. She and Barnett met during new student-athlete orientation sessions that summer. Nothing happened right away — both were in other relationships at the time — but Barnett said it didn't take long for him to want to get to know Ball better.
When the SLU men's team "adopted" Joshua Brown, a 7-year-old with brain cancer, last season, Barnett was one of the players who most frequently visited Brown when he was at the hospital. Joshua considered Barnett his favorite player, until Barnett started bringing Ball along, at which point Joshua became enamored of Ball.
"At first, it was, 'Dude, you can't just choose her over me,'" Barnett said. "Now I understand where he's coming from. In that position, I would choose Desirae every time, too."
When Josh's health declined and he went into a coma, Barnett and Ball spent as much time as they could at the hospital. When Joshua died, it was Barnett who spoke on behalf of the team at his funeral, while Ball sat with the Brown family.
"(Josh) loved Desirae right from the start," Rhonda Brown, Josh's mother, said. "She and him connected really well. Jake and Des are so perfect for each other, they really are. They mesh together, they complement each other. They're perfect together."
Barnett proposed to Ball in a complex plan that involved both of their families and the organizational skills of Mike Lepore, SLU's director of basketball operations. ("Director of whatever you need," Barnett calls him. "Proposals, initiations, weddings.")
Barnett not only had already asked Ball's father for permission — "He's a big dude, so that's motivation not to mess up," Barnett said — but he also asked SLU administrators for permission to miss a Homecoming activity that weekend. He brought Ball to the Arch for a picnic, and they went to the top, where a guitar-playing friend was waiting for them, playing a favorite song of theirs, "All About Us." They danced on the observation deck, and then Barnett dropped to one knee, said, "Will you ..." and then pointed out a window to the Arch grounds below, where both of their families stood holding a sign saying, "Marry me?"
"I don't have a problem shooting free throws in front of people," Barnett said. "I get on one knee, everyone's taking pictures, there's a film crew there from Croatia, they had a boom mike in my face. What is going on here? I got through it. It was pretty fun."
"He did a really good job," Ball said. "I was very impressed. I had to (say yes)."
The two haven't set a wedding date — or chosen a location — though they do know that the ceremony won't be before May 2015, when Ball has completed her collegiate career. In the meantime, whenever possible, you'll find Barnett at SLU women's games and Ball at SLU men's games, and the two will get together for romantic training table breakfasts or dinners, surrounded by their teammates.