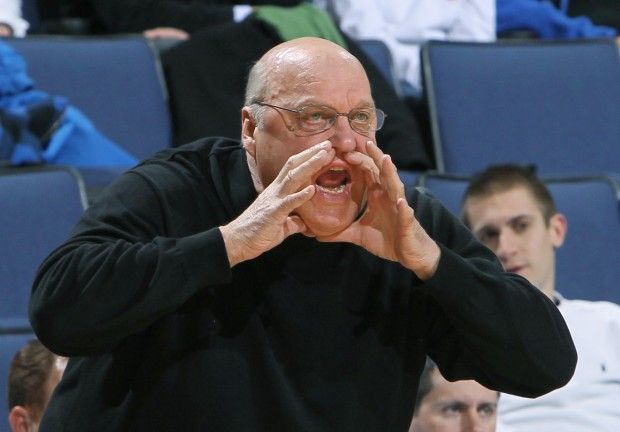 St. Louis University made official on Friday what just about everyone has expected since it was announced on Aug. 24 that basketball coach Rick Majerus was taking a leave of absence because of health issues:
The veteran coach is not coming back.
The school said Friday that current health issues preclude Majerus' return to coaching in the immediate future as he continues to undergo evaluation and treatment in California for a serious heart condition, and because of that, he will not return.
Majerus has a history of heart problems, having had seven bypasses, plus a stent inserted prior to the 2011-12 season, and his time at SLU has seen other assorted medical issues. Add in that he turns 65 in February – plus that he was in the final year of his contract – and the chances for his return seemed faint at best.
At the request of his family, the school has not provided further details on Majerus' health. Most of the school's contact with Majerus during this time has been through Jon Hunstman Sr., a Utah businessman who is a close friend of Majerus from his days in Salt Lake City.
"Rick put his heart and soul into the team," Huntsman said in a statement from the university, "and though he wishes he could be on the court, he will be pulling for the Billikens to have another great year. Rick sends his heartfelt gratitude for a dedicated and superb basketball team and coaching staff, together with the support of the great Billikens fans and the St. Louis University department of athletics."
"Coach Majerus' health is of the utmost importance, and our thoughts and prayers are with him as he faces his challenges," SLU athletics director Chris May said. "This is an exciting season for the program , and we think it is important to communicate, with transparency, to the student-athletes, staff and our loyal fans that Rick will not be returning."
May broke the news to the SLU players in their locker room on Friday afternoon prior to practice, though, considering they haven't seen Majerus since the NCAA Tournament ended in March, it couldn't have surprised them either.
"It's always challenging," May said. "I sense that they may have expected potentially what I communicated with them. Unfortunately, Rick hasn't been able to be here, so I think we're moving forward. It's clearly a challenging and emotional time when you hear that type of information."
It took five seasons for Majerus to get SLU back to the NCAA Tournament last season, the first time they had gone since 2000. SLU beat Memphis in the round of 64 before putting a scare into Michigan State prior to losing. His record at SLU was 95-69, the fifth-most wins in SLU history and his winning percentage of .579 is the school's eighth-best. It was a near-total rebuilding project. Within a year of his being hired, only Kevin Lisch and Tommie Liddell remained from the squad Majerus inherited and he brought in several large recruiting classes as he looked for the players who would implement his precise style.
SLU reached the finals of the CBI tournament in 2009-10 and looked primed for a big season in 10-11 before the suspensions of Kwamain Mitchell and Willie Reed for violating the school's code of conduct left a short-handed team at 12-19, the only losing record in Majerus' 25-season coaching career.
Majerus coached at four schools, Marquette, Ball State, Utah and SLU. He took all but Marquette to the NCAAs and Marquette went to the NIT three times at a time when it was much harder to get into the NCAAs.
Jim Crews remains the interim coach of the team, and SLU will make a decision about what to do next after the season is over.
Fans can send Majerus cards, letters or other items of support at Rick Majerus, Chaifetz Arena, 3330 Laclede Ave., St. Louis, MO 63103. All items will be sent directly to Majerus. Fans will also have the opportunity to sign Get Well Soon cards at upcoming SLU games and the athletics department plans to honor Majerus at a home game during the 2013 Atlantic 10 Conference season.
May said Huntsman, whose name is on the University of Utah's basketball arena, where Majerus achieved his greatest success, reaching the NCAA championship game in 1998, "was a true godsend as we worked closely together regarding Rick's welfare and relationship with the Billikens."