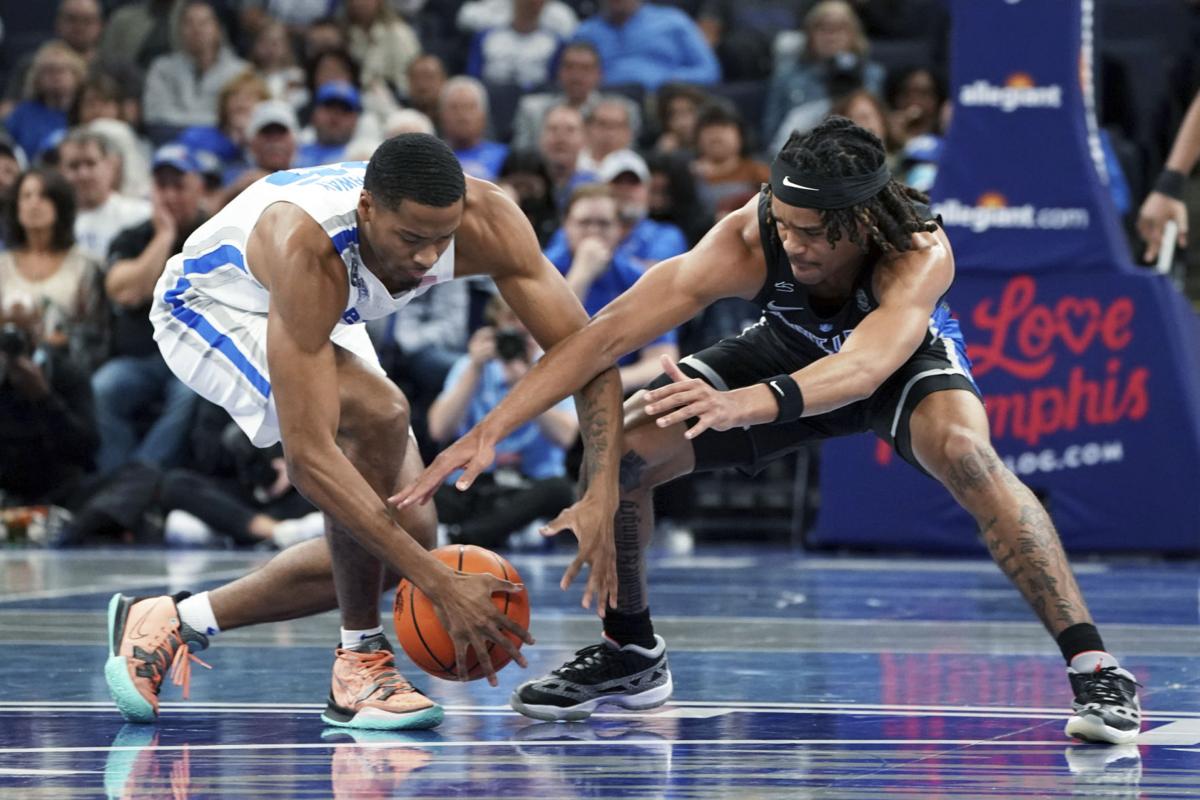 MEMPHIS, Tenn. — After watching the two games Memphis played before facing St. Louis University, Billikens coach Travis Ford knew for certain that his team wouldn't understand what they were up against until the time came.
The 11th-ranked Tigers were impressive just warming up with a roster that includes nine players who are 6-foot-7 or taller. They had the country's best recruiting class and a core of talent projected for the NBA.
It took a few minutes Tuesday night, but when the lineup of future pros got loose, it was overwhelming for SLU, which fell 90-74 at the FedExForum.
"I thought we competed," Ford said. "It's just really hard to simulate what they do. I watched both of their games multiple times, and that didn't do me much good because that's a whole different deal. Those guys fly around."
SLU held together for eight minutes before Memphis picked up the pace and its defensive pressure that led to 13 blocked shots and made everything the Billikens tried in the lane a chore. The Billikens missed 23 layups and three dunks while shooting 31%.
The struggles were represented well by one second-half possession that saw Terrence Hargrove Jr. miss a dunk, Yuri Collins miss a 3-pointer, Hargrove miss another dunk and Marten Linssen have a layup blocked. The Billikens rebounded well on the offensive boards all game but couldn't get the second and third chances to fall.
That possession aside, Hargrove was by far SLU's most effective player. He finished with 20 points and 11 rebounds and was the only Billiken with any consistent shooting success as he attacked the basket per Ford's instructions.
"They're better than I thought," Hargrove said. "We tried to simulate them, but it's hard with a team like that with how they are in transition and move in the halfcourt."
Although SLU played at a fast pace in its first three games, Ford wasn't interested in running with the Tigers. But they imposed their will on the game and pushed the ball at every opportunity.
Recruiting at Memphis hit a new high this year when coach Penny Hardaway landed five-star center Jalen Duren, who blocked six shots. Two weeks later, Emoni Bates reclassified to the class of 2021 and became the second five-star in the class. He finished with 16 points. And the points often came in bunches for the Tigers.
"They tried to speed us up a little bit, which we expected to happen," said SLU center Francis Okoro, who had 13 rebounds. "But for me, I've been in situations like this. I really trust my team, and I think we're going to be really good. This was a good test game for us."
SLU started the game missing four of its first five shots around the rim, some contested heavily and others that simply weren't converted. That, along with a poor start at the free-throw line, kept the Billikens from increasing a 13-10 lead in the first seven minutes.
Eventually, the Billikens' offensive problems snowballed. They had a stretch in the first half making one of 15 shots. And although SLU was able to generate free throws, the previous woes returned with the Billikens making 10 of 18 in the first 20 minutes.
"When you're playing against a top-10 team, you have to do the little things," Ford said. "None of those things went our way. We just missed layups and free throws and that's on us. But we competed, and I think there were positives that came out of it."
Jordan Nesbitt struggled in his return to Memphis, where he started his college career last season. He made three of 14 shots and scored 13 points. But the shooting woes were spread throughout the team.
Meanwhile, Memphis was led in scoring by Tyler Harris, a transfer from Iowa State who is playing as a walk-on. He made four 3-pointers and led the Tigers with 18 points.
SLU's strongest area in the game was rebounding. Memphis finished with a 48-44 advantage, but the Billikens grabbed 23 offensive rebounds even as they missed one layup after another.
SLU pushed back a couple of times after Memphis built a double-digit lead. After the Tigers moved ahead by 15, the Billikens got within nine briefly late in the first half. SLU made another push to start the second half, but Memphis seemed able to accelerate when needed.