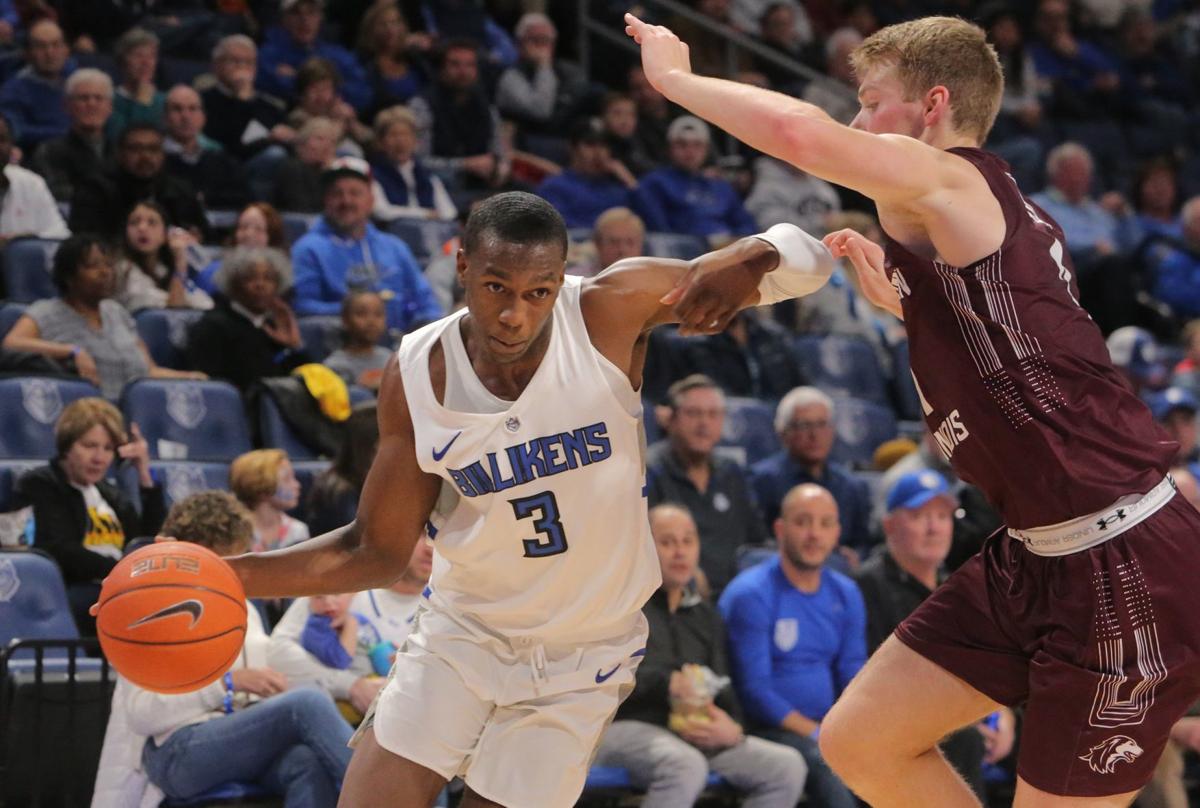 The full 96 hours Travis Ford gave his players to rest over the Christmas break was the longest downtime he remembers gifting to one of his teams.
Forward Hasahn French said the Billikens returned with spirited practices that were better than previous years. Ford saw something different on his 50th birthday as St. Louis University struggled to a 77-67 win over Bethune-Cookman on Sunday at Chaifetz Arena.
"The biggest positive is we won the game," Ford said. "We didn't play very well but give them credit. Sometimes you have to figure out how to win when you don't play well. There's something to be said when you're not your best and figure out how to win. Teams come back different after the Christmas break. That's probably the longest I've given a team — four full days. In our world, that's a long time."
The Billikens (11-2) emerged with their best nonconference record in Ford's four seasons, having suffered two losses against teams that were ranked No. 12 at the time.
They again let a team with a considerably worse record hang around as Bethune-Cookman (6-8) of the Mid-Eastern Athletic Conference led early in the second half and was within a point with little more than 10 minutes remaining. The Billikens distanced themselves with a 15-2 run and then weathered a flurry of 3-pointers.
Jordan Goodwin had his seventh double-double of the season with 14 points and 16 rebounds, and Javonte Perkins continued his offensive surge with a game-high 21 points.
"Jordan and I were talking to the team last night about this being the best start we've had since we've been here," French said. "This is major. We want to build off this and get as many wins as we can."
If there was one area that pushed SLU over the top in this game, it was free-throw shooting, of all things. They outscored the Wildcats 27-18 from the line and shot 71 percent after entering the game ranked 348th in the country out of 350 teams.
Many other aspects of the game indicated that SLU was in trouble.
The Billikens shot 36 percent for the game and allowed the Wildcats to shoot 48 percent in the second half. They were outrebounded and saw Cletrell Pope grab 19 rebounds, a record for a visiting player at Chaifetz. And they had three players in foul trouble in the first half.
But the Billikens took care of the ball, matching their season-low of seven turnovers and got a big second half from French, who scored 11 of his 15 points while trying to remain on the floor with three and then four fouls.
French occasionally finds himself on the bench much of the first half with two fouls, but it only serves as motivation.
"I get so upset sometimes but know I have to do better for my team," he said. "When I come back in the game, I have that bottled up and try to bring that to the court."
Tay Weaver hit some big 3-pointers for the second consecutive game. His back-to-back 3s during the decisive run helped stretch the SLU lead from seven to 13.
The senior graduate transfer has made six of 10 3-pointers in the last two games as his minutes have increased with Gibson Jimerson out for the season with a broken foot.
"My mindset is to do what the team needs," he said. "Those types of shots don't bother me at all."
Ford was so displeased in the first half that he turned to respected walk-on Joshua Hightower for more than four minutes. Bethune-Cookman had the lead at 20-17 but the Billikens did enough down the stretch to lead 35-28 at the break. The Wildcats wiped that out quickly in the second half.
Perkins then got active and found himself being fouled repeatedly. So, although he didn't shoot well for the game, making five of 15 shots, he made 10 of 14 free throws. He has averaged 15.7 points in the last six games and led the team in scoring in four of those games.
"I don't even think he made big shots," Ford said. "But he's a scorer. That's his job is to go score the ball. I thought he settled a lot, but sometimes with scorers you let them go and take a few tough ones. But we needed every point he scored."
Goodwin didn't shoot well either but made eight of 11 from the line and continued to pound the boards unlike any 6-foot-3 guard in the country, pushing his rebounding average to 11.3.
SLU will start play in the Atlantic 10 with a game at Duquesne (10-2) on Thursday.