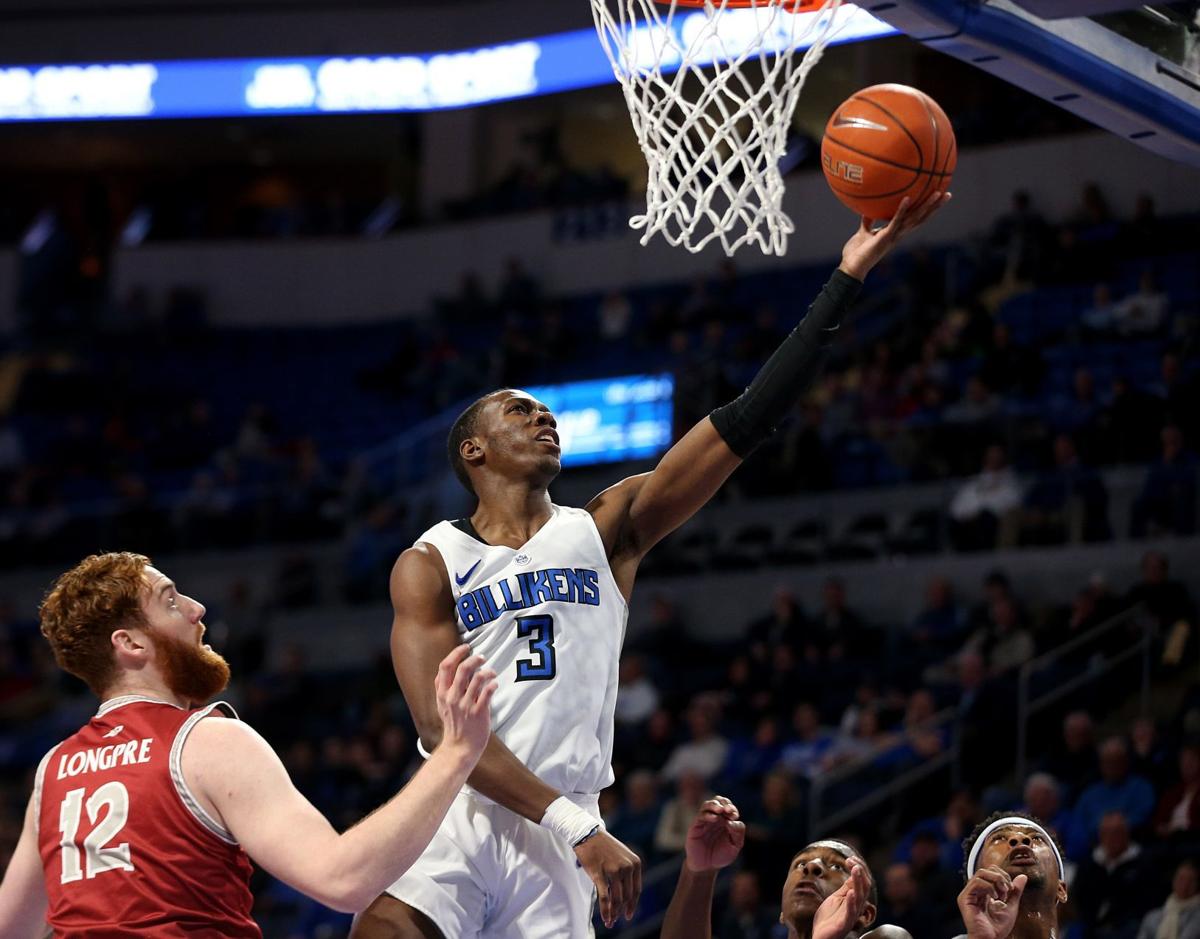 The ability to lift more weight and visible addition of muscle do not tell the full story of Javonte Perkins' summer as well as his regular one-on-one encounters with teammate Fred Thatch Jr.
That is where St. Louis University's leading scorer last season sees the true measure of the strength he added in the offseason in preparation for a senior campaign he hopes takes him to the next level of basketball.
"I can take hits from Fred now. I couldn't do that two years ago, so I must be getting somewhere," Perkins said. "We guard each other the most in practice. If I drive and he bumps me and I stay up, I kind of won the battle."
The ability of players to add pounds and strength in the offseason is a predictable storyline. But in Perkins' case, it's one of the biggest reasons he decided to use an extra year of eligibility due to COVID-19 and play in 2021-22.
The NBA is his goal, and he knew he needed to create an NBA body with another strong college season to get a serious look. The process will continue with the start of practice Friday at SLU.
The 6-foot-6 wing has scored 825 points and averaged 15.9 in two COVID-shortened seasons since transferring from Southwestern Illinois College, and now takes over a key leadership role after the departures of Jordan Goodwin and Hasahn French.
He hopes to increase his scoring numbers with the ability to fight off and through defenders more consistently. Whereas Thatch might have gotten the better of him four out of five times when he first arrived at SLU, Perkins said the physical SLU guard now stops him two times out of five.
"He used to knock me all around the court," Perkins said.
Perkins took advantage of the extra year allowed by the NCAA to get more prepared, and by doing so has become the face of the Billikens. His image, along with Ciaja Harbison of the women's team, graces a massive Chaifetz Arena exterior wall that overlooks Highway 40 (Interstate 64), and Perkins finds himself in a prominent role as the team's elder statesman.
"I feel more comfortable now and can talk a little more," he said. "Two years ago I was following the lead. Now everybody follows my lead. I'm just a quiet person. But now I have to do the right things and stand out so people will follow me."
Perkins is one of eight returning players who saw action last season. His decision to stay could place the Billikens among the top four projected finishers in the Atlantic 10.
And the St. Louis native will assuredly be a preseason all-conference pick as well as a favorite for the league's player of the year award, something he admits he aspires to winning.
Now that he's bulked up to 210 pounds and is healthy, he's primed for a big season. He was thriving last season when a team COVID outbreak slowed the momentum. Then in early February, in the Billikens' third game back, he suffered a bruised knee that hampered him the rest of the season.
"It was very uncomfortable, I'll just say," Perkins said. "It felt like someone stabbing the inside of my knee. I was in and out (of practices). I just had to sit out for it to get better."
Perkins also had to adjust to defenses that had adjusted to stop him. His shooting accuracy waned as he made only 30% of his 3-pointers after the long COVID layoff. But he has become one of the most versatile scorers in recent SLU history and has shot 45.3% overall and 36.3% from beyond the arc in 52 career games.
He has topped 20 points in 16 games and surpassed 30 in two. Despite his scoring, Perkins has yet to earn a first-team A-10 honor. That is among his goals, along with showing the NBA that he is worthy of an opportunity.
He knows he must do more to get that chance. Increasing his rebounding from 3.6 per game is one area he hopes to bolster. Defense is also crucial, especially with two strong defenders gone.
"Now, I have to get better," he said. "We don't have those two first-team all-defense guys, so I can't hind behind anything."
All eyes will be on Perkins and he's well aware.
They already are. It's impossible to miss his face watching over Chaifetz passers-by. He appreciates the exposure the university and basketball have provided.
But if he had his way, Perkins would change one thing.
"I don't really like the picture they chose," he said. "I don't like the way I smiled. I want the serious look because I'm ready for business every day."