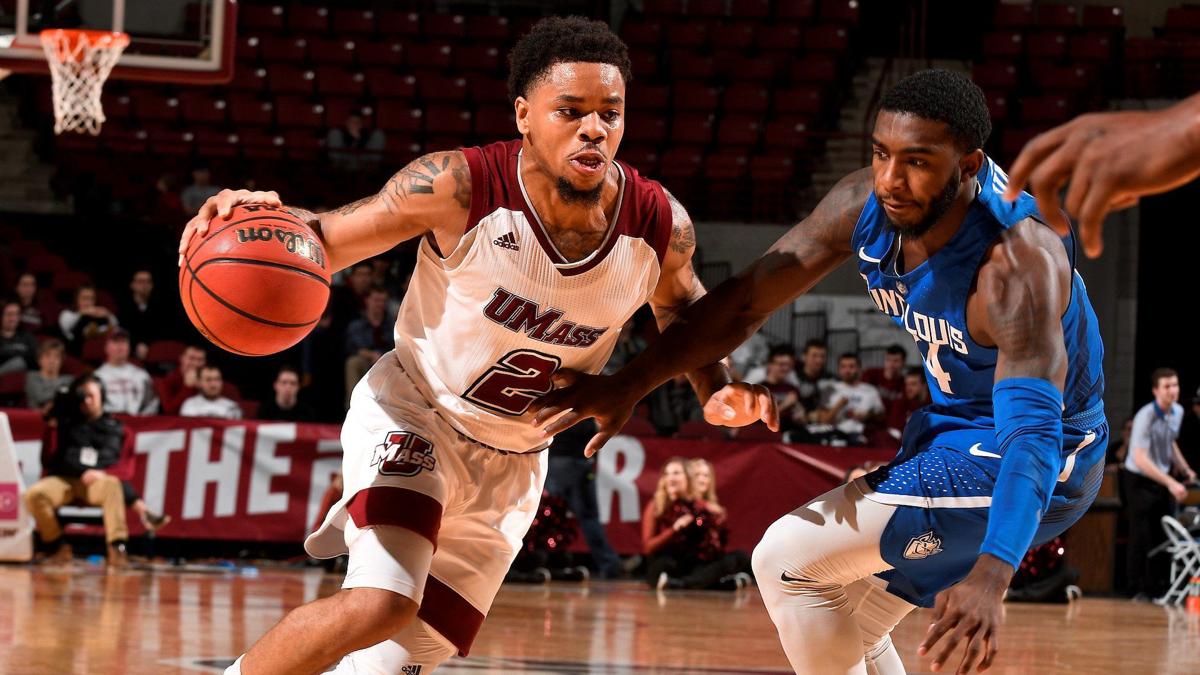 AMHERST, Mass. • The shrieks of joy and wild applause emanating from the visitors' locker room could have been translated simply as the reaction of a team that had just won on the road for only the second time in two seasons.
But as one person after another emerged with looks of relief or random acknowledgements that "we needed that," it was clear that St. Louis University's 66-47 thrashing of Massachusetts meant a lot more than the usual road victory.
Even if no one was willing to say so.
One day after an attorney revealed the penalties resulting from SLU's Title IX investigation related to sexual assault allegations, the Billikens played a complete game with their somewhat complete lineup of eight scholarship players.
Based on the revelation that three players have been suspended and one expelled, the presence of the eight meant that one suspended player was in action at Mullins Center and contributed to the win.
"We've had a lot of ups and downs," forward Hasahn French said of the previous 24 hours. "We keep our spirits high and we're doing pretty good. We just have to stay positive and keep going as a team. All we can control is our effort and energy, and that's what we're trying to do."
Playing 30 minutes away from the prep school he attended, French had 12 points and 10 rebounds. Jordan Goodwin flirted with a triple-double for the third consecutive game, finishing with 19 points, 10 rebounds and eight assists.
And SLU (3-4 in the Atlantic 10, 10-10 overall) has played its most complete back-to-back games. It held UMass to 35 percent shooting, including 27 percent in the second half.
"A lot has been going on, but we have to stay focused on what we have to do," Goodwin said. "We're still trying to win games."
The Billikens left St. Louis on Friday less than two hours after attorney Scott Rosenblum revealed penalties given to his clients and one player who is represented by a different lawyer. Three players who had previously traveled with the team were not on hand.
A quickly filed appeal allowed the fourth player to see action, although SLU coach Travis Ford would not comment on what transpired to allow one suspended Billiken to play while two suspended players were out of the picture.
"We just try to concentrate on the next game, concentrate on trying to get a road victory," he said.
Asked if he had addressed the team about dealing with the off-the-court distractions, Ford said, "We talk about everything, absolutely, everything."
SLU looked like a team with no problems at all Saturday. The Billikens scored the game's first six points and never trailed to improve to 2-15 in true road games during Ford's tenure.
Returning to the arena where he coached the Minutemen for three seasons, Ford received a smattering of boos when he was introduced and a lot of well-wishers when he left the floor. The successful afternoon seemed to take the edge off a process that has seen Ford lose most of the guards he expected to have this season.
Goodwin has filled in a lot of the holes, especially recently. He is averaging 13.7 points, 11.3 rebounds and 9.7 assists in the last three games while SLU has played some of its best offensive basketball.
But it was defense that Ford wanted to discuss after the Billikens stymied the Minutemen and high-scoring guard Luwane Pipkins in the second half. UMass (3-4, 10-10) missed 10 consecutive shots during one stretch as SLU went on a 16-0 surge to open a 62-38 lead with six minutes remaining.
"It was a gutty performance by our team," Ford said. "Defensively we really locked in. We've had our issues with guys like Pipkins. One thing we concentrated on was really competing together as a team defensively, and today's effort was really good."
SLU also dominated on the boards, outrebounding UMass 37-25 with 16 offensive rebounds. Goodwin opened the game by scoring on a rebound of his own miss to set the tone. He had another offensive rebound for a bucket minutes later.
The Billikens entered the game 10th in the country in free throws attempted but got to the line for only three. But they shot 52 percent overall and were effective with their 3-pointers, making seven.
Even as Ford continued to use his bench for fewer minutes, the Billikens were able to close out an opponent in the second half for the second consecutive game after blowing leads in three conference losses.
"We're starting to lock in right now and learn to finish games," French said. "We see what we can do, and this is just the beginning."
Be the first to know
Get local news delivered to your inbox!