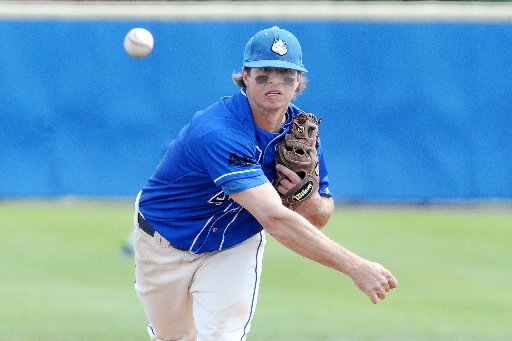 When Jerry Mancuso came in from Kansas City to make his recruiting visit with the SLU baseball team four years ago, there wasn't a whole lot for him to see. Chaifetz Arena, which houses the team's locker room facilities, still was under construction and the Billiken Sports Center, where the team plays, is pretty bare bones.
"I don't think the coaches even took me by the field," Mancuso recalled.
What sold him on the SLU program — and what really was the only thing coach Darin Hendrickson had to offer back then — was the promise that good things were possible, and players such as Mancuso could make it happen.
"I came in under the impression we were here to come build up the program," Mancuso, who plays outfield, said, "to turn the whole thing around and get us on the map a little bit at the D-One level."
That's exactly what has happened. On Saturday, SLU won its 40th game of the season, making it just one of 18 teams in the nation to have done that before conference tournament play. The Billikens shared the Atlantic 10 Conference title with Dayton, the first time since 1967 they had won a league title. They were even ranked — for the first time ever — earlier this season, checking in at No. 30 in Collegiate Baseball's poll before the start of league play.
SLU is the No. 1 seed in the A-10 tournament, which begins Wednesday at Fordham in New York, though SLU has a first-round bye and doesn't play until Thursday. With three wins, SLU would earn a spot in the NCAA Tournament for the second time in three years. (With an RPI over 100, winning the tournament is SLU's only way in.) Before that, they had gone just once since 1966.
There are any number of stats that can be used to show the futility of the SLU baseball program, so here's one: From 1971 to 2005, SLU had just two winning seasons. Four of the six winningest teams in SLU history have been under Hendrickson, who's in his fifth season. SLU long ago this season broke its school record for wins, which had been 32.
The man behind it has been Hendrickson, whom SLU hired from Central Missouri in July 2007. Before that he had been the coach at Forest Park Community College and Fontbonne, and he had had significant success at both Forest Park and Central Missouri.
"The first thing he always told me was, 'You have to believe in us,' " said senior Connor Gandossy. "'We're going to build something special here.' It was hard to believe then because you're only 17, 18 at time, but he was so convincing and had so much enthusiasm about the program, you wanted to believe in it. Over time it's turned into something great and will be for years to come."
"We were recruiting on our track record as coaches," Hendrickson said, "and on the great institution they were coming to. Playing in the A-10 was an attraction. We could bring in kids like Connor from the East Coast and tell them they'd get to go back home to play. That was neat for them. We were kind of taking a leap of faith together and hoping it works out."
Gandossy, a catcher, is from Connecticut, and three key players on this year's team are a group of freshmen from New York, first baseman Mike Vigliarolo, shortstop Alec Sole' and pitcher James Norwood. Outfielder Alex Kelly, the team's leader in batting (.338) and home runs (eight) is from Colorado.
The team's pitching also has been a big factor. Alex Alemann has a 7-1 record and a 2.50 ERA. Closer Travis Parker has yet to allow an earned run in 36 2/3 innings this season — yes, that's an 0.00 ERA — and has 12 saves.
Hendrickson acknowledges that the team getting in to the NCAA Tournament two years ago was unexpected — the team got hot at the right time and sailed through the A-10 tournament — and he thinks the program, with help from the administration, has taken big steps forward.
SLU's baseball facilities have improved, but they still lag behind — the players joke that it would be nice to have a locker room at the baseball field to go to so they could do something besides sit in the dugout and watch the other team take batting practice. An indoor facility where the team could work out in the offseason would be another plus. Now that the school has finally built a workout facility for the track and field team, baseball is the next pressing concern.
Said Gondassy: "To see it evolve in four years is something special. The sky is the limit now. To have 40 wins, it gets national recognition. More people will be calling up Coach and saying, 'What's the deal?' In years to come, it's going to be unbelievable."