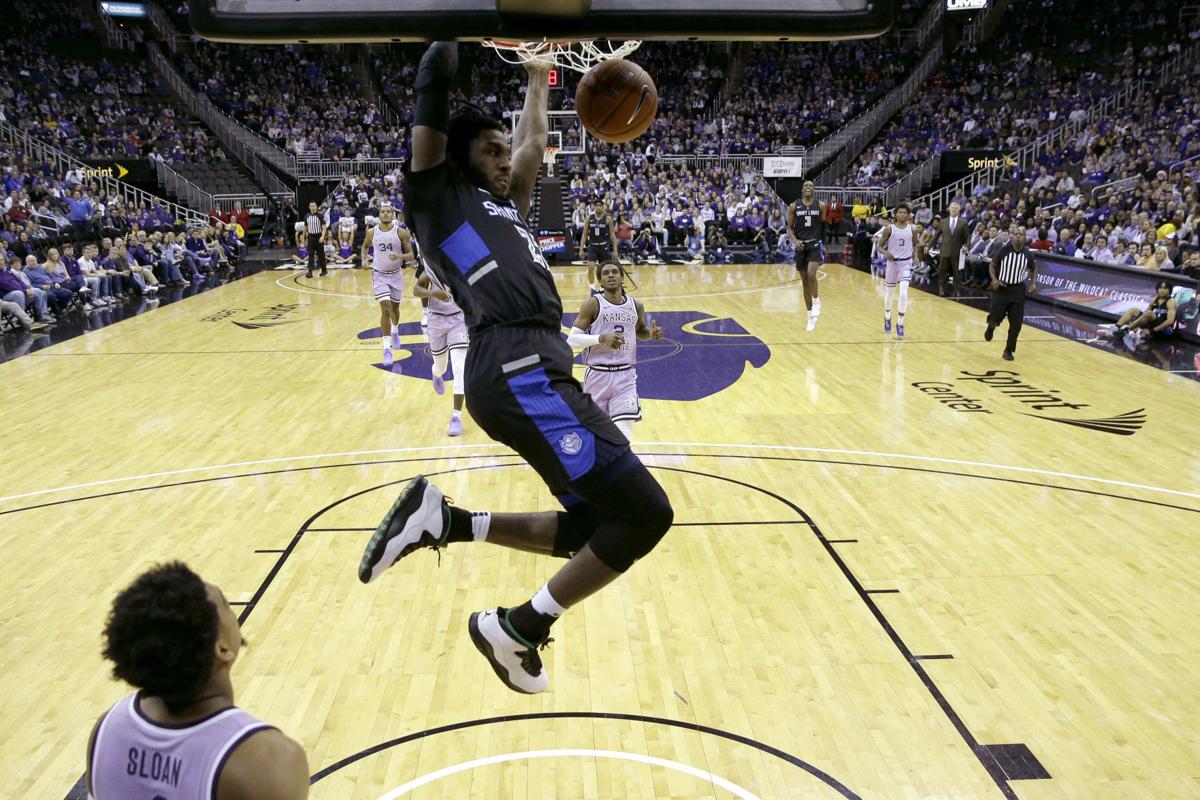 After struggling through five years of offensive challenges, St. Louis University entered this season with little in the way of proven scoring.
Coach Travis Ford was looking at a roster with vast potential and hoping players who were productive in high school, junior college and low Division I could quickly make the transition to scoring for the Billikens.
He has seen one after another slowly bloom into productivity that has produced a 10-2 record with one nonconference game remaining.
Six players have scored 20 or more points in a game. The freshmen have combined to average 25.5 points, although an injury will cost guard Gibson Jimerson the rest of the season.
SLU is scoring at a 72.8 points-per-game average thanks to that development, a figure that has not been seen at Chaifetz Arena in quite a while.
The team's most recent win, over Kansas State, possibly was the best example of how many weapons exist. No one scored more than 12 points, but the Wildcats couldn't focus on stopping one or two guys because the points were coming from many sources and in a variety of ways.
". . . It was essential for it to happen," Ford said. "We were playing with three players from last season. It was essential for these guys at different times to come on. We needed guys to figure a few things out, or we would be an average or below-average team if that hadn't happened."
Jordan Goodwin and Hasahn French have scored as expected, but little by little they have received increased support.
Jimerson was the first to step forward as he showed signs of being the program's best 3-point shooter since the NCAA Tournament run. His loss will no doubt be felt but could be neutralized as others step forward.
Javonte Perkins has led the Billikens in scoring in three games. Terrence Hargrove Jr. has made the progress in the last two games that the coaching staff hoped to see. Tay Weaver picked up the perimeter shooting slack against Kansas State.
In the first 12 games, Goodwin, French, Demarius Jacobs, Jimerson, Perkins and Hargrove scored at least 20 points in a game. Hargrove's breakout with 27 points last week against Maryville came days before Jimerson had surgery on his broken foot.
"I don't know if we win the other night without his performance," Ford said of the Maryville game. "And you can go right down the line. Jimmy Bell has had his moments. That's what we have to have. It doesn't always have to be the same ones. That's the way it's going to have to be as we go forward."
Perkins has shown that he can score in many ways, and Ford has said despite his 27 percent accuracy on 3-pointers, the 6-foot-6 transfer from Southwestern Illinois College has the ability to connect at a much better clip.
Weaver could be the fill-in for Jimerson. He made three 3-pointers against Kansas State. He has made 10 of 26 (38 percent) such attempts after shooting 36 percent from beyond the arc the previous two seasons at Eastern Kentucky.
Point guard Yuri Collins and Bell might not be big scorers this season, but Collins' ability to get to the rim and Bell's size make them threats. It's a wealth of scoring potential last seen during the program's three-year NCAA Tournament run.
And this is all without the availability of Fred Thatch Jr., who was expected to average in double figures and add a 3-point threat before he was sidelined because of an illness.
After finishing among the lowest-scoring teams in the country for five consecutive years, SLU now is in the middle of the pack in Division I.