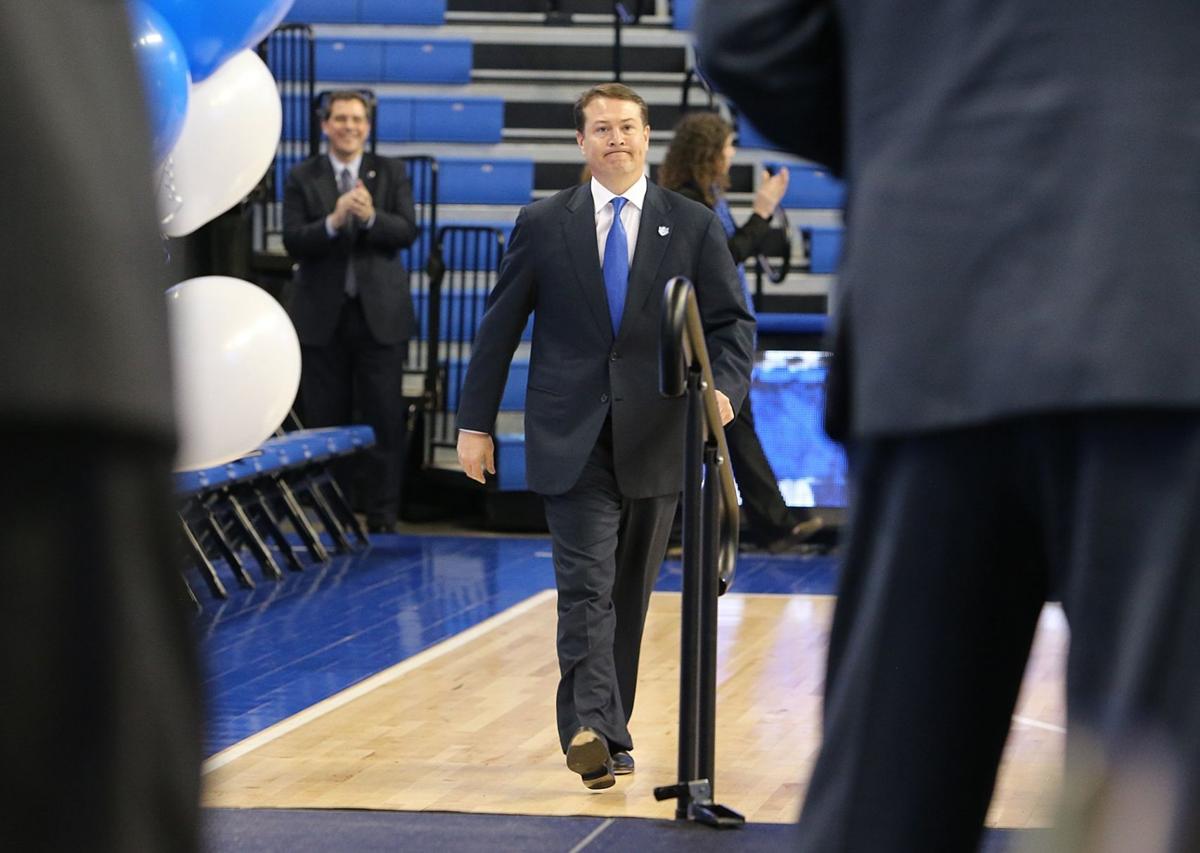 By the time the results of St. Louis University's latest COVID-19 tests were delivered Wednesday morning, the Duquesne travel group had arrived in St. Louis for what was supposed to be the Atlantic 10 basketball opener.
The Dukes, however, were quickly re-packing for the return charter flight to Pittsburgh.
The SLU men's team nearly made it to the end of 2020 without having a positive test interrupt the season, but multiple cases prompted a 14-day quarantine and led to the postponement of the game against Duquesne and Saturday's scheduled meeting with Massachusetts.
"It had gone about as well as it could until (Wednesday) morning," SLU athletics director Chris May said. "The most important thing we can do now is make sure everybody is safe. Now is the most critical time. We have everyone separated and taking care of themselves."
Next week's scheduled games at St. Joseph's and La Salle in Philadelphia also will be postponed.
The problem was compounded Wednesday night when the women's team had another positive test and shut down for the third time. Coach Lisa Stone's squad was scheduled to play its A-10 opener Friday after playing only two nonconference games.
The men players immediately were separated into individual living space with some local team members allowed to go home for quarantine. May would not say if players, coaches or staff had tested positive or if anyone was experiencing symptoms.
SLU will test daily for the time being to assess the extent of the outbreak. It typically takes 24 to 36 hours for their results to be returned. The positives they received Wednesday morning were from tests on Monday.
The men tested after their last game, on Dec. 23, and had all negative results. The only contact they were supposed to have in the meantime was with other "tier 1 personnel," which is the group that would travel for a road game.
"It's not anyone's fault," May said. "It's just a tough deal that we're going through. I see our trainers and sports performance people and lot of others trying hard, so I'm confident everyone has done their best."
SLU had one nonconference game canceled when Evansville was unable to play because of a player who had symptoms but did not test positive.
Senior Hasahn French said Tuesday that he believed the players were doing what they could to stay healthy. French had coronavirus in the spring while he was at home in New York and has said he was impacted by symptoms for about five weeks.
"We talk about it every day, making sure everyone is in the right place, doing the right thing so we can play," he said. "Anything that could jeopardize us playing, we try to stay away from. I feel we have good habits and guys have been sticking to it."
Billikens who did not go home to quarantine will be housed in the Hotel Ignacio across the street from campus. They will have food delivered to their rooms while the university does contact tracing.
The A-10 will take care of rescheduling games. The conference recently altered its quarantine period to 10 days, but SLU remains under city guidelines that will extend the team's downtime until Jan. 13. The Billikens next game could be Jan. 15, at home against Davidson.
How games might be rescheduled remains to be seen.
"That's not our No. 1 concern right now," May said. "There's a lot of basketball left and time to get games in. Our whole focus is getting everyone in isolation, making sure they're taken care of and getting nutritional needs met."