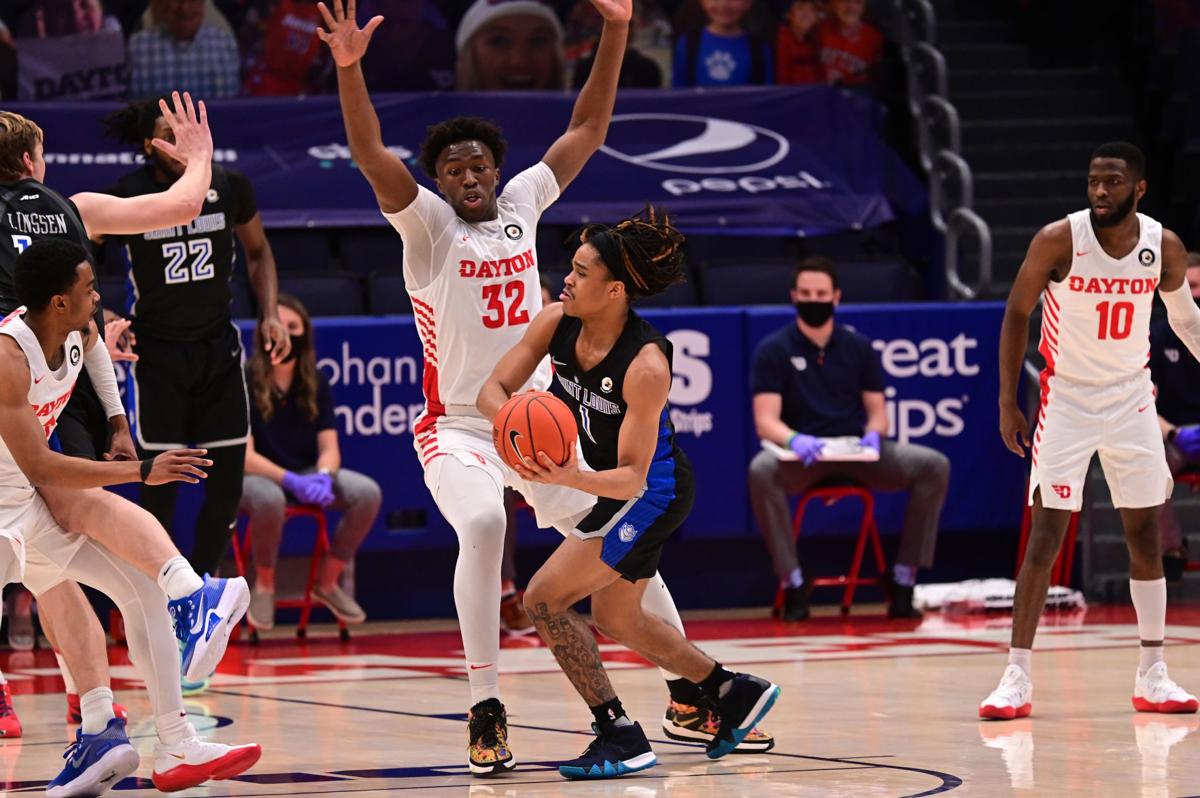 As the remaining schedule has shrunk due to COVID-19 and postseason alterations made by the Atlantic 10, the importance of every St. Louis University game has been magnified.
Life on the NCAA Tournament bubble can be tense, and the Billikens will find themselves in a tough position entering the final week of the regular season.
Needing a good performance in front of a national TV audience Friday night, they were out of kilter from the start in a 76-53 loss at Dayton.
Coach Travis Ford's postgame opening statement was his shortest of the season.
"Not much to say really," he said. "It kind of spoke for itself."
The Flyers led from start to finish on their senior night, outplaying SLU in almost every aspect of the game. The performance was a tough blow for the Billikens' postseason hopes, but senior Jordan Goodwin told his teammates to remember the disappointment.
"I told them you can't forget anything like this," he said. "I actually told them to soak in it, take a bath in it. The feeling sucks when you get beat to sleep anywhere. So, I told them to channel that and go forward from here. But don't forget what it feels like because we might see them in a few weeks."
Like the first time the teams met, Dayton hurt the Billikens with 3-pointers, especially in the first half, making eight. Their defense frustrated SLU's offense into shooting 27%. And the Flyers forced 15 turnovers by the Billikens while committing 12.
SLU (4-3 in the A-10, 11-4 overall) had played inspired defense during a four-game win streak that came to an end. The Billikens had not allowed more than 60 points in the previous four games, but Dayton (8-6, 12-7) had 60 with 11 minutes left.
Jalen Crutcher, who has hurt SLU the last couple of years, scored 19 points in his final home game.
"It just wasn't us. It wasn't our defense the way we usually play," SLU forward Terrence Hargrove Jr. said. "I don't have an answer for that."
Yuri Collins returned from his ankle injury for SLU after missing three games and came off the bench. But no combination used by Ford worked. Late in the game, Collins seemed to hurt his ankle again and left the game.
While Dayton's seniors went out on a high note, SLU's seniors struggled. Goodwin and Javonte Perkins combined to make five of 30 shots and scored seven points each.
The SLU offense struggled so badly that Hargrove's three first-half field goals held up to lead the Billikens with eight points.
"They did a great job on us," Ford said. "We kind of knew what they were going to do, and we didn't do much on either end."
SLU entered the game with six consecutive losses at Dayton, but the Billikens put up a better fight last season when the Flyers were a top-five team with national player of the year Obi Toppin.
The first half was an unmitigated disaster that started with Dayton scoring the first 10 points. The Billikens didn't have enough of anything to make a serious run.
Things got ugly when Dayton went on a 15-0 run after SLU had attempted to make the game close by getting within three. During Dayton's blitz, the Billikens missed 11 consecutive shots.
"I feel like we were ready," Goodwin said. "I feel like every time we get off to a slow start, it goes downhill from there. I thought coach had a good game plan, but the players as a whole did not follow it at all."
The Billikens settled for an abundance of jump shots because Dayton made it so difficult to get the ball inside. When the ball did get to Hasahn French or Marten Linssen on the block, the Flyers swarmed and made it virtually impossible for them to get shots.
The SLU starters made three of 18 shots in the first 20 minutes. Goodwin failed to score and missed all six of his shots and Perkins was 1-for-6, and the hole was too big to escape.
"We've got to regroup and figure out what happened," Ford said. "I've got to do a better job getting these guys ready because they were playing at a different speed than we were."