St. Louis University forward Isaiah Parker couldn't relax Monday night, with the anticipation building for Tuesday's Major League Soccer draft.
"I was really excited and found it hard to sleep," he said Tuesday afternoon. "I stayed up all night playing video games and watching television."
His wait turned out to be shorter than he expected. Parker, with one college season behind him, was chosen by FC Dallas with the third pick overall in the draft, and he opened the floodgates on Billikens hearing their names called.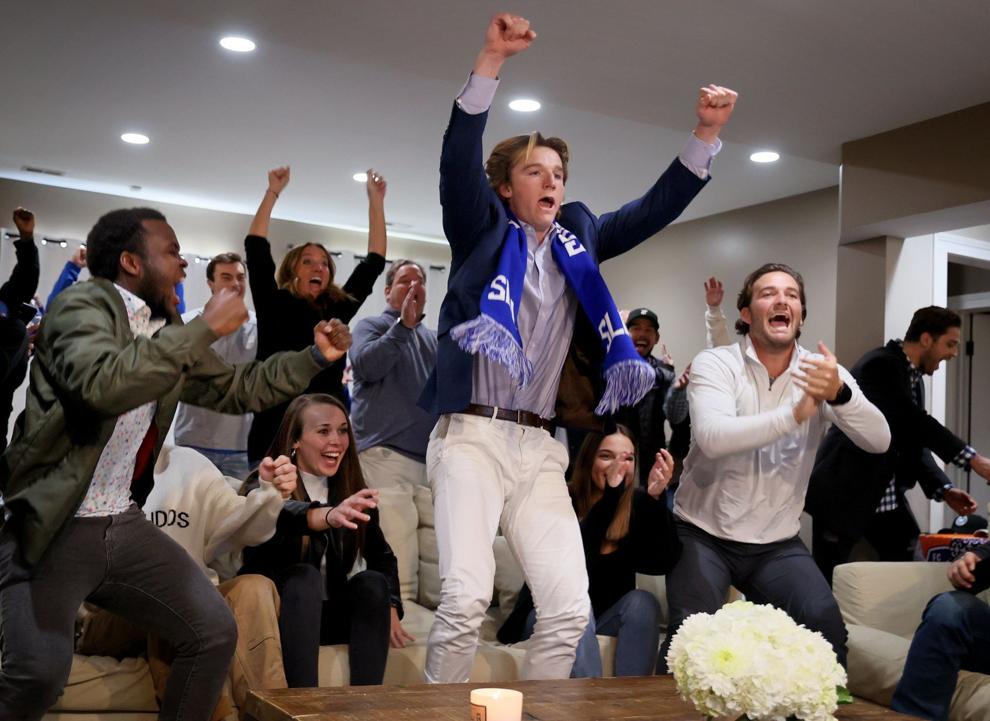 Defender Kipp Keller was selected fifth by Austin, goalie Patrick Schulte was chosen 12th by Columbus and forward Simon Becher was taken 16th by Vancouver. Another local player, Jack Lynn, who played for Chaminade and then college soccer at Notre Dame, was taken 18th by Orlando City.
SLU is just the third team in MLS history to have four or more players drafted in the first round, matching Wake Forest in 2010 and one behind Akron's five in 2011. Parker was the highest SLU player chosen in the draft since Brad Davis was the third pick in 2002, and the first first-round pick from SLU since Tim Ward was the 12th pick in 2005. (By today's standards, Tim Ream would have been a first-round pick in 2010; he was the 18th pick overall but the league had only 16 teams then. This year, there were 28 picks in each round.) SLU had two more players, defender Chandler Vaughn (60th overall to the Los Angeles Galaxy) and defender Chase Niece (66th overall, to Dallas), go in the third round. The six players overall was one shy of Akron's seven in 2011.
SLU coach Kevin Kalish was like a proud father.
"Oh my gosh, unbelievable, right?" Kalish said after watching the draft from Keller's house in Town and Country. "To have two picks in the top five of the MLS draft is just an amazing day and I'm really proud for Isaiah and Kipp. … It's great to see St. Louis back on the map again."
Parker, Keller and Schulte all signed Generation adidas contracts with MLS, meaning their salaries won't count against the salary cap, providing an incentive for the teams to keep them on the roster and develop them. The MLS draft is more like the baseball or NHL draft than the NFL or NBA drafts, with even the top picks not always finding immediate spots in the lineup.
While Parker was watching the draft from his home in Chicago, Keller had a group of about 30 family, friends and teammates in the basement of his family home. The group got noisy when Parker was announced as the third pick.
"I was probably more excited than when I got drafted," Keller said "I was like, 'Let's go!' It's just unreal for him and he deserves it more than anyone. He's also the most humble kid in the world, so I'm so grateful he got picked by FC Dallas."
Keller had been projected to go as high as second in the draft, but ended up fifth.
"I was a little bit nervous going into it," Keller said. "I was just ready to go wherever and whoever wanted me. Just so grateful for this new opportunity. I almost held myself together and I was close to crying when I saw my mom crying.
"I had an unbelievable interview with (Austin), and it just felt like it was a really good fit. So my fingers were kind of crossed. I didn't really care about the number, and I'm so excited to land in Austin because, it's just a dream come true."
Keller, who wore a SLU scarf while awaiting his selection and then quickly switched to an Austin one, was the first of 12 backline players chosen in the first round.
Parker's selection marked a rapid jump.
"This was way faster than I expected," he said. "When I first got (to SLU), I was thinking I'd fight for playing time. Now I'm going to go play pro. It's crazy."
"I think he's a very vertical player," said FC Dallas coach Nico Estevez. "When he's with the ball, he's thinking to hurt the opponent. He's thinking in the opponent's goal and he has the tools to do it. He has amazing dribbling, he can go inside, he can go outside, he has good ball security that I also like for a winger and he has the versatility, he has the athleticism and the physicality to play different positions, not only as a winger but also an outside back. I think all these qualities we were impressed by in a player that is a 2002 and I think he can do very well with us."
There is no assurance of playing time or even roster spots for Parker and Keller, who find themselves about 200 miles apart in Texas as MLS camps open this weekend.
"When I first got (to SLU)," Parker said, "Kipp was constantly texting me, asking how I was doing, seeing if I needed anything. He was always very supportive of me. I can't think him enough for that. Now we're going to be rivals. I'm looking forward to playing against him."
Benjamin Bender, a midfielder from Maryland, was the first player chosen in the draft, by expansion team Charlotte FC. Next season, St. Louis City SC will have the first pick in the draft.