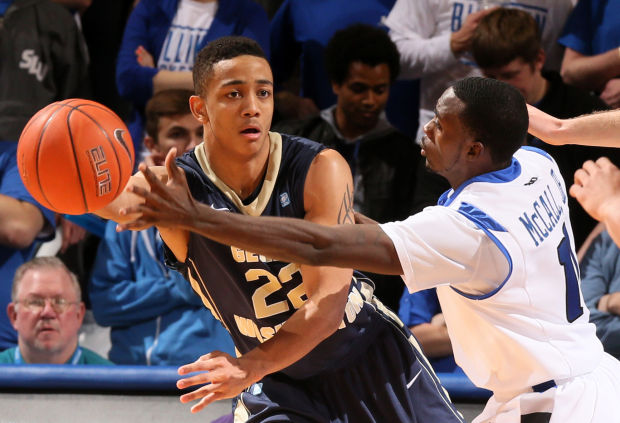 If one defeat got St. Louis University's attention about things it needs to clean up at the end of the season, just think what two losses have done.
SLU didn't exactly cruise through January and February, even if it did win a school-record 19 straight games. But since lessons seem to sink in more coming on the heels of a loss rather than a win, the 17th-ranked Billikens are wide awake as they head into what has become a slightly more complicated Senior Night than might have once been thought.
"After a loss, we focus more, we dig in more," said guard Mike McCall, one of five seniors playing his final home game tonight against Dayton. "The team's more engaged. We're concentrating more on doing the little things."
"When you lose, I think it makes you take a harder look at it," said guard Jake Barnett, another senior. "It's human nature. When you win, you say, 'all right, we need to improve.' When you lose, you say, 'if we don't improve, we're going to keep losing.' So it does make everyone take a second look and say, we're weak in these areas, we need to improve."
The list of where SLU needs to improve is, conveniently, short and to the point. SLU's past two games have been among its worst all season when it comes to turnovers (SLU gave the ball up on 27 percent of its possessions on Saturday against VCU) and offensive rebounds allowed (opponents have averaged 15.3 offensive rebounds in the past three games). Better numbers in either of those categories on Saturday could have turned a loss into a win, or at least something closer than an 11-point loss.
"We're not playing how we usually play," forward Dwayne Evans said prior to the start of practice Tuesday. "We'll correct it out there. We had a really good practice Monday, we'll have a couple more hours today to try to get back to basics."
"I think we beat every human nature thing," coach Jim Crews said. "It's easy to get amnesia on your mistakes when you win a game. They won a lot of games in a row and haven't gotten too much amnesia. But at the same time, you have to keep looking at yourself, evaluating yourself individually and as a team to get better. We've done that since Saturday, and Thursday, and the Saturday before. But it might be a little clearer, maybe. Could be."
SLU can clinch the No. 1 seed in the Atlantic 10 tournament and at least a share of the league title with either a win or a loss by St. Joseph's, which tips off at the same time as SLU, at George Washington. If SLU wins and St. Joseph's loses, SLU would clinch the title outright, which could add some net-cutting to the postgame festivities honoring the winningest class in SLU basketball history. The five seniors, Evans, McCall, Barnett, Jordair Jett and Rob Loe, have won 91 games over the past four seasons, beating last year's seniors, who won 89.
(Kwamain Mitchell, who sat out the 2010-11 season, was on teams that won 95 games, making him the winningest Billiken ever. But if you want to get technical, since Mitchell missed the start of his senior season with a broken bone in his foot, Evans and Jett, who have played in every game since coming to SLU, are the winningest players in school history.)
With one more regular-season game coming up after tonight, on the road Sunday at UMass, which has lost just once at home all season, the pressure for this game is amped up a bit as the team tries to avoid its first three-game losing streak since these seniors were freshmen. Dayton is making a strong run late in the season to revive its NCAA hopes and may be playing better than anyone in the league right now, coming off a win Saturday over UMass.
"It's very important," McCall said. "We have to get off the losing streak, get back on a winning streak. It was a great feeling winning all those games. We have to get back on that road."
Senior night can be a distracting event, and SLU has, over the past several years, chosen to honor its seniors after the game. While it may create some awkward moments if the game ends in a loss, as it did three seasons ago, it can also provide an incentive.
"Winning comes first," Evans said. "We're on a two-game skid. We have to really try to get back on the positive side here. I'm sure the Senior Night stuff will get to us, but hopefully, that's after the game.''
Evans practiced fully on Monday and Tuesday after playing much of the VCU game in pain following a late first-half midcourt collision with Juvonte Reddic that hurt Evans' hip, an injury that was then exacerbated when Evans went to the floor hard trying to score on SLU's next possession.