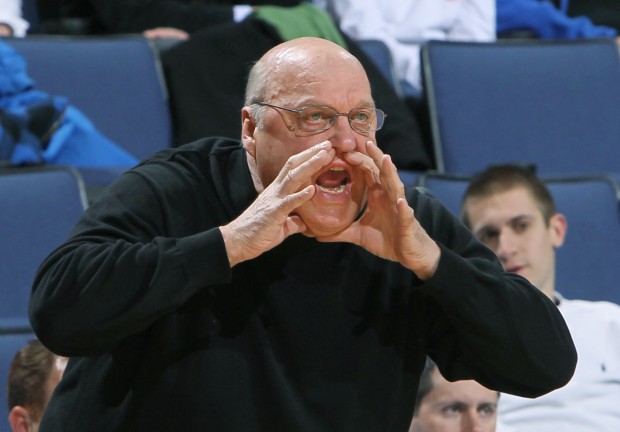 PHILADELPHIA • After beating St. Joseph's on Wednesday, SLU was halfway done with its two-game road trip to Philadelphia, and halfway to accomplishing its goal for the trip.
"Two-and-0," forward Dwayne Evans said. "That's the mission."
"Definitely," agreed teammate Brian Conklin. "This is the biggest week of the season. If we get two big ones on the road, we're right there with the conference and we get some separation from the other teams."
What stands between SLU (19-5, 7-3) and a 2-0 trip (and a 20-win season, which would be just its third in 14 seasons) is one-time league-leader La Salle (17-8, 6-4 and losers of two straight) this afternoon in Tom Gola Arena. La Salle is unbeaten at home this season, the last team with a perfect slate in the Atlantic 10, though other than Xavier, the list of opponents to lose at La Salle is hardly intimidating.
Once upon a time, the thought of SLU going 2-0 on a road trip was fanciful at best. In nonconference play, SLU went 1-2 on the road, with the one win coming in the faraway wonderland of Carbondale, Ill. SLU then opened league play in Dayton, Ohio, where it lost in overtime.
Times have changed. A narrow win at Charlotte was followed by a win at Xavier that snapped the Musketeeers' 43-game home conference win streak. SLU then played a stinker at UMass before winning at St. Joseph's Hagan Arena, where the Hawks had lost just once all season and had beaten Penn State, Creighton, Villanova and Dayton.
All of a sudden, SLU has won three of its past four road games, with wins in two of the league's toughest buildings. Only two other Atlantic 10 teams, heavyweights Temple and Xavier, have three roads win in league this season. If the formula for success in any league is to get wins on the road, the Billikens appear to have had their eureka moment.
"We're getting there," forward Cody Ellis said. "Winning on the road is hard no matter where you are. We've matured as a team. There's an aspect of learning to close out close games, of keeping the lead at the end rather than letting them come back in and make it close. We've still got work to do on that."
That's been one characteristic of their roads wins: SLU has taken strong leads — 13 at Charlotte, 14 at Xavier, 12 at St. Joseph's — allowing them the advantage of playing from ahead. The flip side, though, is that at Xavier and St. Joseph's they lost their entire leads and at Charlotte they lost all but one point. But they've shown resiliency in each case, recovering to win the game.
"That's another maturity thing," Ellis said. "Instead of dropping our heads and going, 'Oh, here they come, they're on a roll,' we keep our heads up and keep with our concepts. We know it's going to work."
SLU's two most recent road wins, at Xavier and St. Joseph's, are the most telling, and were a product of SLU's defensive play. Xavier shot 40.5 percent from the field, St. Joseph's shot 39.2 percent. Both teams committed 17 turnovers, producing 26 points for SLU.
"I think it's hard-nosed defense," Conklin said. "We've always had a hard-nosed defense, but this year we're also able to score, with Cody shooting 3's or me inside. It's a nice mixture and then you add Kwamain (Mitchell) and Mike (McCall) outside. We're more confident on the road, knowing we have people we can go to on the outside and inside."
It's also possible that the answer is just that SLU is doing well everywhere and the road wins are just along for the ride. SLU was won six of its past seven and is rated as high as No. 10 in the nation by basketball statistician Ken Pomeroy.
"Maybe it's an evolution," Conklin said. "We're all coach's guys and know the system in and out."