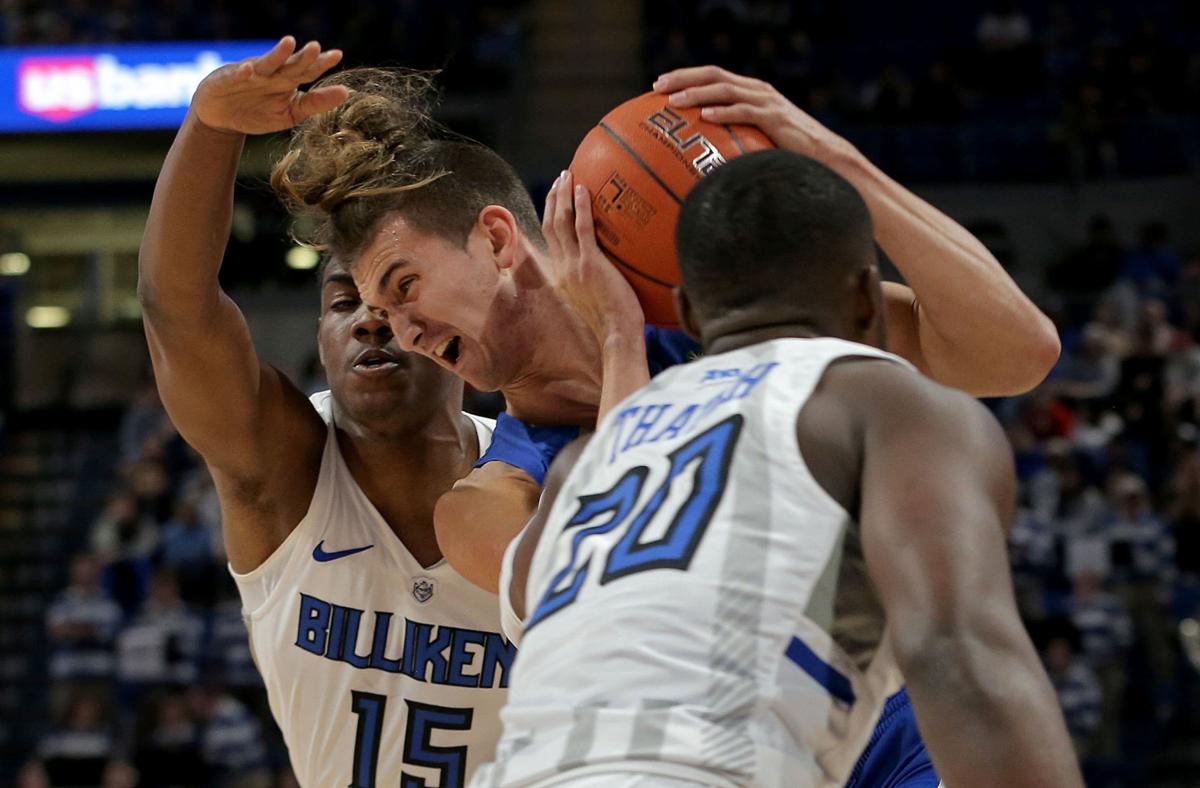 There was not a lot of interior bulk or grit on Travis Ford's first St. Louis University team, and that was reflected by the team's ranking among the least successful rebounding teams in the country.
By his third year, the Billikens had made the full transition. The bodies looked different and that was reflected in the numbers.
Hoping to continue last season's breakthrough, SLU has averaged a 10-rebound margin over its first two opponents and has continued to assault the offensive boards, turning second and third chances into points.
"Even if you don't want to rebound, coach Ford is going to find something inside you to get you to rebound, make you want to rebound," guard Fred Thatch Jr. said.
It has been one strength in the team's 2-0 start entering Wednesday night's game against Eastern Washington at Chaifetz Arena.
SLU improved from 275th in the country in rebound margin in Ford's first year to 17th last season. The Billikens made the jump from 309th in offensive rebounding to fifth.
The turnaround has been less about adding height than it has physical players who have the right mindset with 6-foot-7 forward Hasahn French and 6-3 guard Jordan Goodwin leading the way.
Losing Javon Bess and D.J. Foreman put a dent in the numbers, so Thatch and others are going to need to respond if SLU is going to keep the same reputation.
In Saturday's win over Valparaiso, the Billikens were being outrebounded with 10 minutes left before a late surge gave them a seven-rebound advantage.
"It's really our effort and mindset at the time," French said. "We should be outrebounding teams by a lot. The other night we talked about it in the huddle, and coach Ford told us at halftime what we needed to do. We know what we can do and it's one of the key focuses in the game."
Ford has challenged French to lead the Atlantic 10 this season. Foul trouble in the second game cut his playing time but he has pulled down seven per game so far. Goodwin is averaging nine.
The Billikens had an unusual opening game when they had 21 offensive rebounds and 20 defensive. They had 16 on the offensive boards against Valpo. Those have been turned into 39 second-chance points.
But Ford isn't completely satisfied. He wants to see more rebounding at the other end.
"I still don't think we're a good defensive rebounding team or as good as we need to be," he said. "It's an area I've been focusing on the last couple of days. In the second half (against Valpo), we gave ups way too many defensive rebounds."
The challenge is going to be finding consistently productive players to replace those who left. Thatch knows Ford expects him to make up for the loss of Bess. He averaged 2.7 as a freshman.
"In high school I was a really good rebounder," Thatch said. "I got 25 in one game, but when I got to college I was going to watch and might rebound here and there. This year coach challenged me to be the top of the line rebounder I used to be."
Jimmy Bell Jr., a 6-10 freshman center, 6-7 KC Hankton and 6-6 Javonte Perkins are other candidates to contribute, although they are averaging a combined 5.5 thus far.
SLU vs. EASTERN WASHINGTON
All-time series: Tied 1-1
TV/radio: Fox Sports Midwest; WXOS (101.1 FM)
Records: SLU 2-0; Eastern Washington 2-0
About the Billikens: SLU assistant to the head coach Ray Giacoletti was the head coach at Eastern Washington from 2000 to 2004 before staying in Spokane as an assistant at Gonzaga from 2007 to 2013. … Jordan Goodwin was named the Atlantic 10 player of the week by College Sports Madness. … Freshman point guard Yuri Collins has 14 assists and six turnovers in his first two college games.
About the Eagles: Eastern Washington was picked to win the Big Sky conference over Montana by the league's coaches. The media picked them to finish third. … The Eagles have wins over Portland Bible College and Seattle. … Jacob Davison, a 6-4 guard, has led the team in scoring with a 20-point average. … The Eagles have three players on their roster from Melbourne, Australia.