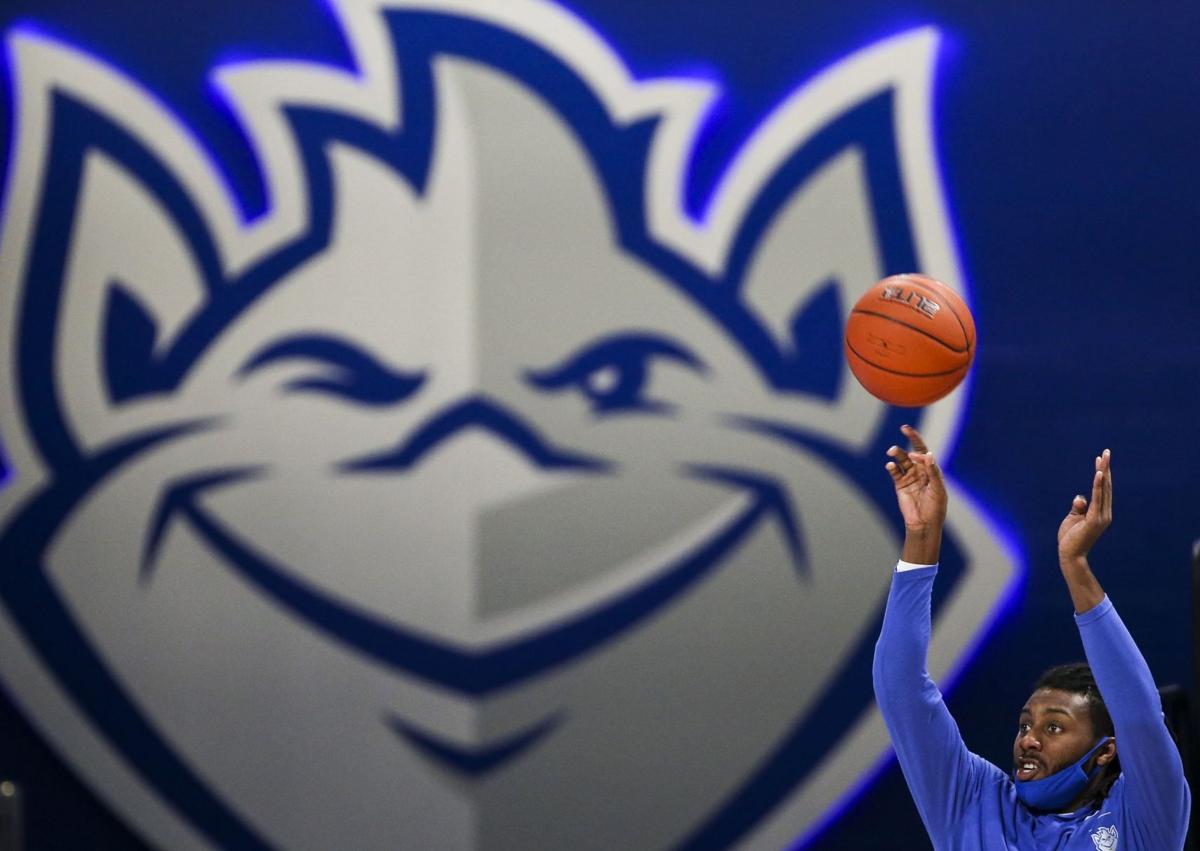 The usual scenario for St. Louis University basketball players would have been for them to disperse after the final game before Christmas to return to their homes if at all possible.
Players unable to travel would be invited to be with a teammate. The short break would be a welcome respite for a normal holiday with relatives and friends before returning Christmas night or the following day for practice.
There was nothing normal about this Christmas for the Billikens.
SLU players remained in their campus housing for a couple days of rest as the program tries to maintain its record of no positive COVID tests since the start of preseason practice. Their plight is not uncommon around the country in college basketball.
"We're going to give them a day or so off and let them rest," coach Travis Ford said after Wednesday's win. "We'll make sure they get food, and we have a couple of things we're going to do with them — a couple of surprises. We'll try to celebrate the best we can with each other, but there's not a whole lot we can do. We're not spending much time together away from the court. We're not eating meals together. We just want to be as safe as we can and try to stay healthy."
The women's team had a different situation because of a 14-day quarantine related to positive COVID tests. Players were given the option to quarantine at home or on campus. Those who went home reported back on Christmas.
Mizzou, meanwhile, allowed for limited travel, letting players return home if it wasn't too far, with the stipulation that they return for practice Saturday.
With the start of Atlantic 10 play next week, Ford knows one positive test could postpone numerous games and be a setback from the team's nonconference success.
These decisions are not taken lightly at a time when mental health has become an increased concern on college campuses. An NCAA study looking at the impact of COVID on athletes showed one in three have sleep difficulties, one in four feel lonely and more than one in five feel overwhelming anxiety.
"They're doing the best they can," Ford said. "It's pretty quiet around here right now. There's no one on campus. It's quiet around Chaifetz. We're the only ones here and the only ones in the office. It's not something you want to get used to, but I think they've adjusted to it a little. Keeping them here is for their safety as well as their families' safety."
Some players have more challenges than others when allowed to travel for Christmas. SLU's Marten Linssen is from Germany and Andre Lorentsson is from Sweden.
But the Billikens have an abundance of players from the St. Louis area or nearby region, including Jordan Goodwin, Terrence Hargrove Jr., Yuri Collins, Javonte Perkins, Phillip Russell and Fred Thatch Jr.
Hargrove has a little brother who he occasionally likes to reward with gifts for doing well at school. But even the short trip home to East St. Louis is off limits right now.
"It's tough," he said. "We're used to going home to see our families, but we've got to do what we've got to do. Even though I'm maybe 12 minutes from home, I have to stay here and stay healthy and do what's best for the team."
Duquesne, which is SLU's next opponent Wednesday, has had at least 15 people in the program test positive. The Dukes have been off since Dec. 3. Coach Keith Dambrot decided to let players go home this week after such a long layoff from activity.
"I have to make sure we keep these guys safe and that their mental health is right," Dambrot told The Tribune-Review in Pittsburgh. "I felt it was the right thing to send them home, even though it's not the right thing for the basketball team."
Ford had hoped to have the players to his house on Christmas but said that couldn't happen. The team hasn't had a meal together since March when the Billikens were in Brooklyn for the Atlantic 10 Conference tournament.
In fact, the players have done little as a group since that time other than practice and play games. It's a different world for the Billikens under Ford, who encourages a lot of team activities and get-togethers in a typical year.
"I enjoy spending time with the team away from the court, trying to build that chemistry and push the right buttons off the court," he said. "In a way, I think it's a strength of ours. That is non-existent. It's not happening. There are no pregame meals. A big thing for us the night before games is having a meal and talking about the scouting report. We're trying not to do things outside of our routine right now."
Men's and women's basketball players are testing for COVID three times a week. Both have identified a group of Tier 1 individuals, who are the people allowed at practices and in meetings as well as in the travel group.