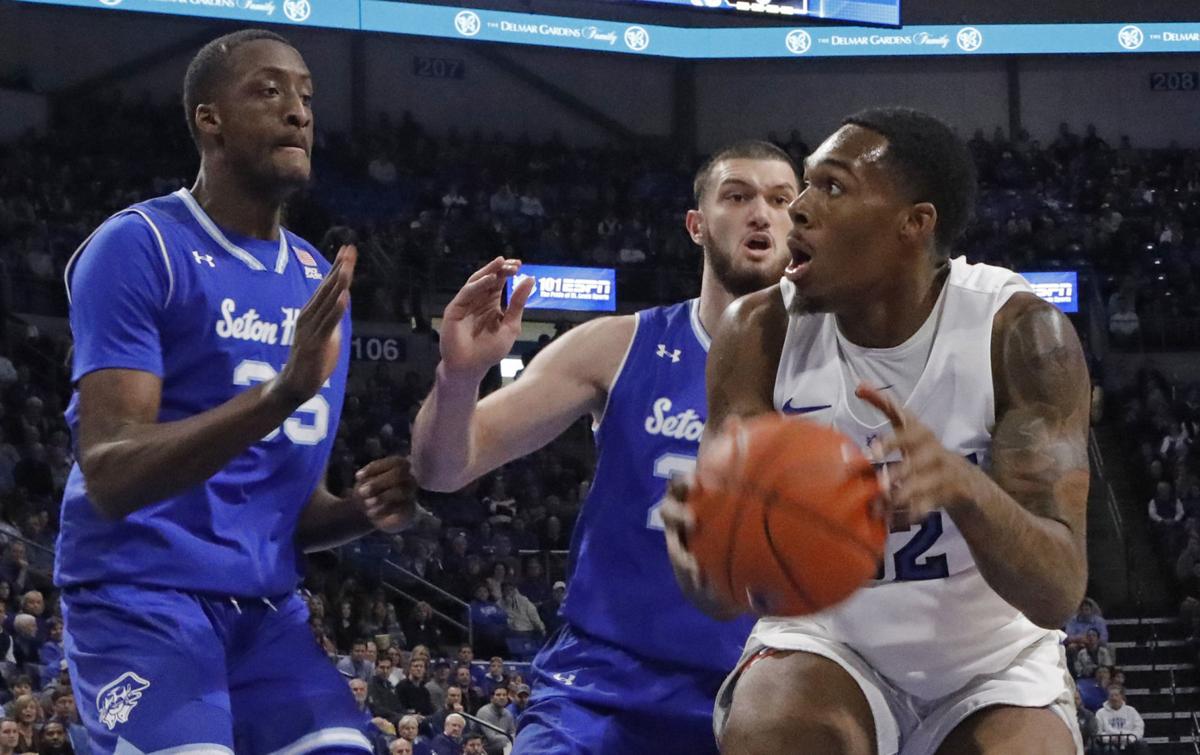 Three season-opening wins did not adequately prepare St. Louis University for its first real test against Seton Hall.
The Billikens fell behind at home 10-0. Then 18-3. The game was essentially over and coach Travis Ford went back to work.
Five wins later, SLU hopes it will be in a better place when it faces No. 12 Auburn on Saturday afternoon in Birmingham, a presumably neutral site that will be anything but for the 3 p.m. tip-off.
"The way we've been playing, we're starting to get our identity," guard Jordan Goodwin said. "I think we're ready. In that game against Seton Hall, we weren't ready. We had a lot of young guys and our chemistry wasn't how it was going to be. We've played a lot of games and beat a lot of good teams."
A Final Four team last season, Auburn is undefeated and the second-highest rated team in the Southeastern Conference behind Kentucky after being picked to finish fourth.
SLU has progressed to become a better defensive and rebounding team while Ford has developed a better idea of his rotations since the Seton Hall game.
The game offers an opportunity for SLU to post a win that would be significant if the Billikens are able to position themselves for an NCAA Tournament berth. But Ford knows that everything that has looked like a strength in recent weeks will be tested by the Tigers.
"We're coming off a game that was our most complete, but it's hard to say we've figured anything out," he said. "If we start putting two, three or four games together, you might say that. I do think since the Seton Hall game we are a better defensive team. But now we're getting ready to go against a team that's averaging 85 points a game."
Since Seton Hall scored 83 points, SLU has allowed an average of 57 points. Opponents have shot 38 percent against the Billikens.
Maybe more important, players such as freshmen Gibson Jimerson, Yuri Collins and Jimmy Bell Jr. have played five more games. Junior college transfer Javonte Perkins has established a defined role.
"This is another test. We're playing a team that will be in the NCAA Tournament," forward Hasahn French said. "I think we're ready. We're battle-tested and we've been through different things and our guys are more comfortable."
Auburn has two starters from last year's team that lost by a point to Virginia in a national semifinal and three others who played in that contest. Returning guard Samir Doughty has emerged as the team's leading scorer and freshman Isaac Okoro is second.
"The more film I watched, I thought they're not just a Final Four type of team but a national champion type team because they have all the pieces," Ford said.
The game is the first of a three-game series the programs agreed upon during the summer. They will not meet next season before playing at SLU in 2021 and at Auburn in 2022.
The Tigers have played games in Birmingham the last three years, twice playing Alabama-Birmingham in its backyard. The games against UAB drew crowds of 8,728 and 15,856. A game against Middle Tennessee State drew 7,209. Auburn has won all three of those games but one took overtime and the others were by six and four points.
This will be SLU's first game in front of a large crowd away from home. The Billikens' games at Boston College and in Phoenix against Tulane were played in front of a sparse group of fans.
"This is a different team than early in the season," Goodwin said. "The mistakes we made we wouldn't make again because we know how valuable the ball is. The main thing is to trust each other and stay positive."