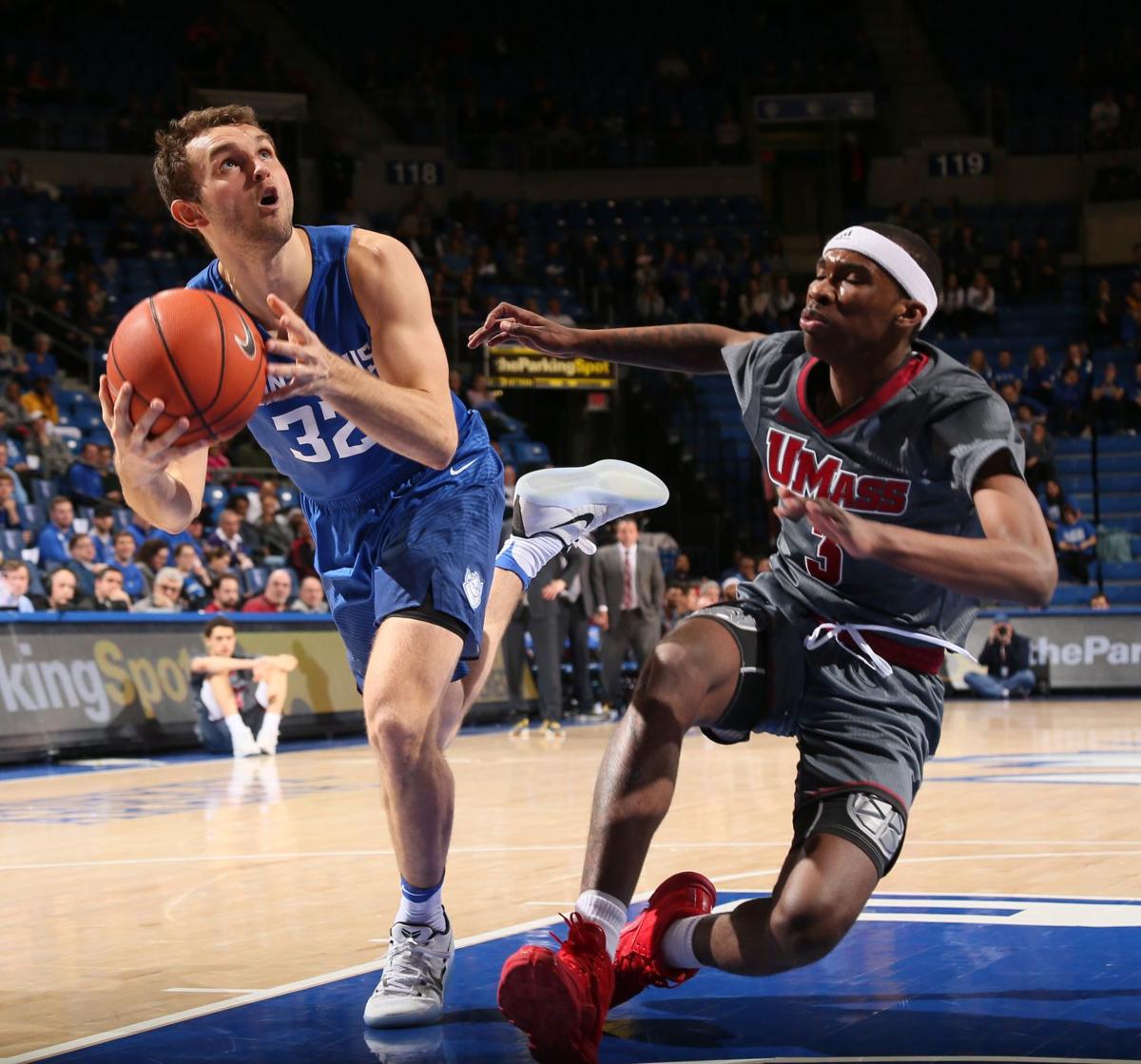 There was a lot that looked familiar about the first half at Chaifetz Arena on Wednesday night as the turnovers mounted, scoring was a problem and the margin grew, threatening to make for a lopsided affair.
Only this time it was St. Louis University that was piling on the opponent, eventually taking an 18-point lead over Massachusetts, which was sitting on eight points with less than seven minutes remaining until halftime.
Although unable to put the Minutemen away, the Billikens managed to maintain their lead for the final 36 minutes in a 74-70 win that was aided by a record night at the free-throw line and a career-high 21 points from walk-on guard Aaron Hines.
"We've been coming out slow at home the last couple of games," Hines said. "We knew it was important to come out with a lot of energy and that was the emphasis at shootaround and in warmups. We had to have a good start to win the game."
It ended up being barely enough as UMass pulled within three early in the second half before SLU rebounded to fend off the Minutemen's advances in the Atlantic 10 game.
UMass took a page straight out of SLU's first-half book by committing 12 turnovers, going nine minutes without a field goal and getting thumped on the boards by a group of Billikens who have been outrebounded by an average of seven in conference games.
The Billikens (2-6 in A-10, 6-14 overall) established school records for free throws attempted and made, using what has often been a weakness to build the early lead and then hold off UMass (2-6, 12-9). They made 39 of 55, including 11 of 16 in the final 90 seconds.
SLU scored its final 18 points on free throws to counter a sequence of easy layups surrendered to the Minutemen down the stretch.
UMass was called for 38 fouls, many coming in the closing minute as the Minutemen attempted to rally. But they were in foul trouble early in each half, allowing the Billikens repeated trips to the line.
The Minutemen had one player foul out and six had four fouls when the game ended. The Billikens had one foul out and four players had four fouls.
"We thought we might be able to get them in foul trouble if we drove and did a few things offensively that we worked on," coach Travis Ford said. "It doesn't always work, but in the first half it did. And they fouled us immediately in the last three and a half minutes."
UMass fouls put the Billikens in the bonus with 10 minutes left in the first half and with 13 minutes left in the game. Hines made nine of 12 and Davell Roby hit 12 of 16 and scored 17 points, and Jalen Johnson made eight of 10.
SLU jumped on top 29-11, reversing a trend of lopsided first halves that went the opposite direction. The Billikens hit their first three 3-pointers and then started beating a path to the line, at one point scoring 11 of 13 points on free throws to extend the lead.
They also were disruptive defensively, forcing many of the Minutemen's first-half turnovers.
"We got a lot of deflections on the pick and roll, and when they were throwing over the top Mike (Crawford) got a couple of steals," Roby said. "Our guys were very involved off the ball defensively, which made guarding the ball easier."
SLU had been outrebounded in seven consecutive games but immediately took control, chasing down missed shots that typically fall into enemy hands. The Billikens ended up with a 36-29 advantage, with Reggie Agbeko grabbing 11 and Johnson nine.
"We were very active," Ford said. "We needed to show a presence in the paint as much as possible, and that and changing defenses really helped us. ... We were active on the glass, with deflections and driving the ball. Our mentality was right."
Hines was aggressive offensively from the opening tip. He set the tone by scoring 10 points in the first nine minutes. He handled the ball against the UMass press and traps, holding up well in 37 minutes.
He made five free throws in the final 44 seconds as UMass fouled at every opportunity, and Elliott Welmer made the final, clinching free throw with eight seconds left.
"It builds a lot of momentum," Hines said. "We really needed that win. Now we just need to move forward, go back to practice and start over."