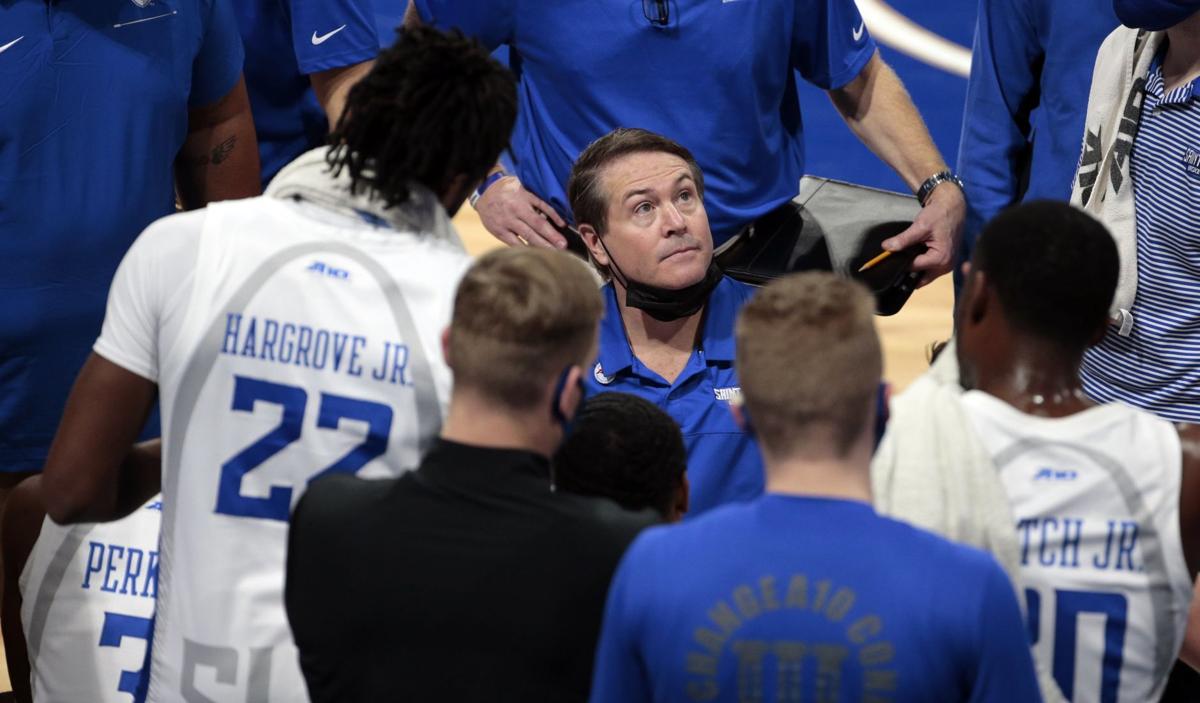 Travis Ford said last week that he felt like St. Louis University had just started play in the Atlantic 10, a portion of the season that normally includes 18 games.
His assistant coaches had to remind him it was mid-February and the season was quickly shrinking. Then the Atlantic 10 decided to play its conference tournament one week early, and the squeeze got tighter.
The Billikens enter what is now the final week of the regular season in a position they didn't expect to face and with little time to rectify the situation.
A game Tuesday night at VCU is one of three season-ending games in seven days against teams higher in the standings and with a combined 20-8 A-10 record.
"At this point we have to win as many games as we can," Ford said. "There's no denying we got the toughest ending of anybody. … The discrepancy in league play is nobody's fault. I don't know how they figure that all out. We haven't played some of the teams, and I've only caught glimpses of some when I'm scouting another team."
After Friday's lopsided loss at Dayton, the Billikens find themselves on the bubble of the two most well-known NCAA Tournament bracket prognostications.
That tenuous situation is in contrast to the end of December, when the Billikens were receiving national attention as one of the country's best mid-majors and on the verge of a national ranking.
These days, Ford just wants to play more games. But when the A-10 announced it was moving the start of the conference tournament to March 3-6, a week of games was eliminated. SLU did have a home game with Massachusetts added next Monday. The Billikens also play Richmond at home Friday.
Switching the week of the tournament, seemingly to create more recovery time for potential COVID issues, was a bold move.
"I understand it. I don't necessarily like it," Ford said. "I wish we could play as many games as possible. We all need to play games. Everybody's going to have complaints, no matter what. That's true of every league."
SLU has bigger issues after losing 76-53 at Dayton in a game that was decided in the first 10 minutes. After four consecutive wins, the Billikens lost ground in the battle for NCAA at-large positioning.
The loss was a step backward at a time when SLU needs to build momentum. It was also another road loss in a season that has not offered many road opportunities. The Billikens won at Fordham but have lost at Dayton, La Salle and Minnesota.
Ford gave the team a day off after returning from Dayton and returned to practice for a tough workout Sunday in search of answers.
"We know what happened, it's just tough to put your finger on why," he said. "We took an enormous amount of bad shots, and it was a terrible combination of bad shots and the (good) ones that didn't go in."
The loss left the Billikens in seventh place. Teams in the A-10 have played from six to 16 games as of this week, leaving a wide disparity for the sake of seeding for the conference tournament.
The A-10 decided it will seed teams based on winning percentage. If a team finishes with fewer than 60% of the median number of games played in the A-10, it will be seeded by NET ranking.
SLU has a tough path to finish among the top four teams, who receive a double-bye for the tournament. The Billikens pulled off that feat last season before the postseason was canceled.