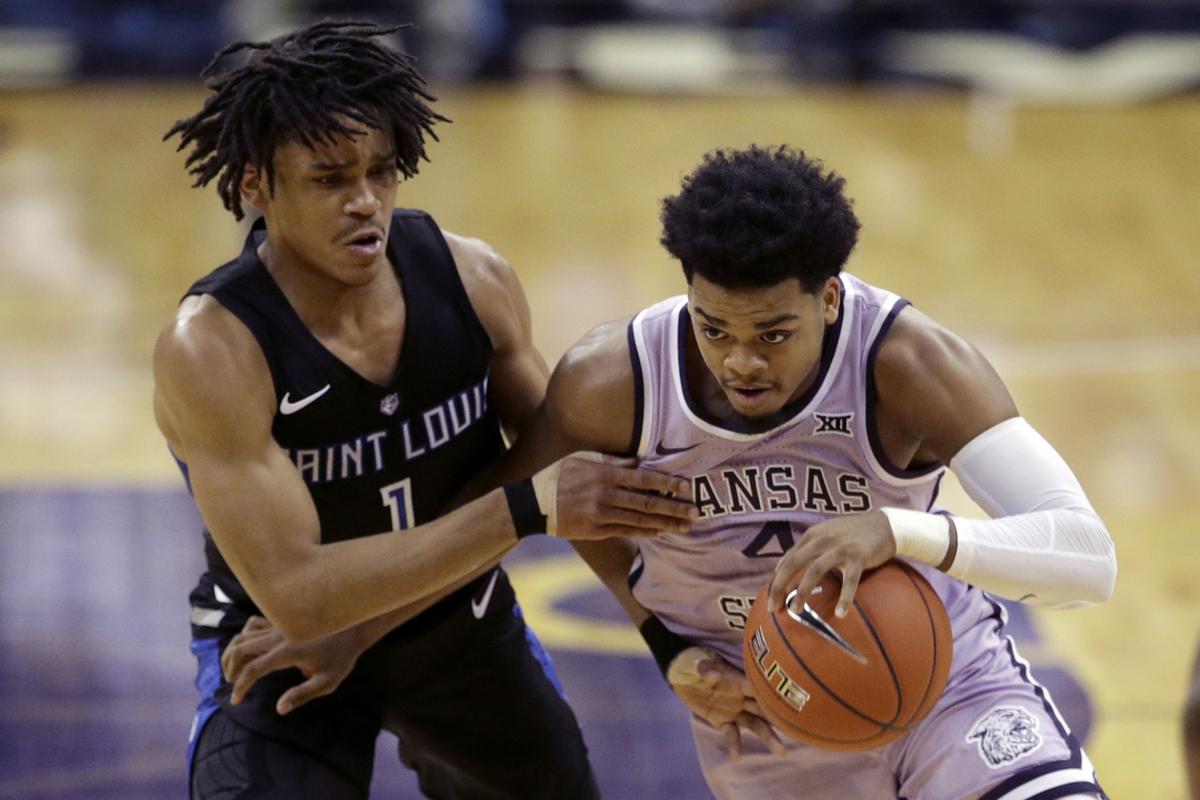 The tape on Yuri Collins' hands has been a blessing and a curse.
Two injured thumbs have required protection for St. Louis University's freshman point guard to play, but the discomfort has at times been an annoyance.
That has been the trade-off to stay on the court. The payoff has been a net positive and produced arguably Collins' best performance when SLU defeated Kansas State in its last outing.
Collins is on pace to shatter SLU's freshman assist record and, for the time being, will keep his hands taped to limit the pain, even though he sometimes has numbness in his fingers during games as a result.
His skill and court presence generally take over and have produced an impressive start to his college career with averages of 5.3 points, 5.8 assists and 3.0 rebounds entering Sunday's home game against Bethune-Cookman at 6 p.m.
"I'm out there still playing so I've got to find a way," he said. "My hands go numb sometimes so I can't feel them, but I've got to do what I've got to do to take care of the ball. If I want to be on the court through injuries, I have to find ways to get through stuff."
Despite a string of turnover-laden games, Collins is close to a 2-to-1 ratio of assists to turnovers. He is tied for 27th in the country in assists and tied for second among freshmen.
The St. Mary's High graduate has 70 assists through 12 games, making it almost a foregone conclusion that he will surpass the freshman record of 113 if he remains healthy.
This is what coach Travis Ford envisioned when he signed Collins, although he continues to ask for more.
"He's grown a lot," Ford said. "He was stunted a little because of the injuries. It (affected) him more than we thought it would. But you're seeing a maturity level and he's not forcing things as much as he was early. … He's understanding what I want. We're still wanting a little more talking and a little more emotion at times, but he's playing well."
Collins did a little of everything against Kansas State, taking two charges, distributing six assists, making four steals and providing several big plays in the closing minutes.
"After the game I had a lot of people tell me 'You looked like a vet out there,'" he said. "I feel that's the player I am. Through the season you'll see more of that. It was just the start of what I'll be showing the team the rest of the year."
Collins didn't wait long to make an impression as he collected 25 assists with eight turnovers in the first three games. He had 11 assists against Eastern Washington.
The next six games were less spectacular. The turnovers escalated to nearly match his assists with eight coming in a game against Belmont. Collins said the issues with his thumbs and fingers may have played a role. But his decision making wasn't as sharp.
He has found a better pace the last three games and his hands have started to feel better, although he said he isn't ready to play untaped just yet.
"I knew through the season as I started off I'd have ups and downs," he said. "I'm starting to click more with my teammates, and me and coach Ford are starting to get a better connection on the court. I'm more confident out there."
Collins has been the playmaking point guard SLU coveted. He has yet to reach double figures in scoring but has been an offensive threat and needs to continue to be dangerous as a scorer.
He is effective in attacking the basket although he is shooting just 35 percent. He has made half of his 10 3-pointers. Ford said the jump shots are fine, but he wants to see a continued emphasis on Collins getting into the lane or to the rim.
"I don't mind the jump shots but I want him to use ball screens to attack," Ford said. "You have to have the threat of scoring first to make the passes. We want him coming off ball screens aggressively."
Asked if he welcomed the holiday break after the Kansas State game, Collins said it was good timing. For him it was a chance to not only rest but to have a 96-hour stretch without straining his hands.
He hopes to soon play tape free as SLU approaches the start of the Atlantic 10 schedule.