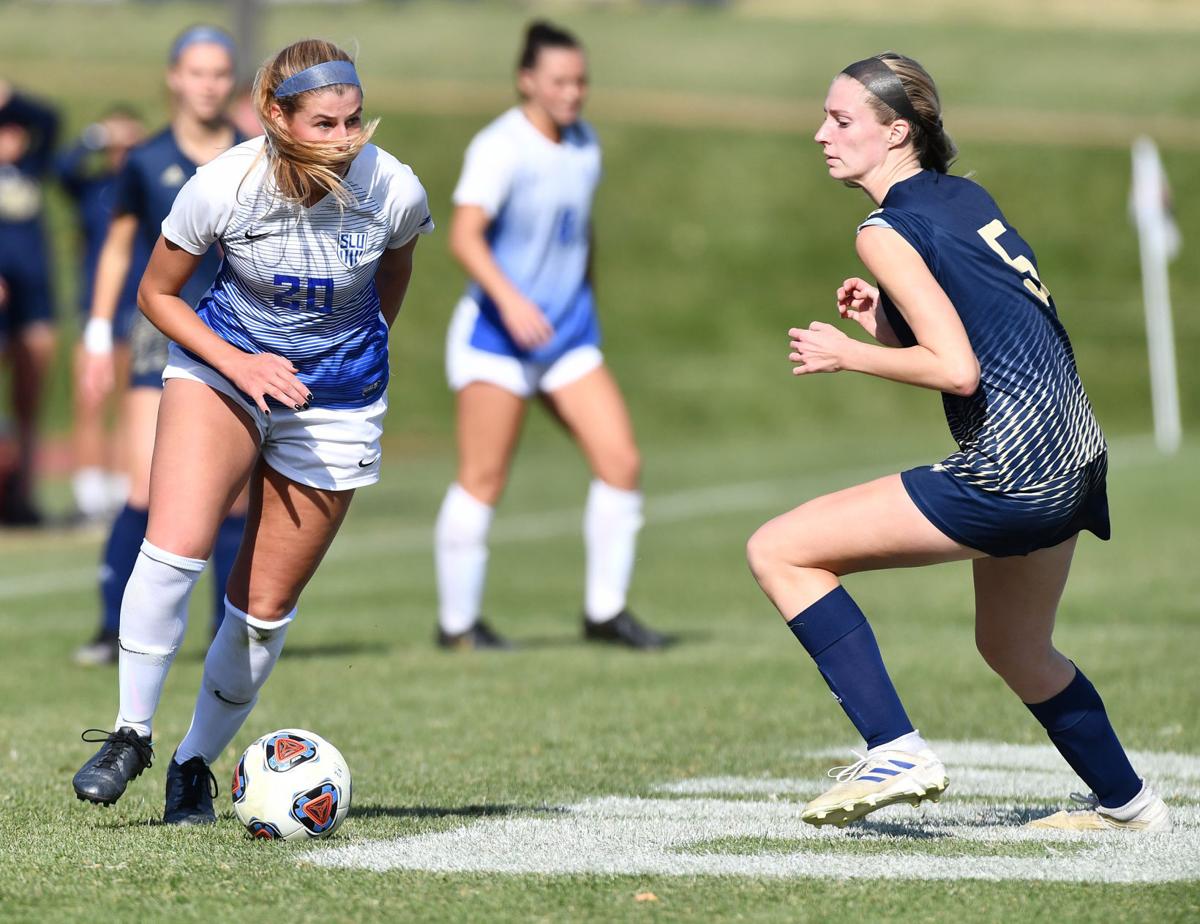 The college athletics landscape was shaken four months ago when conference basketball tournaments were canceled and the NCAA Tournament fell victim to the emerging COVID-19 outbreak.
Then spring sports were wiped out.
The snowball effect of the pandemic continued Friday when the Atlantic 10 announced that all fall sports will be postponed until the spring, leaving athletes at St. Louis University and 13 other schools sidelined for the foreseeable future.
This time the element of surprise did not exist. Coaches and athletes had been bracing. Time will tell if any of the major conferences or NCAA will make similar moves.
"We'll bring the guys back and prepare and train and get ready for the spring," SLU soccer coach Kevin Kalish said. "I look at it as the glass is half full. Our priorities are the welfare and safety of the players. In some ways it gives us that extra time to integrate the new players and get ready for the spring."
At SLU, the decision will impact men's and women's soccer, volleyball, field hockey, cross country and swimming and diving. Out-of-season games for softball and baseball also will be impacted.
The A-10 left the possibility of a shortened fall season on the table. The conference agreed to have a "look-in window" in mid-September to gauge the possibility of playing conference games if the COVID risk has substantially been reduced.
SLU athletics director Chris May said all athletes in fall sports will now arrive on campus in mid-August for the start of classes and be allowed to start training and practicing Aug. 17.
"We're going to be pretty aggressive in getting them ready and training to compete," May said. "That's how they do their best work. We are totally focused now on how we prepare."
Athletes will not return to action until they have tested negative for COVID and undergone training.
Members of the SLU men's basketball team already have been allowed to return to campus and participate in small, voluntary workouts. May said there have not been any positive COVID tests among those who have returned.
The Ivy League and Patriot League previously announced plans to cancel fall sports with the possibility of moving to the spring. The Big Ten and Pac-12 have said they will not play nonconference games in fall sports.
It is possible that by playing fall sports in the spring, the A-10 will take itself out of the NCAA Tournament picture. The NCAA has yet to make a decision on championships for fall sports.
"Where it sits now, if NCAA championships are in the fall, we wouldn't be participating," A-10 commissioner Bernadette McGlade said. "If the NCAA postpones and we all end up in the spring, we're thrilled to death."
McGlade said there would need to be a significant improvement in the COVID trends to consider having an abbreviated fall schedule for any sports beginning the first week of October.
Both SLU soccer teams had built what they considered strong schedules. Things began to crumble when the Big Ten pulled out of nonconference games, a decision that would have cost the men's team three games and the women's team two games.
Kalish spent Friday talking to seniors on the team via video conferencing. He will have a team meeting with parents Sunday.
"Most of the guys just want the opportunity to come back, get on campus going to class and get in the team environment," Kalish said. "Then we'll get ready to win the A-10, whenever that is."
The A-10 has not addressed anything beyond fall sports. But as a league with its emphasis on basketball, the winter season is of concern. Teams such as SLU play their big nonconference games in November and December.
Asked if he's confident about the basketball season starting on time, May said, "Confident? That's a great question. I'm very confident we'll have a basketball season."
"As a basketball-centric league, nonconference games are very important," McGlade said. "We haven't had to make any changes to the basketball schedule at this point. We're going to be in ready position, and if the basketball season looks as if it has to be truncated then we're going to participate in every way that we can."
The A-10 already had announced alterations to its schedules with 25 percent of conference games being trimmed and conference tournaments being reduced to four teams with the exceptions of men's and women's basketball.
What schedules would look like in the spring remains to be seen.
"Our goal is to have a fully competitive season for all teams," May said. "Our goal is to play full schedules."
Be the first to know
Get local news delivered to your inbox!