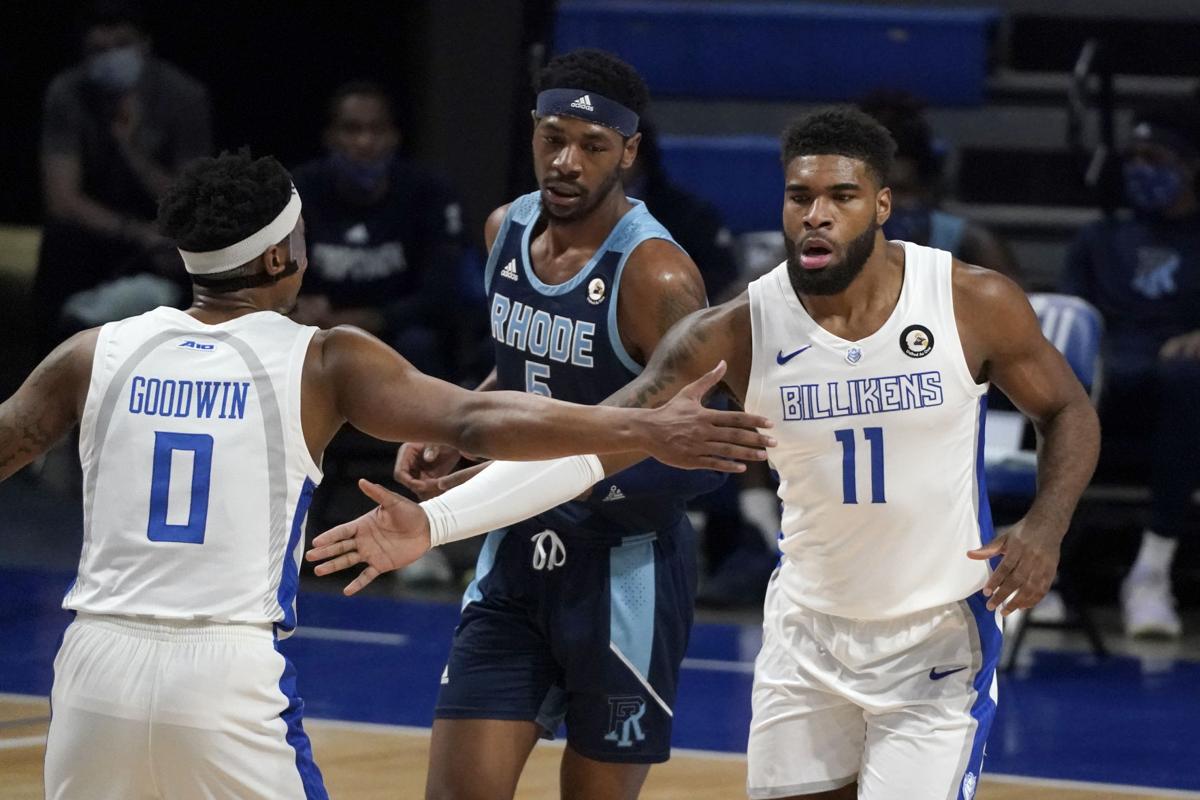 Leave it to the season of COVID-19 to put St. Louis University in the position of knowing it will play in the postseason but not absolutely certain which event will be its landing spot.
The Billikens appear headed to the National Invitation Tournament as a No. 1 seed after missing out on an at-large berth to the NCAA Tournament.
However, being among the four teams that came closest to making the 68-team field before missing the cut, SLU will be the third alternate in the event three teams have to drop out because of COVID between now and Tuesday night.
More likely is that the Billikens will play in the NIT, against Mississippi State on Saturday at 4 p.m. in Frisco, Texas, as part of a 16-team field that includes four entries from the Atlantic 10 Conference.
Coach Travis Ford said he felt like everyone was on board to continue the season after losing in the Atlantic 10 semifinals to St. Bonaventure.
"We had a discussion as soon as we got back to the hotel after the St. Bonaventure game about how we played," Ford said. "I said, 'Guys, we will get to play basketball again, but we have to make a decision to play better than this.' At that point I did leave it up to them. They were the ones — the guys between the lines — who said they wanted to play."
SLU entered selection Sunday No. 43 in NET rankings. Teams that made the field that were ranked lower include No. 45 Drake, No. 70 Michigan State and No. 72 Wichita State.
The Billikens were at the mercy of results from conference tournaments around the country in the last week. Many went in favor of SLU, but the road became difficult when Georgetown and Oregon State won their conference championships Saturday and bumped bubble teams from the field.
"We had a practice earlier (Sunday), and I addressed it and told them based on what the prognosticators were saying, it looked like we were definitely in the NIT," Ford said. "They knew and seemed disappointed but I couldn't see any real emotion."
Alternates for the NCAA Tournament will be able to fill slots vacated by teams that might have COVID issues through Tuesday night. After that, vacated spots will be left open. Virginia and Kansas both had to pull out of their conference tournaments late in the week because of positive COVID tests, but both were included in the NCAA tourney field and are expected to play.
"I think the NCAA set the precedent that it doesn't matter if you have a positive (test) I guess,' Ford said. "Everybody has different protocols and different than what we went through. It's baffling. You had teams that had positives in the last two days and no one says they're out. So, what's going to keep anyone out? Nothing. I think everyone is going to figure out how to play."
This was a highly anticipated season for SLU with Jordan Goodwin, Hasahn French and Javonte Perkins playing their senior years. The Billikens were picked to finish second in the A-10, received some early national hype and were ranked for four weeks before returning from a 33-day layoff because of a COVID outbreak.
Now the Bills seem headed to the NIT, in which several schools announced that their teams would not play — including Louisville, Duke, Xavier, Seton Hall and St. John's.
The A-10 was more than happy to participate and landed Richmond, Dayton and Davidson. If SLU and Richmond win their first-round games, they would play each other in the second round.
"I'm excited some of these others (from the A-10) are getting the opportunity," Ford said. "If our league is that strong, I think we should have had better consideration in the NCAA Tournament."
Mississippi State (15-14) finished ninth in the Southeastern Conference. The Bulldogs' only common opponent with SLU is Dayton. The Flyers won their meeting in double overtime. Mississippi State's best wins were against Mizzou, Florida and Mississippi.
The winner moves to the second round on Monday to likely face the tournament's No. 1 overall seed, unbeaten Gonzaga (26-0).