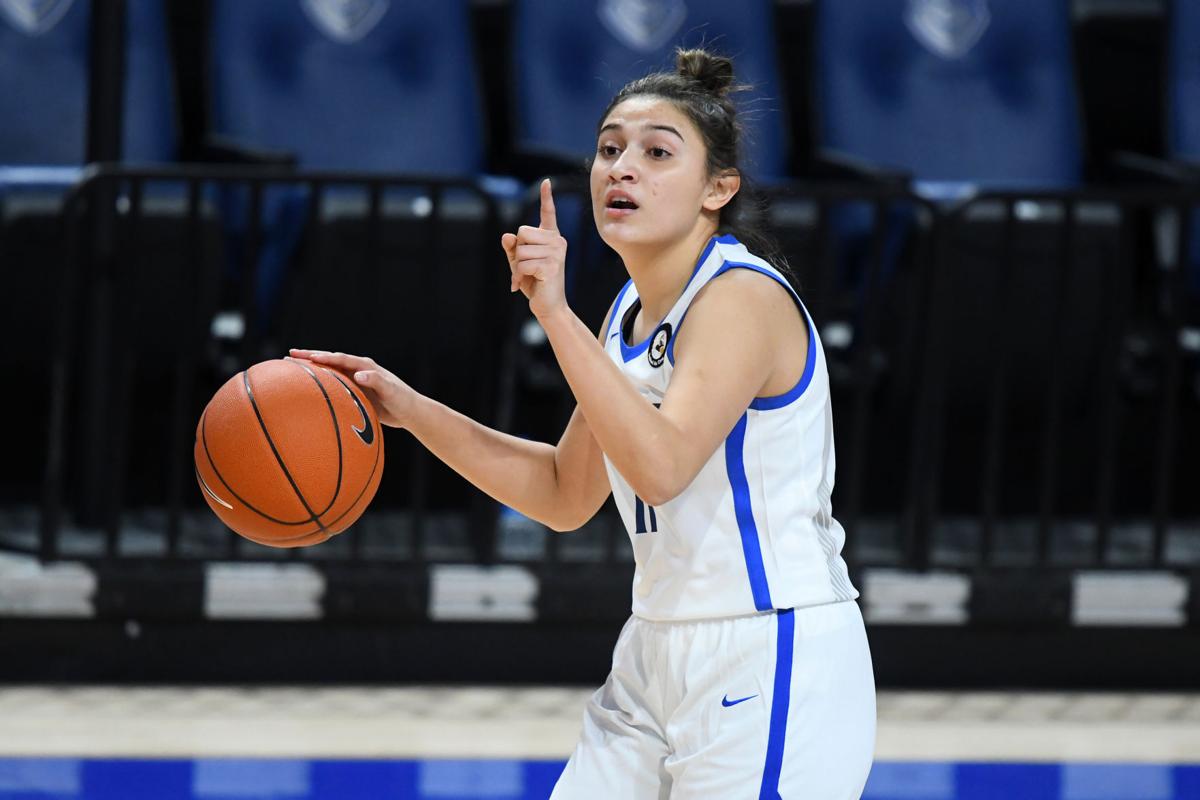 Getting through a third quarantine meant new or re-discovered hobbies for some players on the St. Louis University women's basketball team.
Rachel Kent returned to painting. Myriama Smith Traore plucked the guitar she received for Christmas. The team played games via video conferencing to kill time.
But the challenge of mentally surviving more than 40 days alone in a room became more than a matter of fighting boredom. It was an issue of mental health that players, coaches and staff confronted by meeting with sports psychologists.
"For me it definitely was helpful and I think everyone would second that," Kent said. "It's good to be able to say how you're feeling and get advice on how to deal with that. I think most important was communicating as a team and talking every day about life and how we were doing."
The Billikens emerged from their third quarantine Thursday and practiced for three days before returning to the court Sunday, when they lost to Fordham 72-63 at Chaifetz Arena.
SLU led by 12 points in the second quarter but couldn't sustain the effort. But after not having a game in 41 days, the thrill of playing was at least equal to the disappointment of the loss.
"The third one was as hard as it could be," SLU coach Lisa Stone said. "So we did a lot of work with a sports psychologist to continue to keep hope alive. The last one was hard. There's no way to sugarcoat it. They haven't played in a long time but haven't lost their love for the game, and it's the biggest piece you worry about."
SLU has played three games and the loss was the first contest against an Atlantic 10 Conference opponent. Nothing about the team's remaining schedule is any clearer.
The next two scheduled games have been postponed because of COVID-19 issues at other programs. That will give the Billikens (2-1,0-1 A-10) eight postponed games that can be made up and four cancelations. If nothing can be worked out this week, SLU's next game will be Sunday, against Massachusetts.
"It's a crazy time to be an athlete, but we have a great family here and it's been good to go through this together," Smith Traore said. "It's also fun to learn to play on the fly and be adaptable. We've learned a lot about ourselves and each other."
Smith Traore also has learned a few things via YouTube about playing guitar, although she's not close to learning a song. Kent bought some canvases and paints after the first quarantine and spent time with water colors.
The third quarantine coincided with the men's team pausing activities on the same day. Coach Travis Ford does not yet have all of his players back after about 80% tested positive.
Stone didn't feel like her team was hurt by a lack of conditioning when it played Fordham, which had its scheduled game Saturday at Dayton postponed. The Rams have played 10 games.
After pulling out to a 27-15 lead, SLU saw Fordham finish the first half on a 15-0 run. The Rams (7-3, 4-2) made one of their first 10 3-pointers but made 12 of their next 21, providing the boost they needed.
"The excitement was there to play," Stone said. "It was a battle of styles, and once they started knocking down shots it was hard to fight back. I don't know if conditioning was a big thing. We just didn't answer."
Guard Ciaja Harbison led the Billikens with 16 points to reach 1,000 for her career. Kent had 13 points and nine rebounds, and Smith Traore scored 12.
SLU has had six players test positive for COVID. The team went into quarantine on Nov. 10, Dec. 8 and Dec. 30. Starting Monday, there will be 42 days remaining in the regular season to play and make up as many games as possible.
So far, the team has been able to persevere without discussion about shutting down the season as has been done by the Duke, Virginia and San Jose State women's programs.
"You just pray," Stone said. "I didn't take my mask down one time during the game. The players are good about it. We want to make sure we do everything we can to keep playing. There's no blaming or shaming, but it's hard."