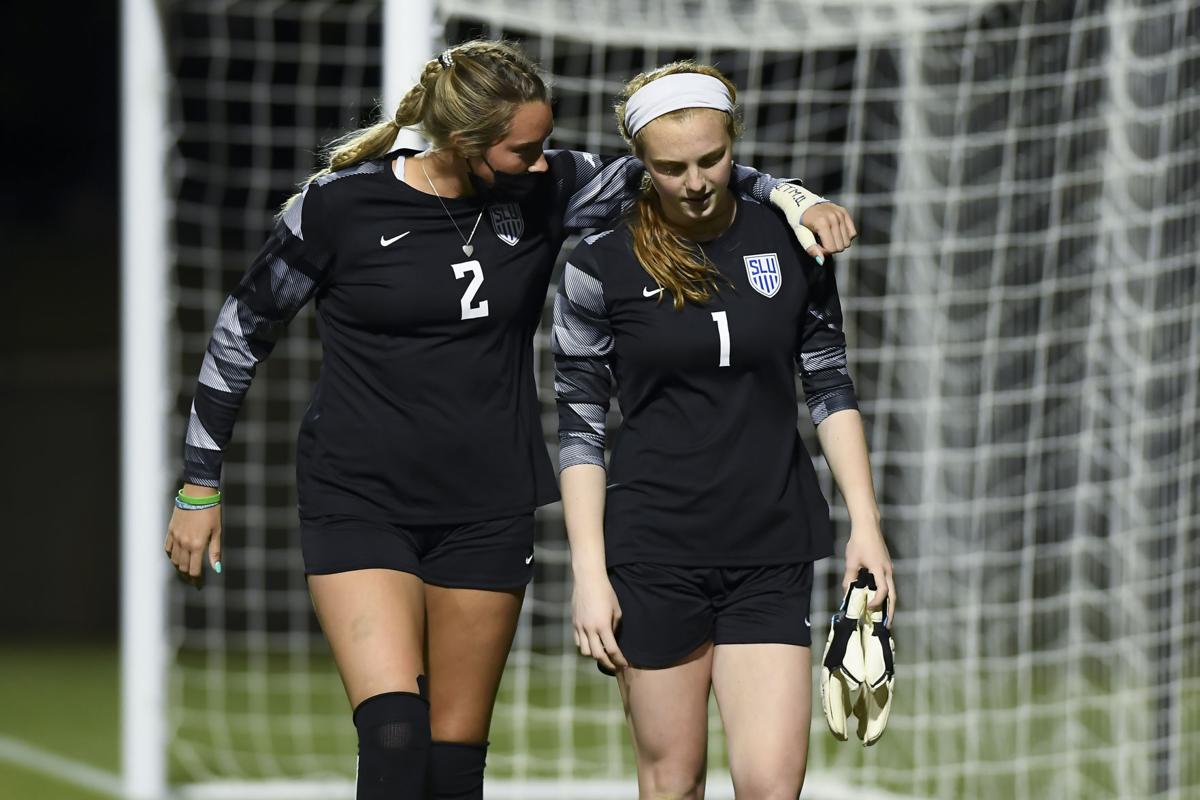 The St. Louis University women's soccer team's season came to a frustrating finish, falling in penalty kicks 4-3 to Washington after neither team could score in 110 minutes of action in Matthews, N.C., in the second round of the NCAA tournament.
"It's a tough way to go," said SLU defender Brionna Halverson.
"It just feels so, not random, so objective in a game that's so free-flowing," said SLU coach Katie Shields. "Just a tough way, not only to go out, but to end your season."
The tie, that's how goes into the books, snapped a 10-game winning streak for the 15th-seeded Billikens (15-1-1) and denied them their first trip to the Sweet 16 of the NCAA tournament. This was SLU's third straight trip to the NCAAs, but they've gone 0-3 in those seasons. They last won an NCAA tournament game in 2006.
Goals always figured to be a challenge in this game, with both teams among the stingiest in the nation. SLU allowed nine goals in 16 games while Washington allowed just 11, five of them in one game. To make it tougher, SLU was without freshman forward Hannah Larson, who was injured in practice earlier this week and would not have been back this season. Larson was tied for the team lead in goals with eight, with a goal in five of the past six games. Another freshman, Caroline Kelly, who had played in just six games this season, moved into the lineup for her first start. SLU managed just three shots on goal in the game and had just nine shots total.
"That was very unfortunate," Halverson said of Larson's absence. "You have to face adversity at times. That was definitely a challenge. As much as we missed her, we had to have people step up into positions that may not always be comfortable but I think that showed the true identity of our team."
"It's the cards we were dealt," Shields said. "I think we could have scored a goal. It was as close a game as I probably imagined. Obviously I imagined us winning though."
Chances were limited for both teams, though SLU almost pulled it out in overtime with its best chances of the evening. But they couldn't score, so the match went to the randomness of penalty kicks, though Shields liked their chances with freshman goalie Emily Puricelli on the field. "There's so much chance in penalty kicks," Shields said, "but I did think Emily would make a save and our five shooters would all make their shots."
After each team made its first shot, SLU's Hannah Friedrich, who had a shot go off the crossbar in the first overtime session, hit the crossbar again — "We're not in that game without Friedrich hitting the winner in the conference final," Shields said. "Some nights you find the bar, some you find the back of the net." — and on SLU's next turn, Brianna Hatfield, who entered the game just for the PK, had her shot saved by Huskies goalie Olivia Sekany. That left SLU down 3-1.
With no room for error, Kelly scored and SLU's life was extended when Washington's Ally Remington put a shot off the crossbar to make it 3-2 with one more shot coming up for each team. Jess Preusser scored for SLU to momentarily get even and Washington sent Sekany, its goalie, up to take the final shot and she drilled it home for the win.
SLU had come so close to getting the sudden-death goal in the second overtime period. With just over four minutes to play, a cross by Kelly almost found Halverson but was deflected slightly at the last instant and she couldn't get her foot on it. Friedrich almost scored shortly after that, with Sekany making a save and Kala McDaniel clearing the rebound off the line. SLU had two corner kicks in the final 2½ minutes but couldn't generate any chances off of either.
"We kept saying, it takes one special moment," Halverson said. "I think we had a few of those moments. It wasn't our time. The biggest lesson going forward into next season, I think we're going to fine tune our little details and special moments and I think we'll make a big impact when we come back for sure."
"I think we put together some of our best chances in the overtime period," Shields said. "It speaks to our fitness, our belief in ourselves. A lot of players played a lot of minutes, though."
Washington (11-3-3) advances to face women's soccer powerhouse and No. 2 seed North Carolina, which defeated Denver 2-0, on Wednesday in Cary, N.C.
Breaking through to the Sweet 16 remains just out of SLU's reach. This was one of its best chances, with a smaller field and a first-round bye that left them needing just one win to get there. But with a team that got 71 percent of its minutes from freshmen and sophomores, and only three players not coming back, the future bodes well.
"Looking at the roster of the Washington team, they have juniors and seniors leading the way," Shields said. "Our group has a couple juniors and seniors; the majority of our group is freshmen and sophomores. We have our whole group back for a minimum of two years. We have to keep them healthy, keep them growing. To be in the position we're in, the youngest team I've ever coached at SLU, it's exciting for what's ahead."