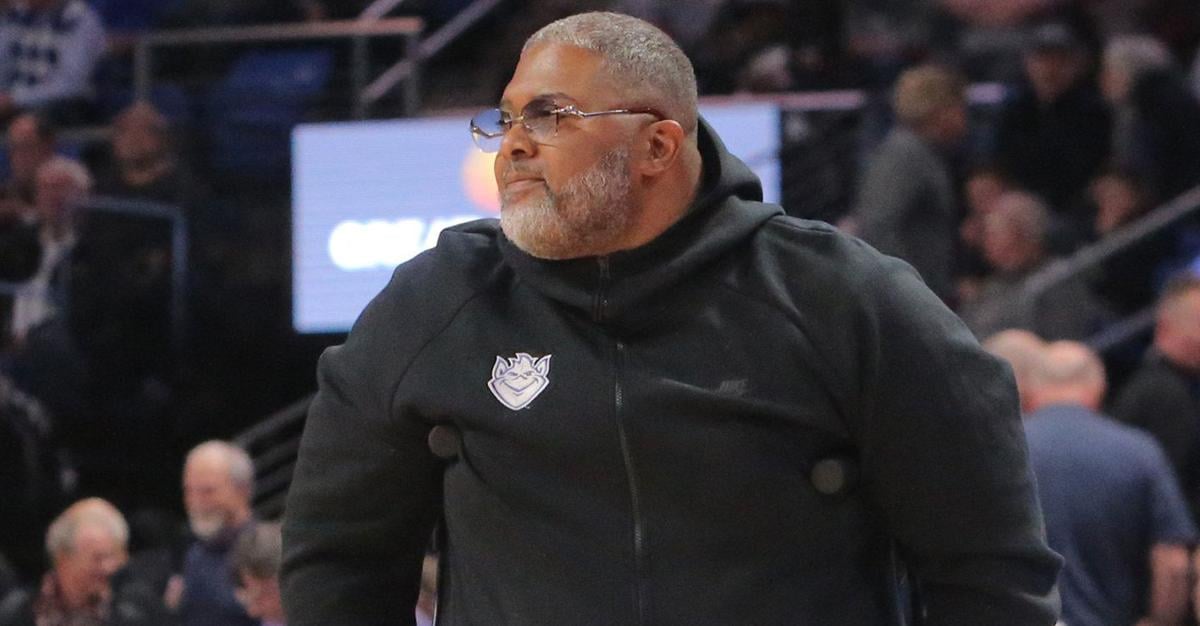 Coaching is a hands-on profession for Corey Tate, who likes to involve himself physically in St. Louis University basketball practices.
When he was unable to do so last season because of a significant leg injury, Tate altered his approach. Instead of pounding on the big men in practice, he became more of a spectator than he really wanted.
"You know, that actually helped me," he said. "I had to use more of a mental approach to basketball. I didn't have to physically show them because I couldn't do it. I talked to guys and showed them the mental aspect such as watching film. Little things they don't do anymore. I learned more about how to game plan, strategize and — more than anything — just outwork others."
When the time comes that coaches can return to the court with their players, Tate will be more involved. He has recovered 80 percent from an extensive tear to his left quadriceps muscle.
He'll also return to work with a new title after being promoted to associate head coach by Travis Ford.
Tate is the only remaining original assistant from the staff Ford hired in 2016 before his first season at SLU. These days he's stuck working from home until the coaches get the go-ahead to return to campus.
He doesn't suspect there will be many changes beyond his new title and the trust that comes with it.
"I'll continue to do everything I've always done," he said. "I can't tell you anything's going to change. Travis is still going to count on me like he always has."
Tate is now the veteran of the assistant coaching staff, which includes Ford Stuen and a yet-to-be named replacement for Will Bailey, who took a job at South Carolina. A year earlier, Van Macon departed for St. John's.
Tate will be entering his sixth season as a Division I assistant coach, including one at Mizzou. He was previously the head coach at Mineral Area College for 11 years.
He still has a goal to take over a program and said Ford has helped better prepare him for that possibility.
"I thank Travis every day for basically allowing me to shadow him as a head coach," Tate said. "I want to shadow him and be in every situation he's in. I want to put myself in those situations so I know how to respond."
Tate missed some of those opportunities last season. He had surgery after slipping on stairs at his home and suffering an 85 percent tear of the quad.
He missed two road games and had to sit on the sideline at practices, watching others use blocking pads to pound on SLU's inside players during drills. He was unable to recruit off campus.
"I won't be able to take the bumps and bruises I was able to take before," he said. "I'm not stable like that yet. But I will be able to be on the floor."
Tate, a former Pattonville High star, knows he can be successful as a head coach. He had more than 250 wins at Mineral Area College and won three regional championships and six conference championships. He was a two-time conference coach of the year.
He has experience garnered from playing under Norm Stewart at Mizzou and coaching with Ford. If another opportunity comes along some day, he'll be ready.
Right now he's just eager to get back on the court after a season with little floor time.
"I'm associate head coach for St. Louis University, and that's what I know right now," he said. "I'm treated well. Time will reveal what's next for me. I'm in a great position. My best job is the job that I have right now."
Be the first to know
Get local news delivered to your inbox!