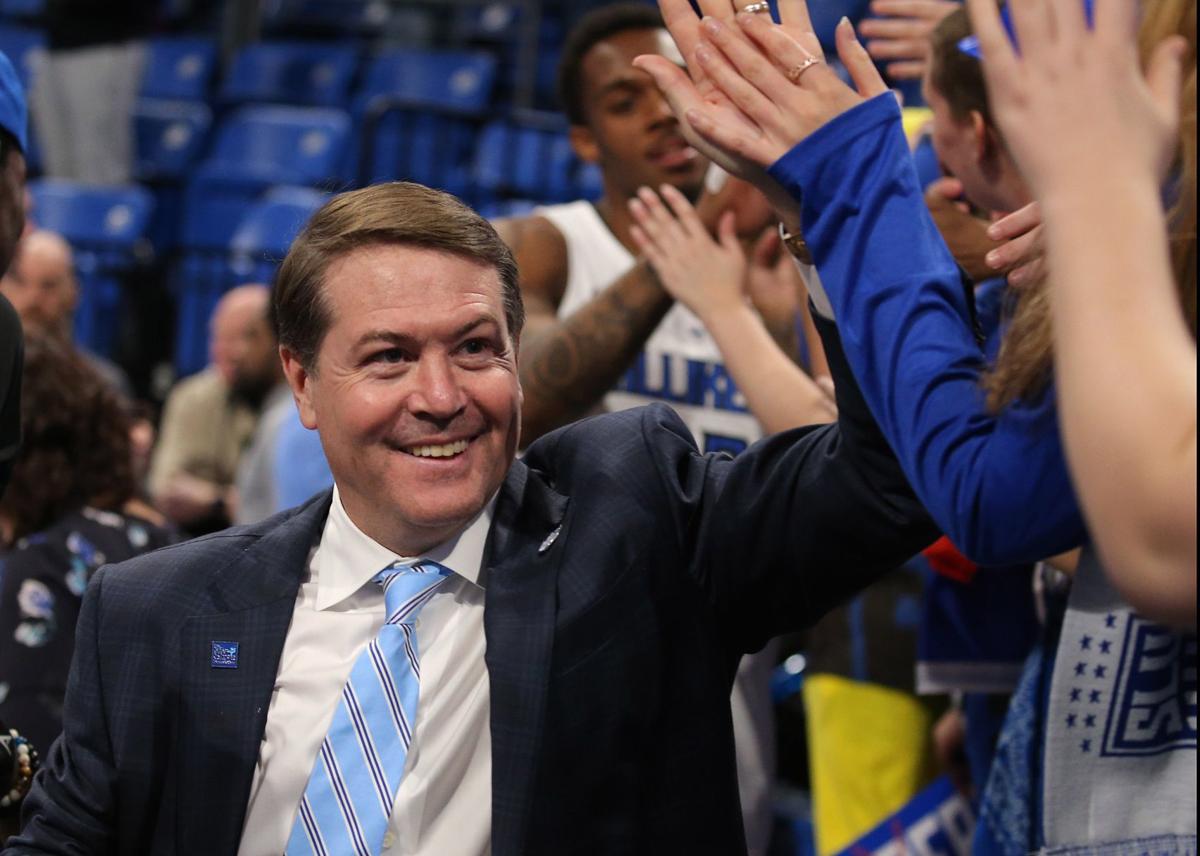 A new season will not start for at least seven months, but the daily chores remain the same for Travis Ford.
The St. Louis University basketball coach is working on a schedule, recruiting and meeting with his staff. Moving forward as if everything will return to normal some time soon is the only option in the coaching world.
But Ford also is living the reality of so many parents.
Son Brooks has returned home from Mizzou to finish the semester with online courses. Daughter Kyleigh is dealing with the disappointment of losing the end of her senior year of high school. His parents are on lockdown in Kentucky, giving Ford one more worry.
For a mind that typically juggles basketballs incessantly, it's easy these days for Ford to get caught up in the issues of daily life outside the walls of a gym and his office. And one thing he wonders about is how life will return to normal.
"I'm just intrigued how they're going to make the decisions to say, 'We're going to open the mall' or 'We're going to start letting restaurants open.' What's going to determine those decisions? This could play out for who knows how long."
When Ford made a video for season-ticket holders with athletics director Chris May, he said he finished by telling people he'll see them at Chaifetz Arena in November.
Although he doesn't yet have reason to think that won't be accurate, Ford can't help but wonder. "I hope that comes true," he said.
There have been inescapable realities. Ford has been in touch with Marcus Smart, his former player at Oklahoma State, who tested positive for COVID-19. He worries about where SLU players might escape to practice shooting because of who might have been there previously. He keeps in touch with his parents, reminding them to stay inside.
There also has already been a lot of offseason basketball activity to follow, and Ford has been trying to keep some kind of routine.
"It's not overly organized other than calls with the team and things like that," Ford said. "I'm periodically calling coaches, recruiting on the phone, scheduling. We've scheduled Zooms with the whole staff. They get used to me calling every 30 minutes and know either I'm bored or wanting to know something."
Players have been separated for a month. Jordan Goodwin and Hasahn French have declared for the NBA draft while maintaining their eligibility with the possibility of returning. KC Hankton announced he will transfer.
Two prominent NCAA Tournament bracket prognosticators have included the Billikens in their projected fields for the 2021 tournament. Another website ranked SLU at No. 36 for next season.
SLU hopes to fill one of its available scholarships Wednesday with the signing of Swedish forward Andre Lorentsson, who was discovered by assistant coach Ford Stuen on a trip in the middle of last season.
Ford also is trying to put the final touches on a schedule that is known to include San Diego State, Boston College, Southern Illinois-Carbondale and Siena.
"It's probably the most interesting year of scheduling I've ever had," Ford said. "We're wanting to put together a very difficult schedule. We've had good bites that are in the works, but it's been tough to pin someone down."
Ford said he expects the final two games he schedules to be Quadrant 1 opponents to be played at neutral sites or on the road. Quadrant 1 games are top-50 opponents at neutral sites or top 75 on the road.
The schedule was started with the thought that everyone, including Goodwin and French, would return after a 23-win season.
That remains to be seen. They are in a massive pool of players who plan to enter the draft to "test the waters." They will receive an evaluation of their draft prospects.
But much about the normal process that typically precedes the draft is up in the air.
"It looks like there won't be any combine or guys working out," Ford said. "I think Jordan and Hasahn have the abilities that could help NBA teams. You only need one team to need what you do. Both have specific things that others can't do or at least not a lot of players."
With Hankton's departure, SLU will have at least one more scholarship to fill. Hankton was a small forward, who played a minimal role in large part due to injuries. The only other known loss at this time is senior guard Tay Weaver.
How the scholarship is used remains uncertain. The NCAA could influence that decision if it votes to allow transfers to become immediately eligible.
"Everything is on the table right now," Ford said. "We're looking at a little bit of everything — guys who can help us. There's nothing specific at this point."
Concerned about COVID-19?
Sign up now to get the most recent coronavirus headlines and other important local and national news sent to your email inbox daily.