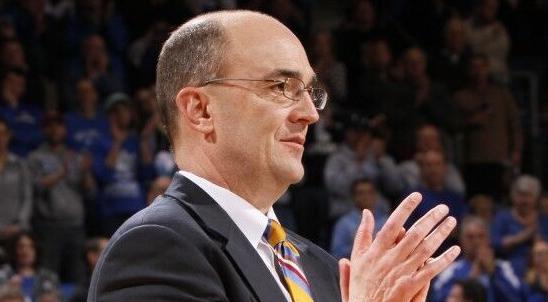 The starting date and scope of the college basketball season are expected to be decided next week by a group of 40 administrators, who have spent the last six months making coronavirus-related decisions.
The 2020-21 season is especially important to the basketball-centric Atlantic 10 and St. Louis University, which will be represented on the NCAA Division I Council video conference by SLU athletics director Chris May.
May is in the midst of a four-year term on the council that runs through 2023. It's an appointment that landed him in the middle of a critical time for the NCAA.
The meeting and vote Wednesday could determine a lot about the upcoming season, which is the most anticipated at SLU since the program's run of three consecutive NCAA Tournament appearances.
"We're going to have basketball, I just can't say when," May said. "We firmly believe there are several teams in the A-10 that have a great shot to have a really successful season. Our goal is a complete season."
In recent months, the council has voted to preserve a year of eligibility for athletes who play sports during the 2020-21 academic year and to postpone fall sports championships until the spring.
Next up, the group must choose a starting date for college basketball and determine what the season will look like in regard to scheduling. Eventually, the NCAA Tournament will have to be addressed. SLU coach Travis Ford and his peers are hoping to receive a lot of answers.
The vote will come less than two weeks before teams are scheduled to begin practicing for a Nov. 10 start. May said keeping up with the number of significant issues that have needed to be addressed has been the biggest challenge since spring sports were canceled in March.
"It's been significantly faster paced," he said. "I've been impressed how the organization has moved so quickly during this time after what happened with spring sports to extend scholarships. It's such an extraordinary time, and the council has done way more work in a short period than normal. I've been impressed at how quickly we've worked because the NCAA has gotten a bad rap for being slow."
May's term began in 2019, and he was recently appointed to the NCAA council coordination committee. He also is on the student-athlete experience committee. Patty Viverito, commissioner of the St. Louis-based Missouri Valley Football Conference, also is on the D-I Council.
May said he hadn't seen a proposal for the start of the season from the oversight committee. There have been media reports that the recommendation will be to start Nov. 25.
That would also mean deciding on a new start date for practice and determining how the nonconference season will be reconfigured. SLU is scheduled to play in the Orlando Invitational from Nov. 26 to 29.
"I can't respond to what the proposals will be," May said. "What I will say is that Travis and I are working daily together on all options that may take place so we put the Billikens in the best position. I also talk to people nationally to get input. So, whatever proposals end up coming, I have the best breadth of knowledge possible."
Although he represents the A-10, May said he has the autonomy to vote without conference input if he is unable to have prompt discussions.
D-I council meetings routinely last three hours with electronic voting. There are some issues, he said, that have been well covered beforehand and require minimal discussion. Other topics involve a bit more debate.
"There have been a lot of challenging conversations," May said. "Sometimes there is very energetic conversation."
Over the years, May has served in numerous other capacities within the NCAA structure. He previously was on the competition oversight committee, the Division I championships and sports management cabinet and the Olympic sports liaison committee.
All of his NCAA committee obligations combined with his A-10 commitments and SLU communications have created weeks packed with video conferences.
"It's just a timing thing that I happen to be in this role at this time," he said. "I feel blessed to be in a position to serve nationally in this capacity. It's an unbelievably important time as the industry grapples with major decisions about how to continue to evolve and do better."
Be the first to know
Get local news delivered to your inbox!