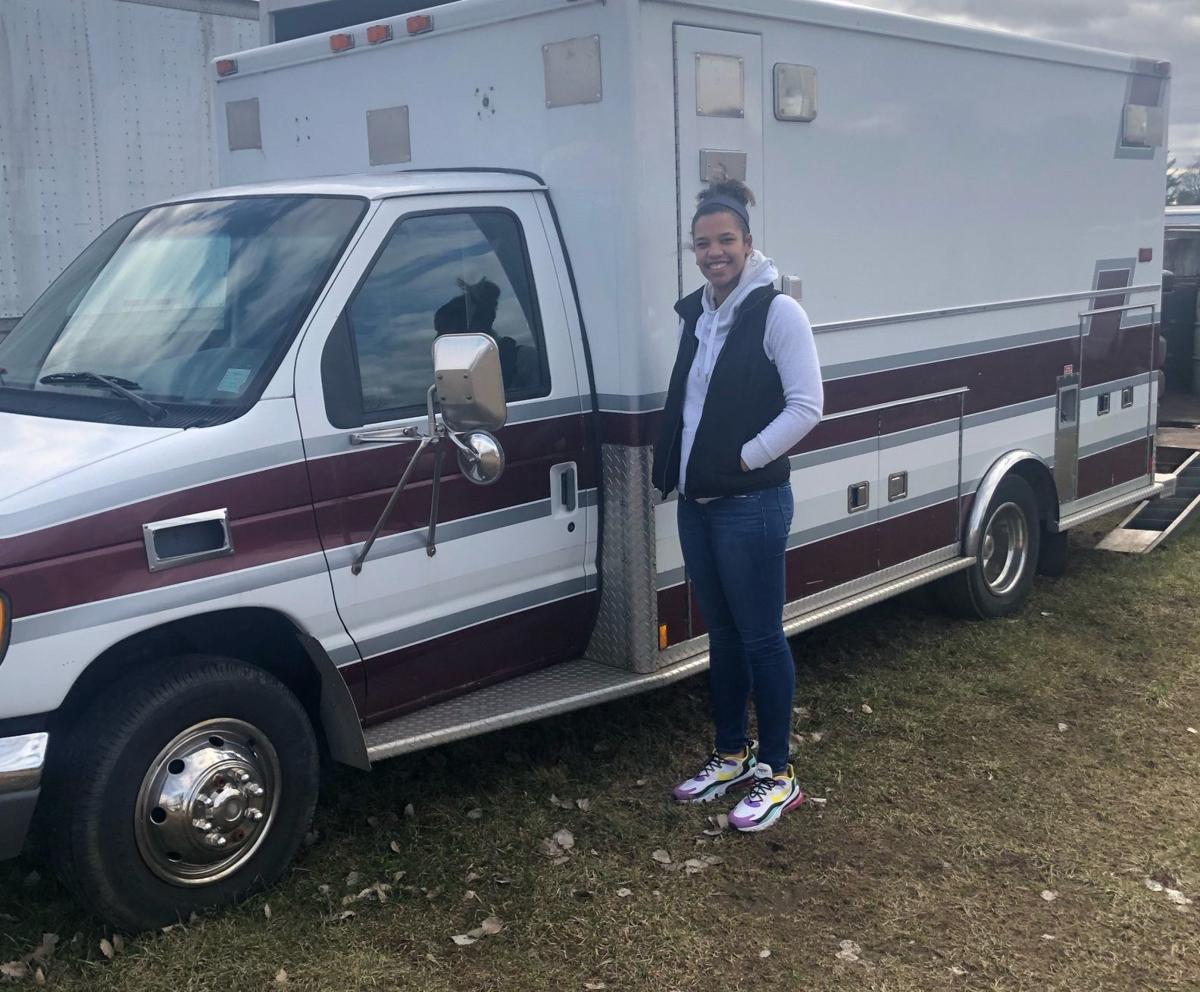 In the town of Dedougou in Burkina Faso, there are people with St. Louis University apparel in their homes. And there are some who are known to watch SLU women's basketball games because of a connection to Billikens forward Myriama Smith Traore.
But the truth is, these things happen because of her father, Hassimi Traore, who moved from his hometown in northwest Africa to the University of Iowa in the 1980s to pursue an education.
Over time, he has provided some of his countrymen a chance at better health care.
Hassimi has secured a third ambulance that he will send to Burkina Faso — in July he hopes — as a way to help his town and others in the region, which have lacked them over time. They are especially helpful now as the COVID-19 panedmic impacts the country.
He also has sent medical supplies, and Myriama is collecting clothing and school supplies that could be of help.
Hassimi Traore is a chemistry professor at the University of Wisconsin-Whitewater and lives in that town where Myriama grew up to become a Division I basketball player.
"My daughter is well known in my little town," he said, referring to Whitewater, Wis. "So, when I was in a grocery store, this guy saw me and asked where she was playing basketball. Then he asked if I was still shipping ambulances to my hometown and said we needed to talk because he had one if I had interest."
And so, the Traore pipeline continued. To get the ambulance to Burkina Faso, he will eventually drive it to Baltimore, where it will be shipped to Ghana. It will be picked up and driven to Dedougou or a nearby town.
Myriama began getting more involved when she was clearing out her dorm room to move back home last month. She realized she had a large amount of clothes and some supplies she didn't really need and set them aside.
She has followed her parents in the desire to teach and is majoring in English and education.
"I could see myself teaching overseas a little," she said. "The biggest thing is I just want to help people and have that connection with people who might not have the resources they need to be successful or survive. So, I want to be an advocate in those situations, and I think I got that from learning about the families in Burkina Faso who have that need."
She has asked some teammates and friends if they have things to contribute. And she is going to help her father build a website for a new nonprofit to aid widows and children in Burkina Faso.
Myriama has made two trips with her father to Africa, the last one being when she was 10. She doesn't necessarily have strong memories of everyone she met, but she still hears from people halfway around the world.
"I have a lot of family with the last name Traore, and they'll randomly send me pictures or tell me (on social media) 'good job,' which is cool," Smith Traore said. "The biggest connection is feeling a responsibility to give back to the community that made my dad everything he is and made all of his success possible. They supported him coming to the United States, and I'll try to give back that support any way I can."
Hassimi Traore's idea to put an ambulance in Dedougou came after he saw a friend struck and killed by a car when he was 12. Without an ambulance to transport him to a hospital in a larger city, a donkey cart was summoned, but he didn't survive.
He began saving money through a summer job that produced $10. His mother informed him that it would not be enough for an ambulance.
Fast forward to the United States. It was 2013 when Hassimi spotted an ambulance for sale on the side of a road. He made the purchase for about $4,500 and traveled to Burkina Faso with several UW-Whitewater students to make the delivery.
Another ambulance was donated and he had to raise only enough money to ship it overseas.
"When I was (living) there, my hometown did not have ambulances, and in most big cities we didn't have ambulances, or not enough," Hassimi Traore said. "Now with the problem with COVID-19, a lot of people need to be transported."
As he was beginning his search for ambulances to send, Myriama was developing into an outstanding basketball player. She signed with Marquette, where she spent one season, before transferring to SLU.
As a sophomore last season, she led the Atlantic 10 in rebounding. So, when Hassimi Traore sent clothing to his country, he began including some items from SLU. Myriama then started to pitch in.
"When I was moving out of my apartment at SLU, I realized I have so many clothes I just don't wear or could do without," she said. "I've been making piles to send and my roommate did the same. I've been reaching out to friends to see if they have things they could do without because those things could go a long way."