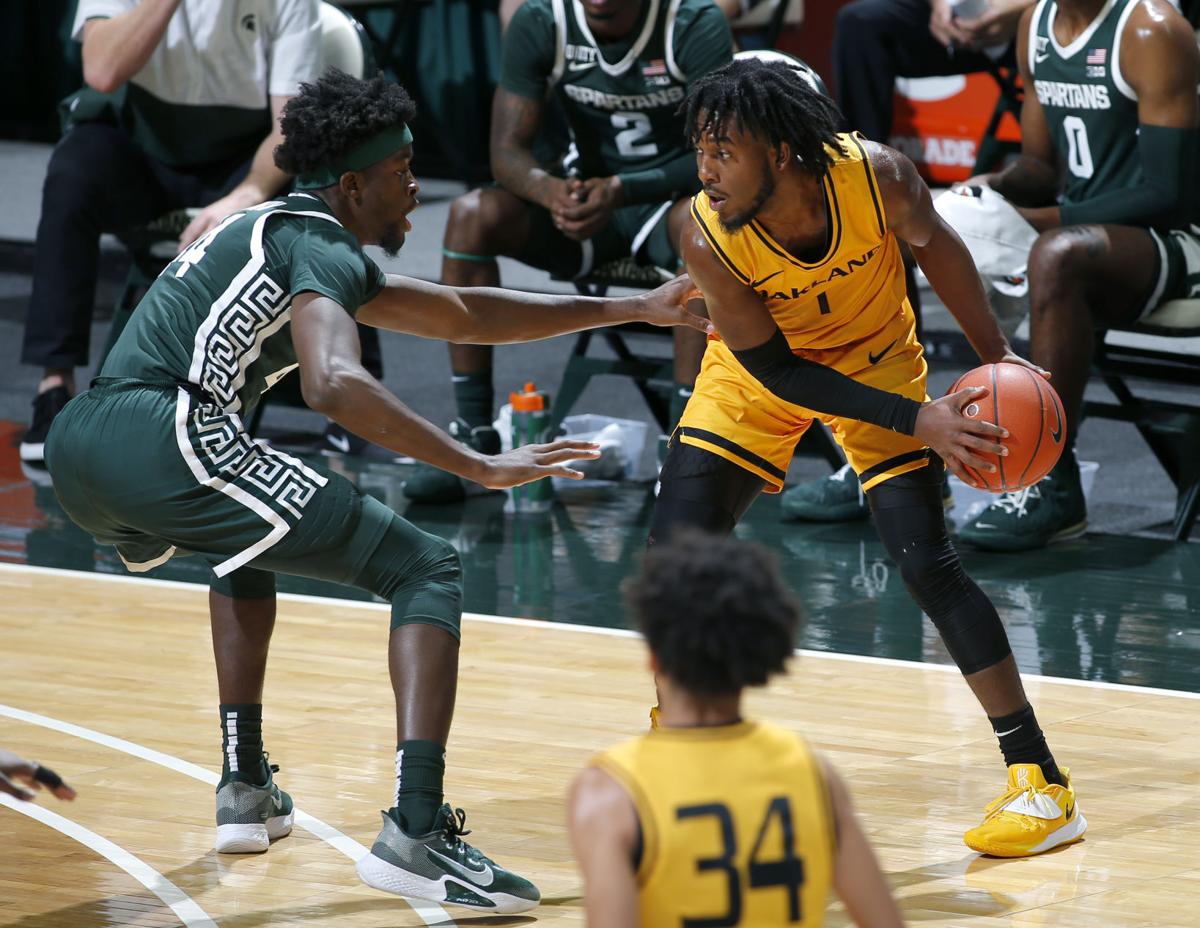 The numbers tell the story of a shooting guard, who given the freedom will happily hoist 3-pointers with abandon.
Rashad Williams led all of Division I basketball last season in 3-pointers attempted at Oakland and was fifth in made 3s. He shot 689 in three seasons and made 35.7% before transferring to St. Louis University last month.
The 6-foot-3 native of Detroit tells a different story.
"I've been a point guard my whole life," he said.
It's not that Williams wants to take over that position at SLU but rather that he sees himself in a role with the Billikens that he didn't have at Oakland for two years and Cleveland State for one.
Williams doesn't need to be shooting to be happy, he said. If eligible for the 2021-22 season — more on that later — he envisions himself creating more than he has in the past and thriving in an offense he sees as more beneficial for his skills.
After conversations with coach Travis Ford, he is ready to alter his game.
"I shot so many 3s a game and it wasn't efficient and I didn't play my best that way," Williams said. "I can do so much more. Coming here, I told him I was looking forward to playing on the ball a little more. He's seen flashes of what I could do with the ball. Coach Ford was essential about playing with the ball in my hands and making my teammates better, playing to my strengths."
Williams is a scorer, to be sure. He has averaged 13.6 points for his career and a high of 19.5 as a sophomore. He'll have that opportunity at SLU as well, but will be part of a backcourt that has experience in Yuri Collins, Gibson Jimerson and Fred Thatch Jr. SLU also has added transfer Jordan Nesbitt.
He made the move to SLU believing he would be immediately eligible per the NCAA's recent ruling on one-time transfers without having to sit out a year. However, the NCAA stipulated that if it is an athlete's second transfer, a waiver would be needed.
The Division I council will reportedly meet soon to address the status of two-time transfers. Williams, meanwhile, is taking advantage of his move to campus and access to Chaifetz Arena and the practice facility.
"I'm trying to get a feel for the guys and a feel for the city, and I'm staying in the gym as much as possible," he said. "It was hard to get in the gym back home. Here, I get in whenever I want. I might get up at 6:30. I'm a gym rat. Here we've got a practice gym with two courts and six rims, so it's just a lot more accessibility."
Williams played more games than most players last season as Oakland was able to get in 28 despite the COVID-19 pandemic. He did so despite having a car accident before the season and injuring his right shoulder.
After returning slowly, Williams proved that he was healed by scoring 32 and 36 points in consecutive games against Oklahoma State and Michigan State. He made a combined 18 of 37 3-pointers in those games.
"I was comfortable coming back from my injury. Coach said he was going to roll with me and obviously I performed there," Williams said. "That's pretty much something I've been doing my whole career is playing against people with big names and playing well against them."
Williams has been staying with Terrence Hargrove Jr. and Jimmy Bell Jr., who he knows from his days playing AAU basketball in Michigan. They have helped show him around the city, including a stop at the Gateway Arch.
Williams also has spent a lot of time on the court with new teammates in the 10 days he has been on campus. He said he watched video of the Billikens before deciding on SLU, and now he's getting a look at them up close.
The senior-to-be does not like to be pigeon-holed by having his position labeled as point guard or off guard. But he definitely brings a shooter's reputation to SLU with the hope of changing the way people view him after three seasons in the Horizon League.
"It was a good situation for me and I definitely learned a lot," he said. "I made the most out of it and my role. I did what I was supposed to do to get found by the St. Louis coaches."